Click to learn more about 10 Million Names.
Imagine meeting family for the first time in a town rooted in American history and one's own personal history.
Most Black Americans can't visit land that was owned and cultivated by their ancestors who were formerly enslaved people. But "Good Morning America" co-anchor Michael Strahan was able to return to the East Texas community of Shankleville, where his ancestry could be traced to people born into slavery and set free at the end of the Civil War, who went on to build a self-sufficient Black community.
Alongside his mother Louise, Strahan visited Shankleville with ABC News and the 10 Million Names Project to meet his long lost cousins Lareatha Clay, Stephanie Franklin, Billy White and Phillip White.
"There's incredible story within Michael Strahan's family history that was passed down largely through oral tradition about how it is that James and Winnie Shankle were reunited in Texas," Kendra Field, Ph.D., 10 Million Names chief historian, and an associate professor of history and director of the Center for the Study of Race and Democracy at Tufts University, told ABC News. "And it was the power of genealogy and family history that made it possible for Michael Strahan to connect up with that community all these years later."
Shankleville, historians say, is a prime example of one of the more than 500 settlements in the U.S. known as "freedom colonies."
Field said the term "freedom colony" is "often used to describe a Black community, a community of Black land ownership, that took root after emancipation."
"Founded by formerly enslaved men, women and children, these communities were safe-havens for many from the broader experience of the Jim Crow era," she explained.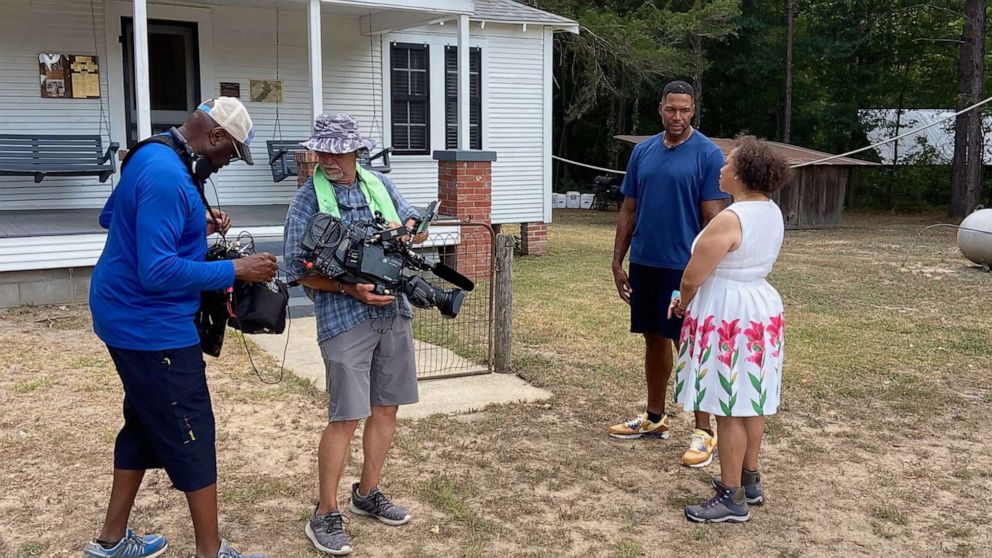 A few years ago researchers looked into Strahan's family tree, and those behind the groundbreaking 10 Million Names project by American Ancestors -- an initiative that aims to recover the hidden and erased history of 10 million enslaved African Americans and their descendants -- said it confirmed he was a part of this community and its rich legacy. The research into Strahan's ancestry was first featured on PBS' "Finding Your Roots."
That was the catalyst that Strahan said sent him on this personal journey.
Clay, Strahan's cousin, said their ancestors Jim and Winnie Shankle "were enslaved in Mississippi, and Winnie was sold to a Texan."
"Jim really missed her and, you know, wanted to know where she was. So, he kind of asked around and found out about where she was. And so he ran away," Clay said.
At the time, as a runaway enslaved person, Jim Shankle was risking his life dodging police, slave patrols and professional slave catchers to find Winnie Shankle. Somehow, he managed to make it 400 miles on foot across the Mississippi River and eventually found her.
"There was a spring a few yards from here, and she was out, you know, gathering water, washing clothes -- so, he did his little call and she was like, 'This sounds like Jim's call.' And sure enough, it was Jim," Clay said.
Jim Shankle arranged to be purchased by Winnie Shankle's owner so that he could stay with her. The pair ended up having six children together.
"It's a love story," Strahan said, responding to his cousin. "Seems like a movie."
The Shankles were freed from slavery in 1865, near the end of the Civil War. With money Jim Shankle saved up from several post-emancipation jobs, along with the help of a family friend, the couple eventually purchased more than 4,000 acres of land and built their own community.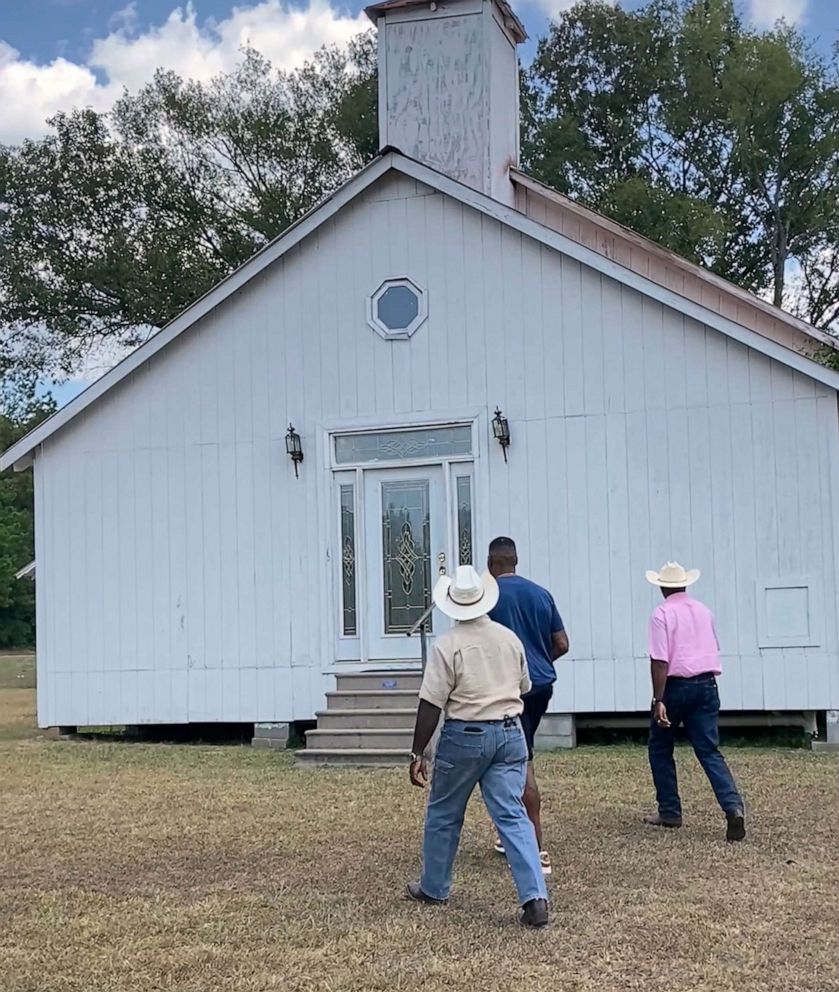 The community grew to include a store, schools for kids, a college, a cotton gin, grist mills, farms, cemeteries, undertakers and churches -- all things that were, at the time, unheard of or unavailable to most Black Americans.
Historically, recovering the names, contributions and stories of enslaved Black Americans has been extremely limited and Strahan is one of the lucky few to have access to his family's history.
During his visit to Shankleville, Strahan was able to walk through the town's sunlight-filled Christian Methodist Episcopal Church, which was adorned with Black angels.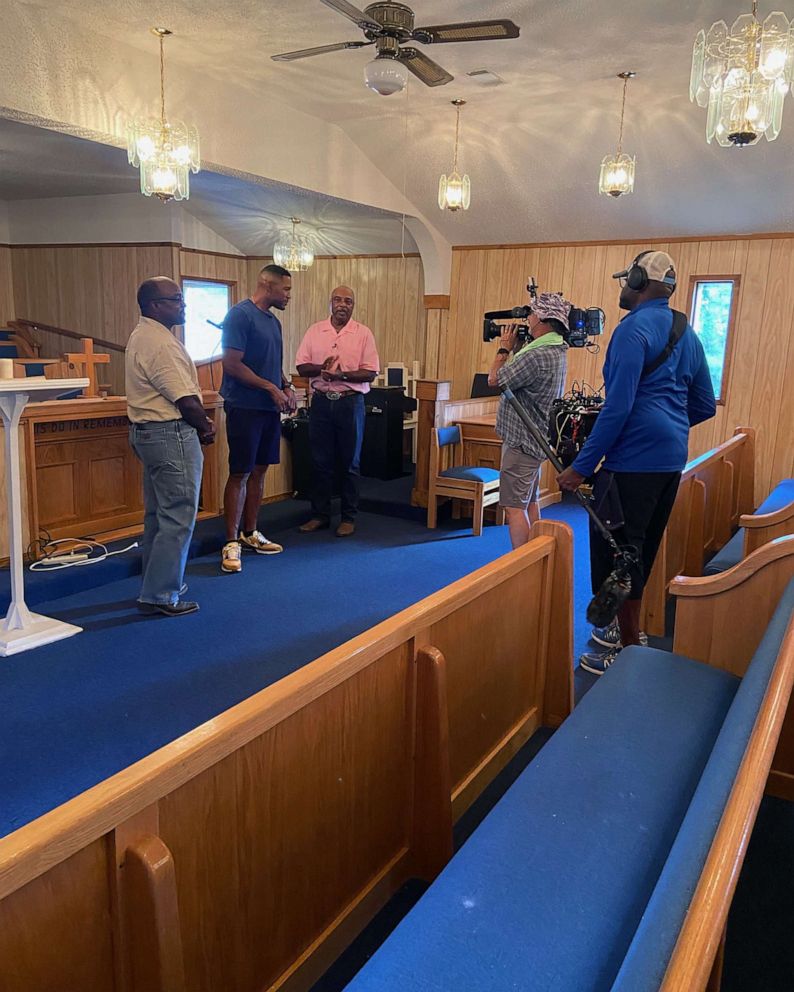 "It was the first church in this community. We had three at the time, but we've had a lot of renovations done since the original church building," said Phillip White, Strahan's cousin.
Across the way at the cemetery, Strahan and his relatives paid tribute to the town's two brave founders and spotted more familiar names, including Shankles, Spikes, Strahans and Peacocks.
"If they have roots in this community, they will be buried back here in Shankleville," Phillip White explained.
Remarking on Jim and Winnie Shankle's headstone, Strahan added, "I'm looking at this headstone, the original headstone, and [it] says 'father and mother.' And at the bottom, 'Remembered for what they have done.' It's amazing to think of the two people right here where we stand, [who are] responsible for us standing here."
As they walked across the sacred ground, Strahan noticed another familiar name on a headstone: his grandfather Abe.
The discovery was overwhelming.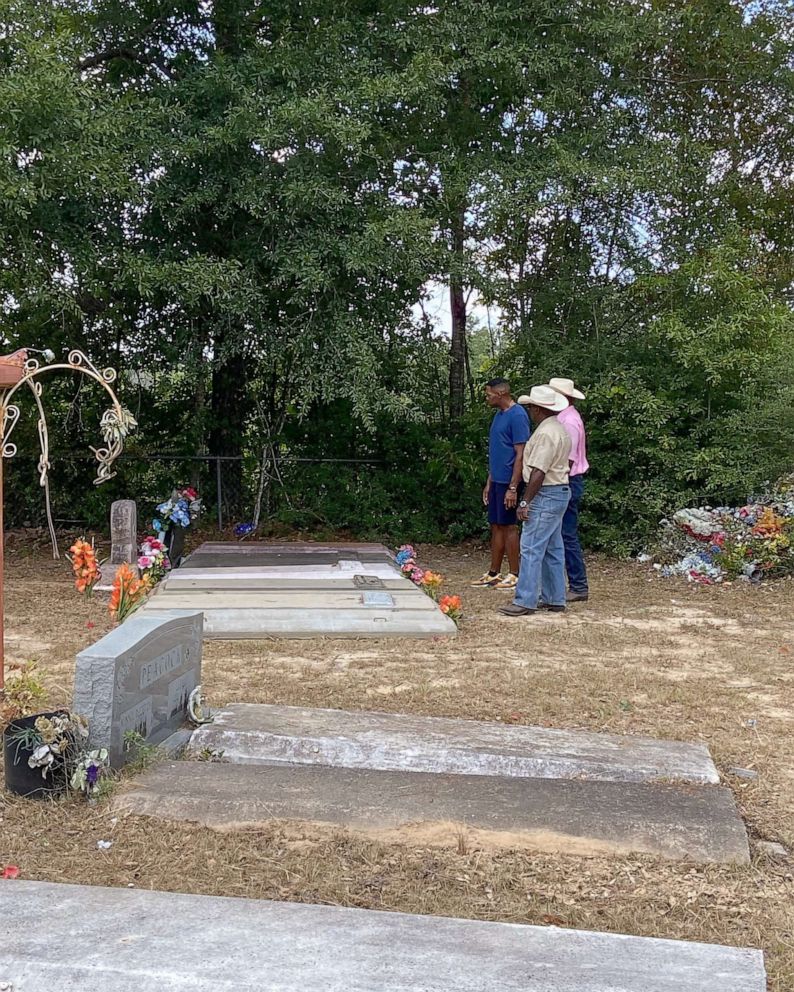 "I never had a chance to meet him," Strahan said. "I was born 14 years later -- that's a little shocking, you know, to see this."
"This is kind of mind-blowing to come back here to see my grandfather, who I never had a chance to meet," he continued. "Wow. History."
Strahan also visited the Odom homestead, a house built in 1922 by A.T. Odom, another Shankle descendant, which was added to the National Register of Historic Places in 2012.
Clay explained that the gate outside of the house had no fence, but they kept it that way because "my grandmother would judge people's character by how they came in the gate and whether they closed it."
As they worked to restore the house, efforts that date back to 1945, Clay recalled thinking, "OK, the fence is gone and everything, but we're going to keep the gate."
Inside the vestibule, Strahan spotted the home's original telephone.
"[This is an] unbelievable story … this is our community, this is our ancestry," he said.
During the visit, Strahan questioned how it was possible that the Shankles hadn't received more national recognition for the community they built in the 1800s across 4,000 acres.
"I like to say there are two ways that people tend to look at African American history," Clay said. "One is 'They don't have a history,' and the other one is, 'I don't want to talk about that,' which is the way African Americans obviously are. You know, 'I don't want to talk about that.'"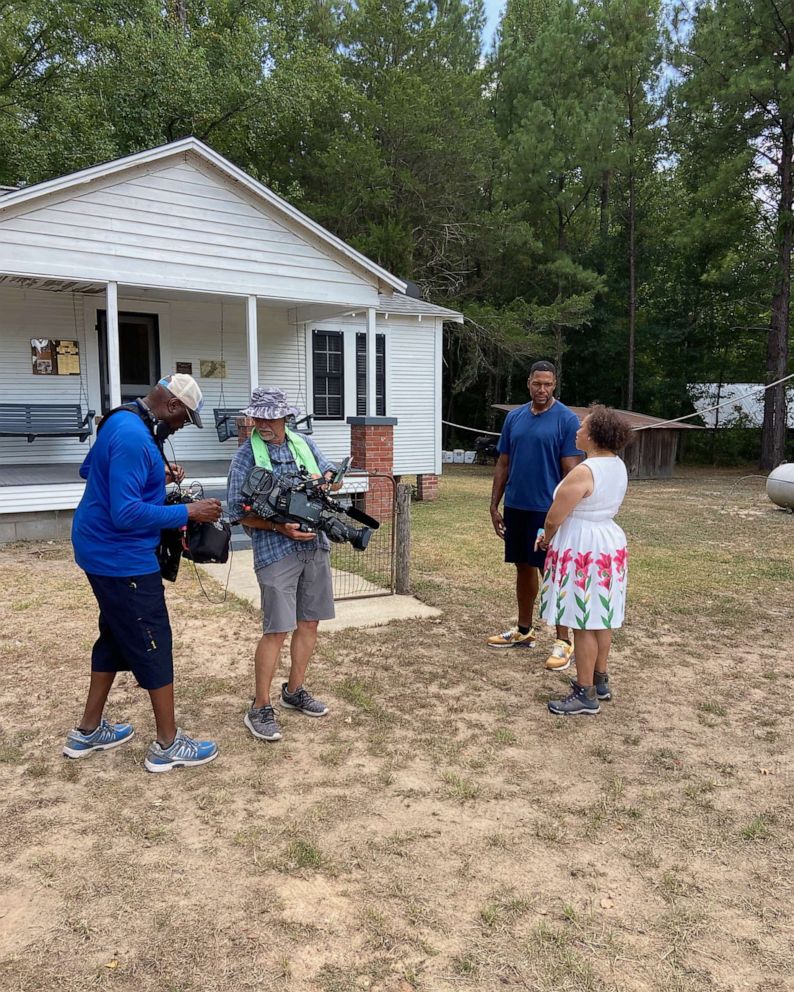 She said her mother was "very, very instrumental in talking about it."
"She would come here and interview my grandparents," she said, adding that "the reason that we have all of the genealogy of so many people is because she would come to homecomings, pull people off to the side" and ask them to tell her who was in their family -- and then write it all down.
As the tour of the Odom homestead continued into the kitchen, Strahan noted a delicious smell: Clay was cooking a big pot of purple hull peas that originated in Africa and have grown in the town for generations.
The peas are celebrated annually at the Texas Purple Hull Pea Festival, which also pays tribute to East Texas' history and helps boost the regional economy.
Since 1941, during the first weekend of August, Shankleville has celebrated "Homecoming" where descendants who left town years ago reunite to maintain family ties. The event is filled with singing all Saturday night and church services all day Sunday.
While the Shankleville community is dedicated to keeping its past well-preserved, the future is bright with plans for a bonafide vineyard in 2024.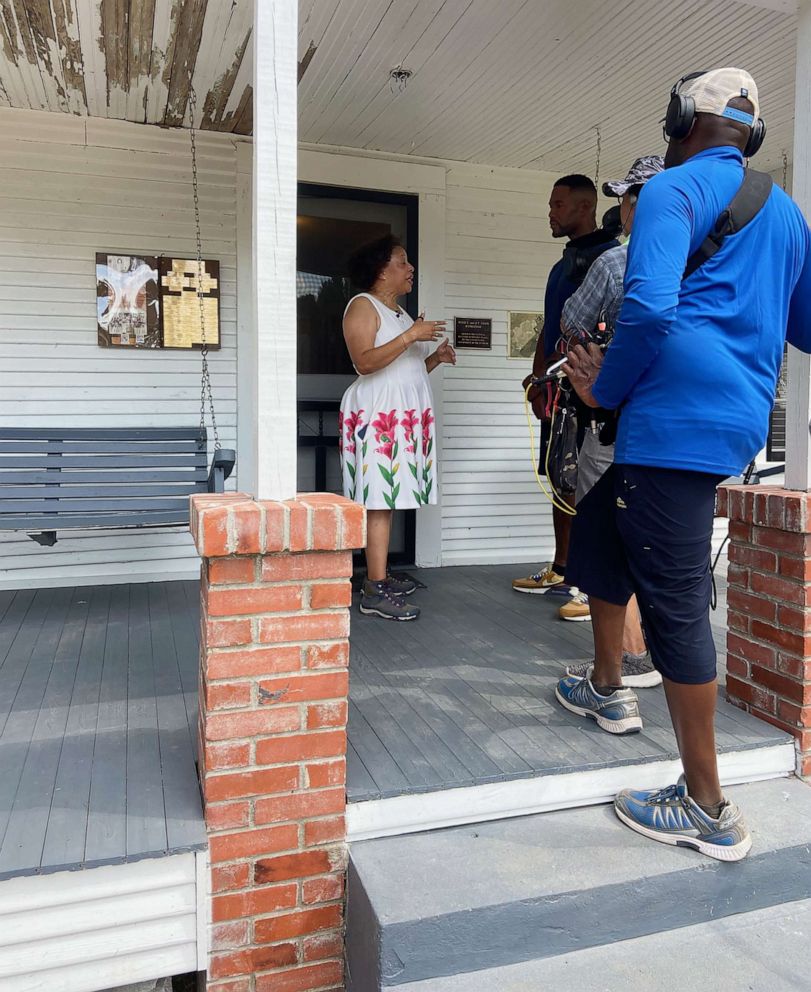 "Initially, it started out with me for the love of wine," Strahan's cousin Franklin said, adding that she decided on Shankleville because of its history. "I wanted to plant on the grounds that my ancestors acquired so long ago."
She also saw it as a way to create jobs for the small town and help the next generation.
The wine bottles have a blurb on the back that reads, "Franklin Vines, Texas Wine" and "Dedicated to the town and community of Shankleville, Texas. Planting red grapes and producing wines signified the blood, sweat and tears that our ancestors went through to acquire land and build in Shankleville."
"This is about family. This is about your past. It's about your future. It's about preserving the community, bringing more people to the community to learn a great story about Shankleville," Strahan said.
Join American Ancestors on Aug. 24 for a free online lecture, "Introducing the 10 Million Names Project."