This former officer living with ALS had a heartwarming reunion with his army son
Nathaniel and Anthony Ocegueda
A retired Fresno officer received the surprise of a lifetime when his former coworkers and family surprised him with a drive-by parade that ended with a sweet military homecoming and reunion with his son.
Jesus Salinas had not seen his son Jordan since he was deployed overseas in July 2019. The 22-year-old is following in his father's footsteps and pursuing a career in the military as an army specialist.
Jordan had only been stationed in Iraq for a couple months when his 53-year-old dad was diagnosed with Lou Gehrig's disease's in September 2019.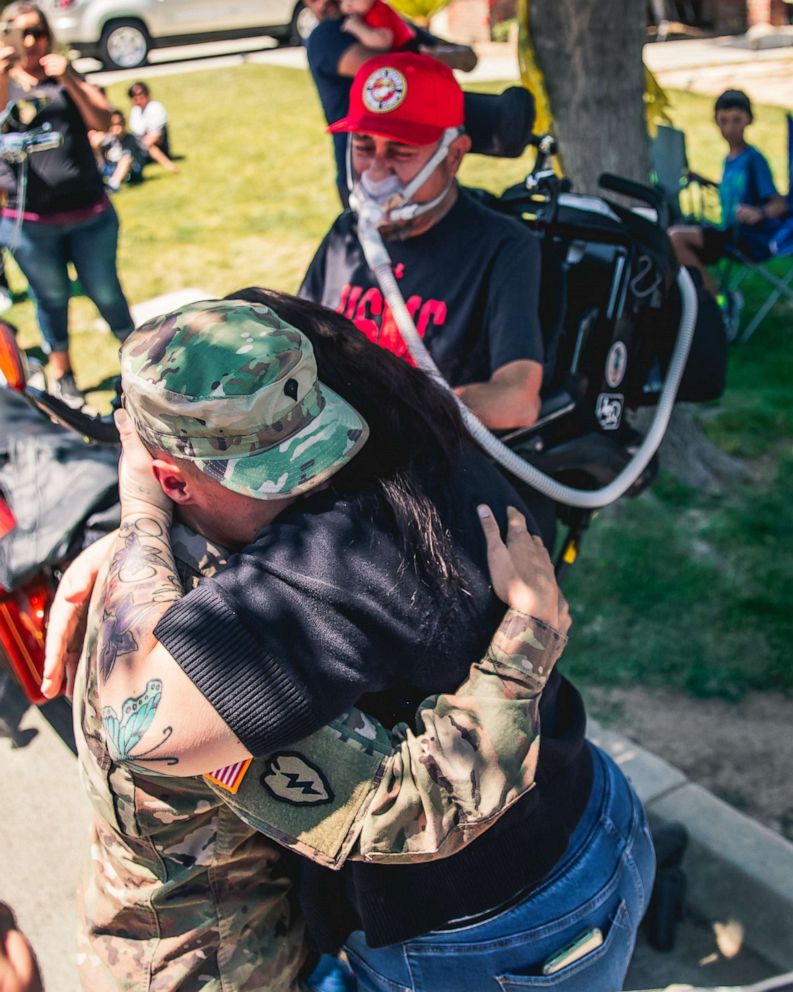 "When Jordan was deployed, Jesus was still walking. He was able to talk but voice was a little raspy, but they just thought it was sinuses," Jesus' sister-in-law Stephanie Ocegueda told "Good Morning America."
The elder Salinas' health has rapidly deteriorated since his diagnosis. He has a specific form of the illness called Bulbar ALS, which progresses faster than other types of the neuromuscular disease. Along with his loss of speech, Jesus is bound to a wheelchair, has limited use of his right arm and forearm and uses a breathing machine. In January, he was medically retired after 20 years of working as an officer at the Fresno Police Department.
Since his diagnosis, Ocegueda said Jesus "has never once complained. He may have ALS, but ALS does not have him."
"My faith is very strong and I will fight this battle until the end," Jesus told "GMA." Although he can't speak, he types through an app to communicate.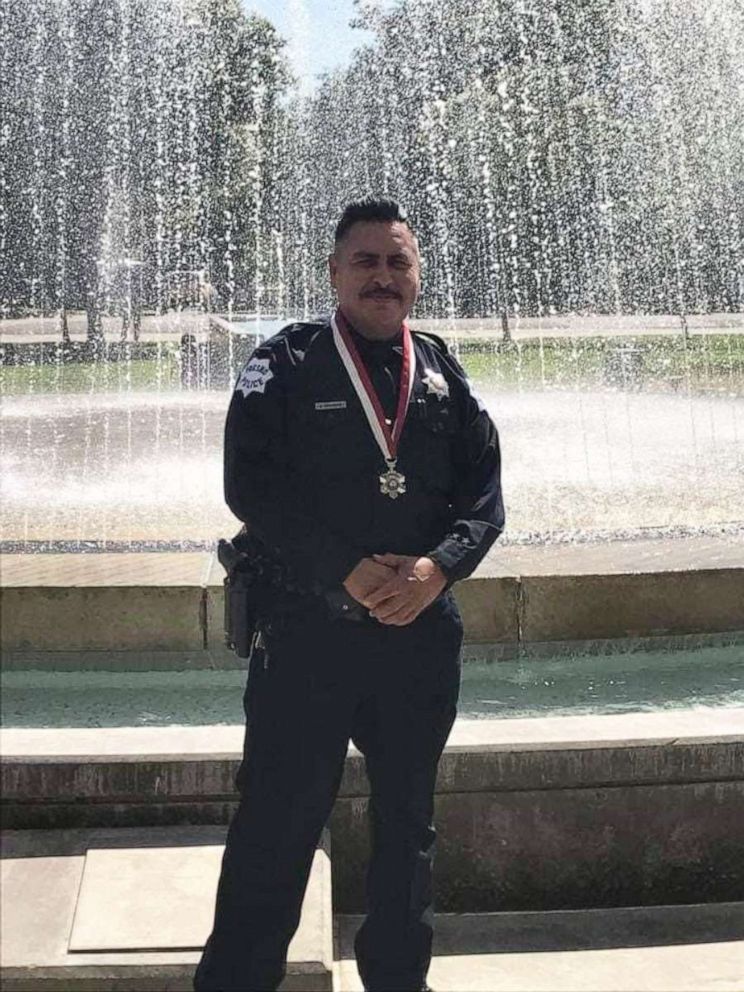 In late March, Jesus was taken to the hospital with high carbon dioxide levels and forced to stay in the ICU alone due to amended visitation policies during the COVID-19 pandemic.
"No one knew if he was going to make it," Ocegueda said. By April 2, they were allowed to take him home for in-home hospice.
Ocegueda said she and Jesus' sister, Norma Facio, "sat down and decided Jesus and [his wife] Sara and the family needed to make good memories."
Facio and Ocegueda contacted the American Red Cross, with help from Veteran Affairs, to ask for Jordan to be brought home to surprise his parents.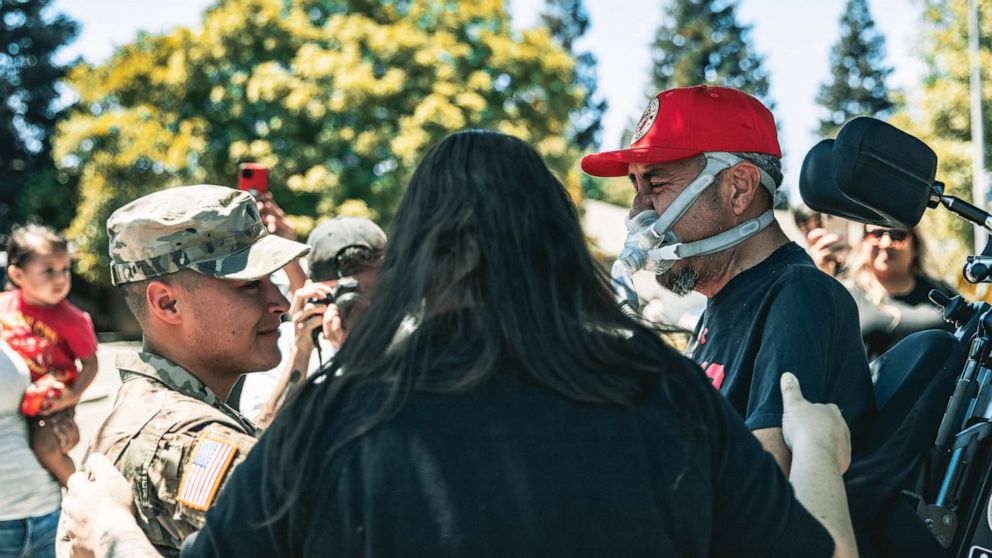 The women worked with the Fresno Police Department to help carry out the homecoming. Ocegueda said Captain Burke Farrah and Police Chief Andy Hall were eager to help cheer up the Fresno police officer of 20 years, especially after Jesus had to be retired from a hospital bed in January.
"We felt that he needed something special, a good memory. Jordan coming home was already going to be hard and we didn't want it to be sad, we wanted it to be really positive," said Ocegueda, who works as a nurse.
They planned to surprise Jesus with a drive-by parade of Fresno patrol vehicles with Jordan at the end of the line, waiting in a car. When Jordan got the green light to return home on a 28-day leave, the family members had to convince him to keep his homecoming a secret from his parents.
"It almost felt wrong not telling them, but I knew the surprise would make them so happy, so I had to fight the temptations so I could make the memory of a lifetime," the Army specialist told "GMA."
On the big day, May 2, Facio and Ocegueda convinced Jesus and his family members to gather outside his house to check out his brother's new motorcycle, while respecting social distancing guidelines. When the Fresno police department started their parade past the house, "it was a surprise for everyone."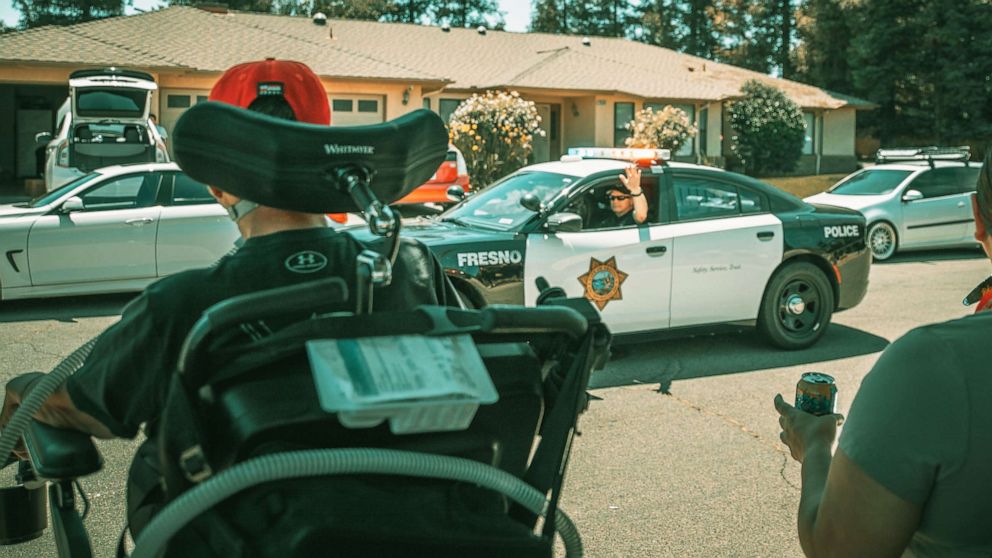 Jesus was already visibly emotional watching his old coworkers driving down his street.
"On behalf of the men and women of the Fresno Police Department, it is my privilege to honor you today," an officer said via the intercom system before adding, "we brought you a present."
But the moment the final car slowed down and Jordan emerged, everyone burst into tears.
"I felt very emotional and blessed, as our lord had answered my prayers to have him home and see him again," Jesus told "GMA."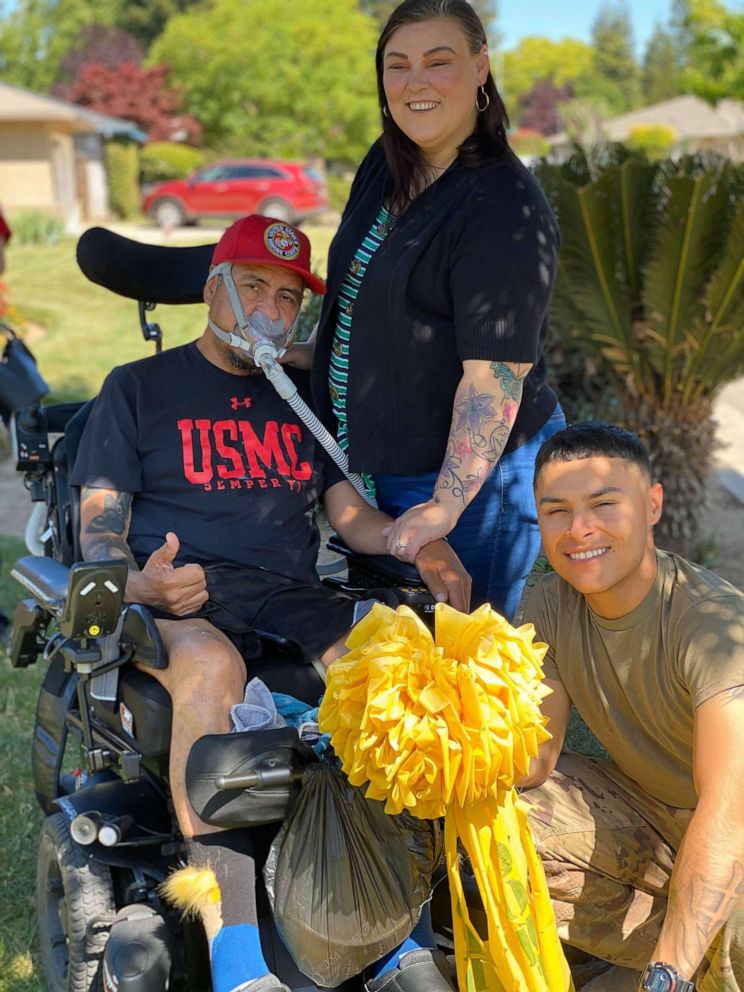 The young soldier called the moment he finally saw his parents "unreal." "[For so long] all I had was FaceTime, so to see them once again means everything to me."
Since the heartfelt reunion, the father and son have been catching up on some much-needed bonding.
"We hang out in our family room and talk and reminisce about his childhood and all the kids growing up," Jesus said.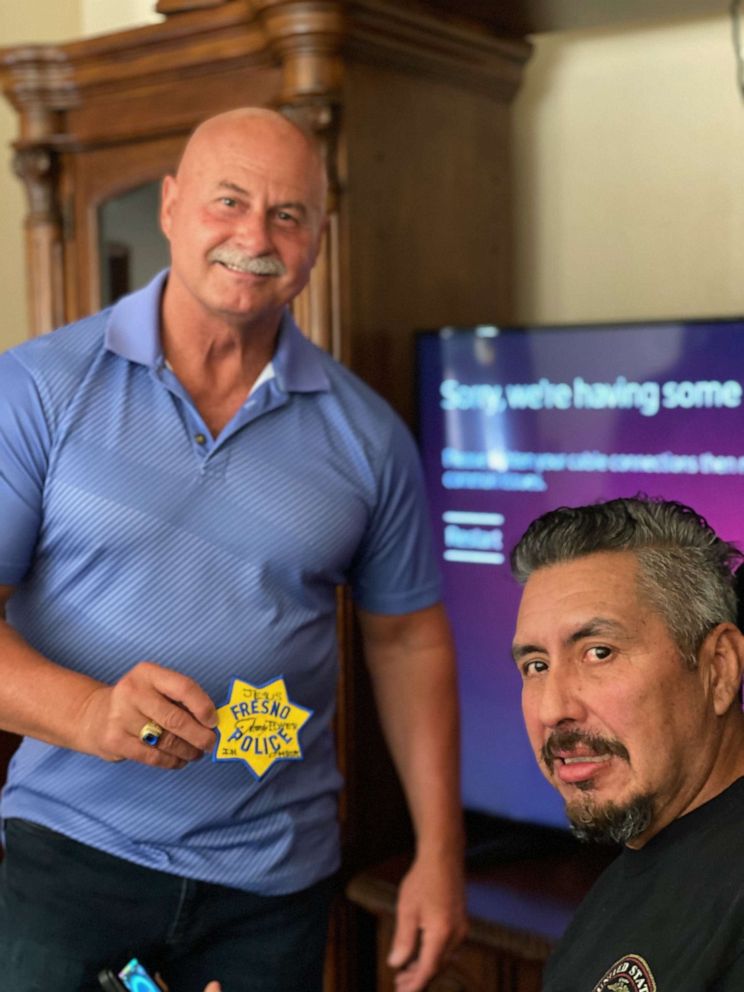 Although he admits some days are better than others, the dad has no plans of letting ALS win. With May being ALS Awareness Month, he wants to raise awareness about the disease and find a cure.
"I am a Marine and Marines never give up... I'm living life fully till the wheels fall off!" he said.