Teacher's Taylor Swift and Kid Cudi song parodies help students learn with a beat
What's harder than learning about rock cycles and fractions? Keeping a classroom of fourth graders engaged and excited.
That's the challenge fourth grade teacher Marlee Christianson, 30, faced when thinking of ways to make a lesson on the different types of salmon fun for her students.
Having no background in music other than a love for singing and playing the guitar "badly," in her words, Christianson put together a short song for her students to follow along.
She said it was an instant hit.
"Every single class that I've ever had, they always love the songs," Christianson told "Good Morning America." "So it's always exciting to me to just see the anticipation."
The reaction from her students has motivated the Washington native to keep turning her lessons into songs, even incorporating hits from superstars like Lizzo and Taylor Swift.
After interest from fellow teachers at her school, Christianson said she decided to post her songs on TikTok so other teachers could use them in their own classrooms.
One of her most popular uploads is a song she made while teaching her earth and space unit. Christianson's version of Kid Cudi's "Day 'n' Nite" has over 2 million views on TikTok.
The rapper even responded to the video on TikTok, writing in the comments of the post, "LOVE!!!!!"
Christianson's musical method is not just a fun way to teach content: She said her students actually retain the information and use it even after they leave her class.
"There was a fifth grade teacher once who [told me] they were rounding and someone couldn't remember how to do it, so one of my students from last year started singing the rounding song… and then they used those steps to help that other student round the number," said Christianson. "Just hearing things like that where they're using them in the future is really inspiring to me as a teacher and it makes me think that I do need to keep doing it."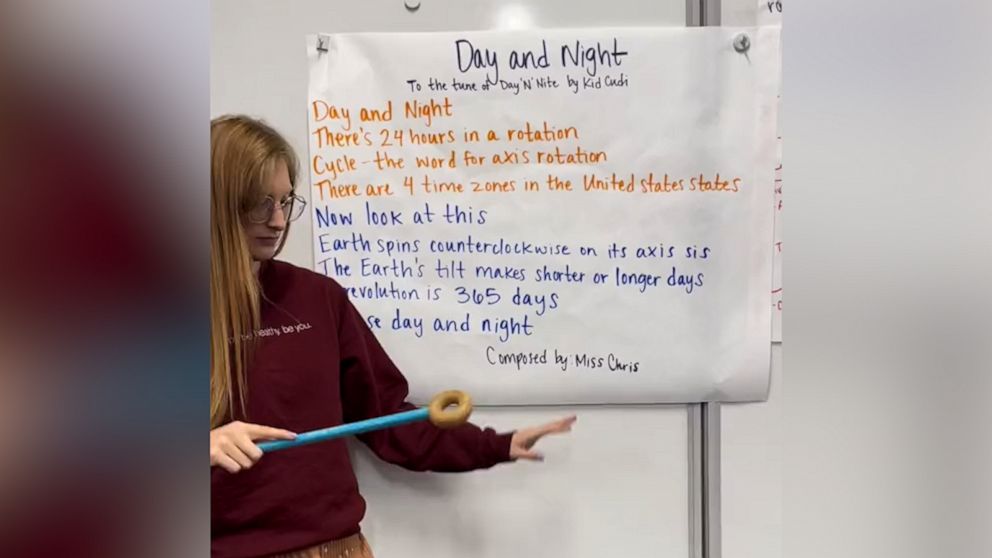 At times, the songs may seem silly and putting them together takes some time and extra preparation, but Christianson says it's well worth it.
"I know that it is really hard to change things up and make time for different things, especially when you're trying to do 5 million things in one day and then you have 500 people trying to talk to you," Christianson said of being a teacher. "But try it because if you do it once and it's awful, then you never have to do it again. But, sometimes the reaction and the outcome is greater than you would have imagined."
Editor's note: This was originally published on Mar. 3, 2023.