Midterm election candidates under 30
L.E. Baskow/AFP/Getty Images
Send "GMA" your Why It Matters video about which issues inspires you to vote and explore our midterms coverage.
The "Pink Wave" in the 2018 midterm election is tinted blue.
Across the country, 278 women won major party nominations this year in the U.S. House, Senate and gubernatorial races, shattering previous records and setting the stage for a potential dramatic shift in the gender balance of national politics.
Take for example the House congressional races. There are currently only 84 women in the U.S. House of Representatives (out of 435 total members total), but this year, including the 84 already in Congress, an astonishing 239 women are on the ballot for these seats.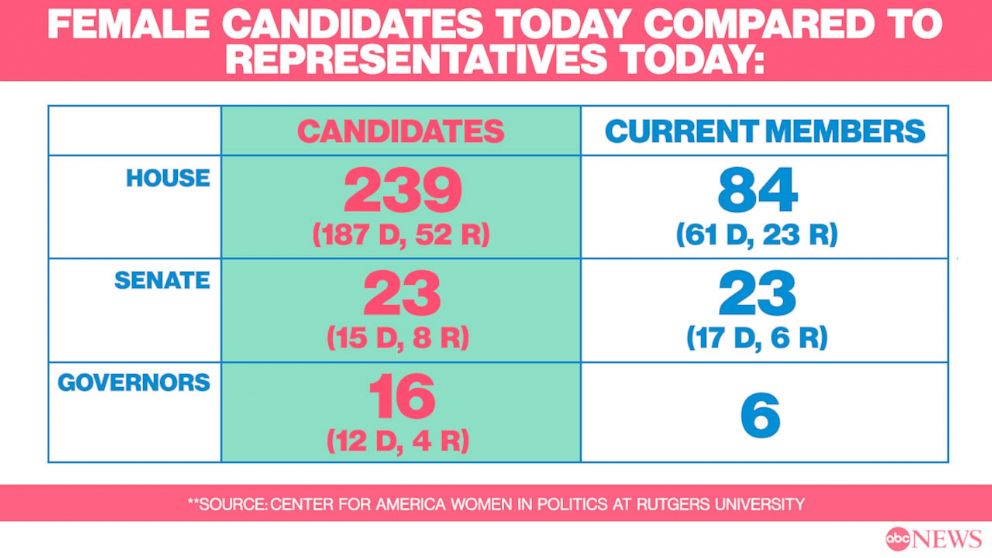 In short, the House could look very different next year, especially on the Democratic side.
Of the 239 women nominated in Houses races, 187 are Democrats, and 52 are Republicans.
In the Senate primaries this year, Democratic voters nominated 15 women in states across the country, whereas Republicans nominated 8 women in senate races. The breakdown in gubernatorial races is similar.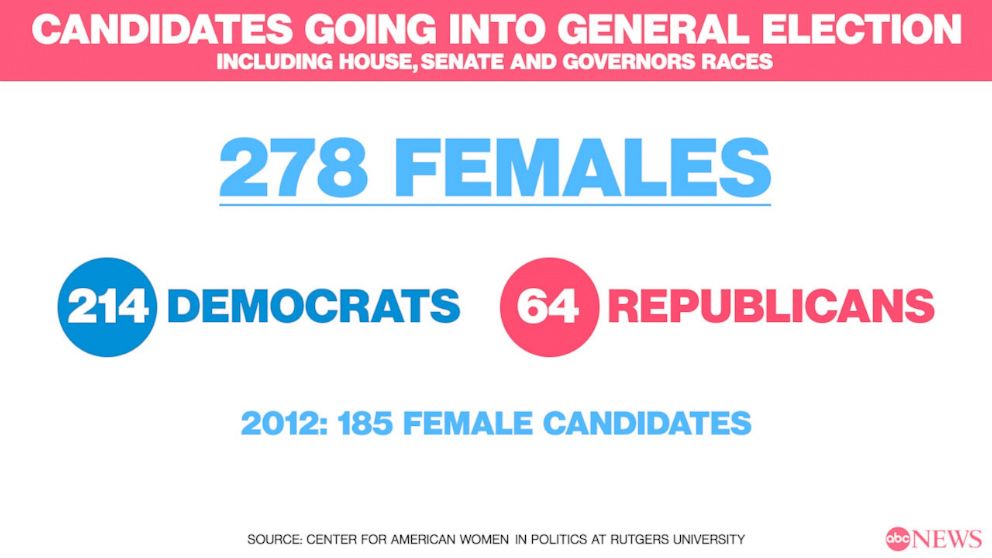 Historically, women have tilted Democratic in their voting patterns, and the Trump administration seems to have only deepened those voter preferences.
According to an ABC News/Washington Post poll, women who are registered to vote support Democratic candidates by a margin of 59 to 37 percent, while men split about evenly, 46 to 48 percent. Women also hold more negative views of the president. For example, 61 percent of women say they disapprove of his work in office, compared to 45 percent of men.
President Trump's election was clearly a tipping point for Democratic women across the country to become more engaged in electoral politics.
In conversations with over a dozen first-time female Democratic candidates, ABC News heard similar stories about women feeling compelled to protest, organize and run for office in direct response to Hillary Clinton's loss, the president's treatment of women, and Republican policies on health care, government spending and family issues.
The groundswell of Democratic women entering politics this year come from diverse backgrounds and careers and bring with them wide-ranging expertise as doctors, former national security intelligence officers, veterans, teachers, and small business owners.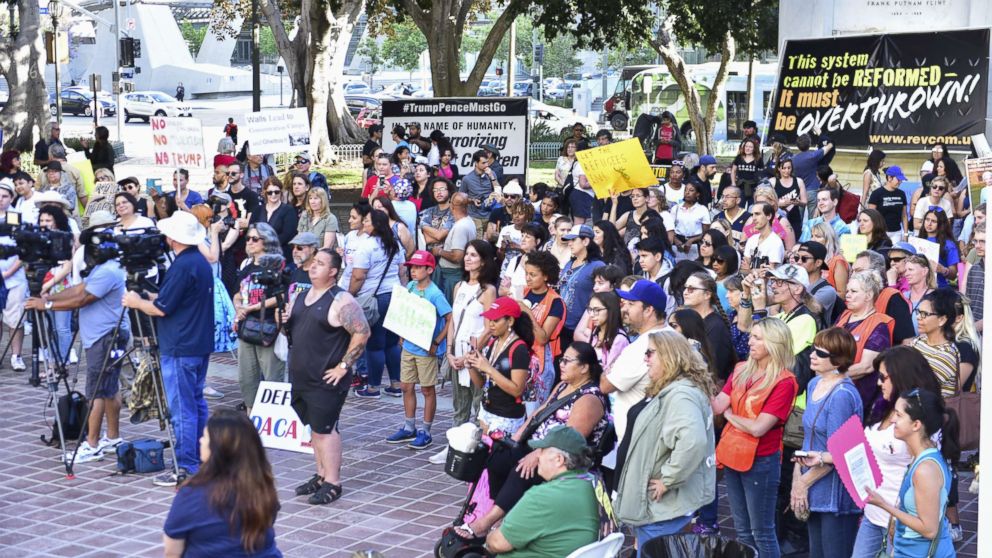 Liuba Grechen Shirley is a nonprofit leader and mother of two, who is running for office for the first time in a congressional, traditionally red district in Long Island, New York.
In an interview with ABC News last week, Grechen Shirley talked about the 2016 election as a "really difficult time." She called her local Democratic Party office in Suffolk County, New York after President Trump was elected looking for a community and next steps.
"I wanted to know what the plan was. Nobody got back to me. And then I called the League of Women Voters and the woman on the phone said, "I sense the desperation in your voice, and I think this is your leadership moment."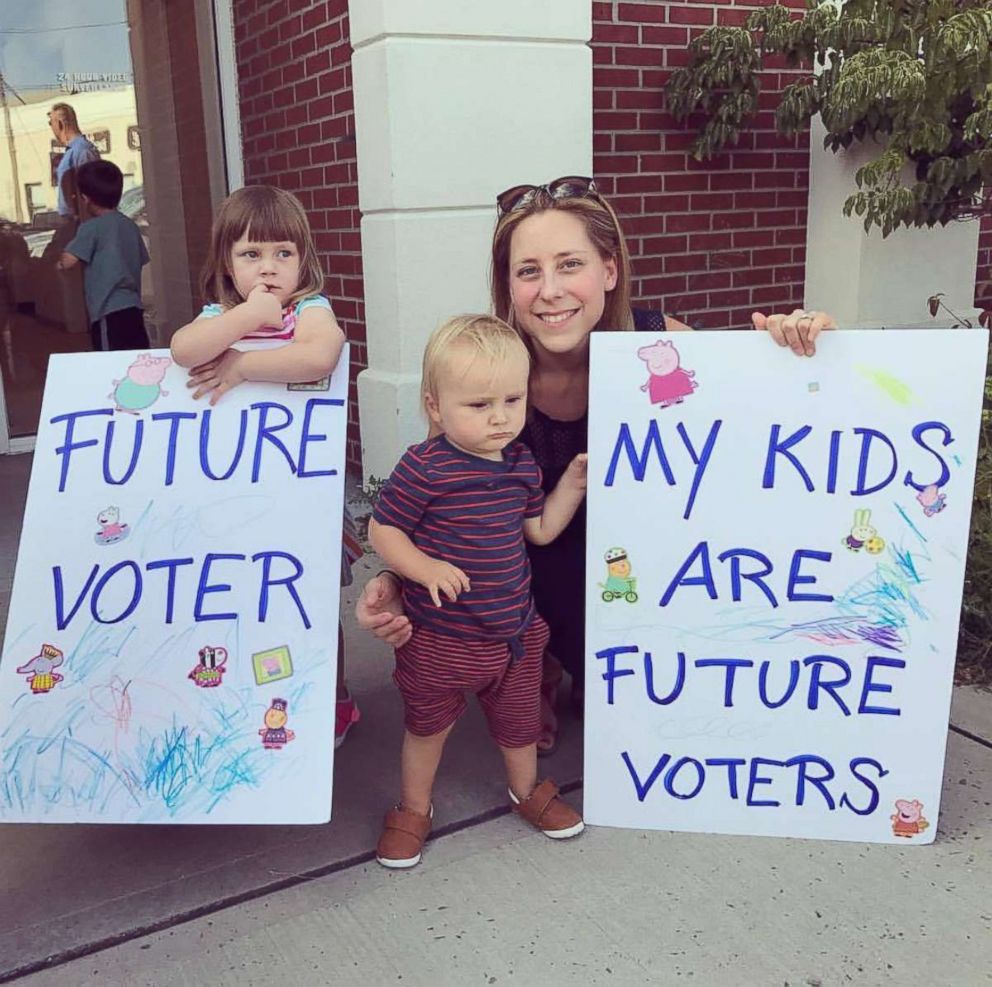 Gretchen Shirley said her frustration grew and in the early part of 2017, she decided to take matters into her own hands.
She organized a Facebook group, which quickly grew to over 3,000 people across her district. She sent out daily action alerts urging those in the group to call their congressman and write letters. When the incumbent congressman, Rep. Peter King, R-NY, supported the president's "Muslim ban," that drew hard and fast lines barring people from predominantly Muslim countries from coming to the U.S., she called for a last minute protest and 400 people showed up.
King later voted for the Republican health care bill, and refused to come to a town hall that Gretchen Shirley organized.
"I couldn't not do it. And there were a lot of reasons that I shouldn't do it, but in the end, I just had to," Shirley told ABC News when talking about the beginning of her congressional run. "I couldn't sit back and watch what was happening anymore."
"Yes, it is the 'Year of the Woman,' but it is also the year of average everyday Americans who have just had enough. Most people don't think about running for office. It's usually for the elite, the people who are independently wealthy … But this is the kind of year where all kinds of people are just saying, 'enough is enough.' We're going to fight back," she said.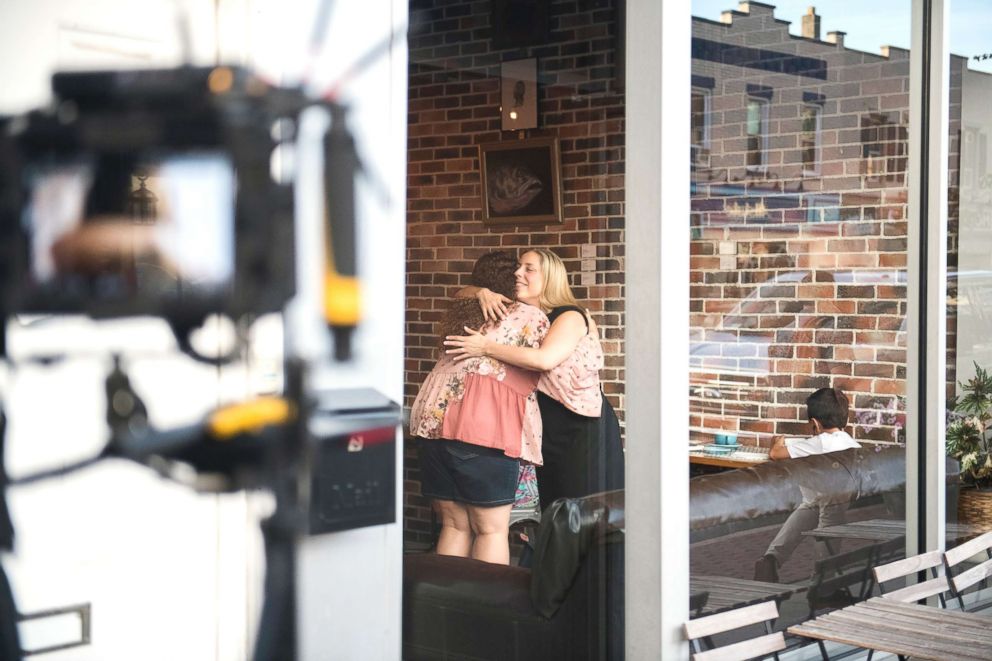 Muthoni Wambu Kraal, vice president of national outreach and training at EMILY's List, told ABC News that Democratic women are feeling an "urgency" to create change in communities across the country.
Republicans have pointed out that they do have a number of strong female candidates this year, including several in more moderate and swing districts that Hillary Clinton won, such as Lea Marquez Peterson in the Tucson, Arizona area, Maria Elvira Salazar in Miami, Florida and Young Kim in Orange County, California.
Still, Matt Gorman, the Communications Director at the National Republican Congressional Committee, conceded that the party's efforts to recruit women to run is an "ongoing project."
"One of the things we learned when we started to focus on recruiting more women in 2012 and 2014 is that the recruiting process is not a two-year period. It can take two, four or six years to get some of these women in," Gorman said. "Men are still much more likely to jump in, even on short notice."
Gorman pushed back against the idea that the president had made it harder for the GOP to recruit women.
Republican Congresswoman Elise Stefanik from New York was appointed as recruiting chair for the party this cycle, to emphasize and encourage more female Republican candidates.
Matt Schlapp, a long-time Republican strategist agreed that recruiting a diverse set of candidates continued to be a challenge for the party.
When asked about the gender disparity between Democratic and Republican candidates during an episode of ABC News' Powerhouse Politics podcast, Schlapp said that he thought it was an issue, and that the Republicans should keep focusing on it.
"I think the big thing I've learned in politics over the years is that, you know, you have to have a welcome mat. You have to be encouraging people," he said.
"On both sides we have a system that might still be dominated by men, and I think we ought to wherever possible do everything we can to make sure we have diverse candidates that look like America. I want to be a part of a nationwide party not a regional party," he added.