I love the look my hair has after the salon, but hate sitting in a chair for hours.
Enter Glaze, an $18 hair treatment that claims to give you mirror-like shine without the salon.
The product comes in 14 shades, three of which are made for highlighted hair.
To see if the product holds true to its claims, I tried it.
I would consider my hair to be long and have a natural dark brown color.
After taking the shade selector quiz on Glaze's website, I decided to use 'Blazing Brown.'
Application
According to the directions, the product should be applied with gloves on damp or dry hair and develops in 10 minutes.
It took me about 8 minutes to apply the color to my hair and another 10 minutes to rinse it out in the shower.
Application was simple and easy and I was able to apply to my entire head without any help.
Results
After drying my hair with a blow dryer, I was pleasantly surprised by how soft it felt.
The treatment left my hair with a richer color, more shine and an overall healthy feeling.
Overall takeaway
Multiple washes later and I still feel the affects the product has has on my hair and will definitely use it again.
One thing to note is that Glaze does not cover grays, so if you are looking for coverage they suggest using a permanent color first.
While the bottle might not look big, the brand says you can get two to three applications out of it.
I used about half a bottle on my hair and plan to use the rest next time my hair needs a boost.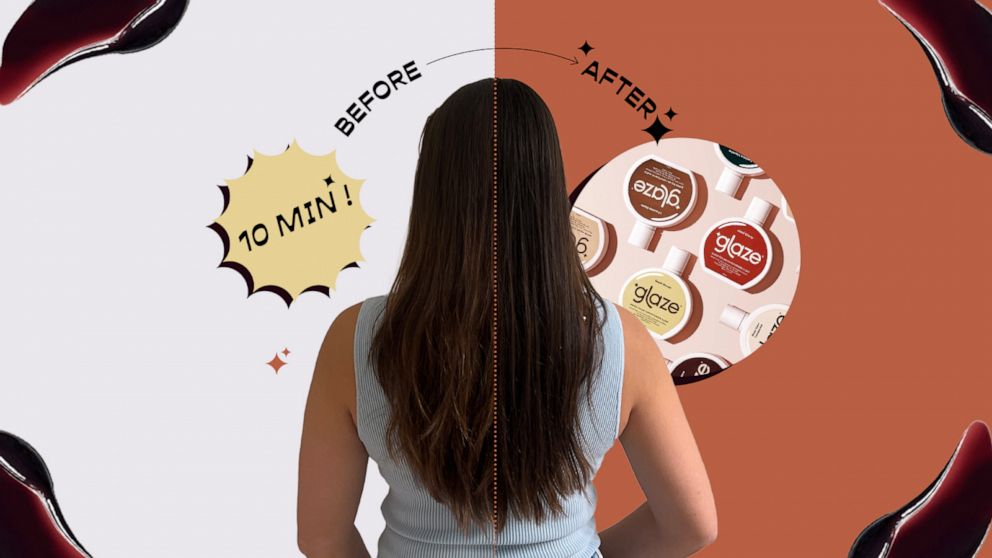 Want to try it for yourself?
Scroll down to shop Glaze's conditioning gloss on Amazon.
By clicking on these shopping links, visitors will leave Goodmorningamerica.com. These e-commerce sites are operated under different terms and privacy policies than Goodmorningamerica.com. ABC will receive a commission for purchases made through these links. Prices may change from the date of publication.