She chopped her $5,000 wedding dress to wear on her honeymoon
Taylor Popik is a practicing attorney, lifestyle content creator and recent bride who is going viral after cutting her wedding dress.
The New York City-based voice behind The Wellness For Life Blog posted a video of herself in her wedding dress on TikTok back in April, telling viewers she planned to cut the mermaid gown, which was covered in beading and floral applique and cost more than $5,000, to turn it into a mini cocktail dress for her honeymoon in Italy.
"This is your sign to CHOP IT girls!!!" she wrote in the caption.
Popik's video quickly caught the attention of other TikTok users -- it now has at least 1.5 million views and more than 100,000 likes -- with many of her followers asking to see an "after" video.
A few weeks later, the newlywed honored those requests, posting a video of her shortened dress, which sat just above her knees.
"I shared the process with my audience because I always encourage them to do what feels right for them, and this was an example of that for me," Popik told "Good Morning America."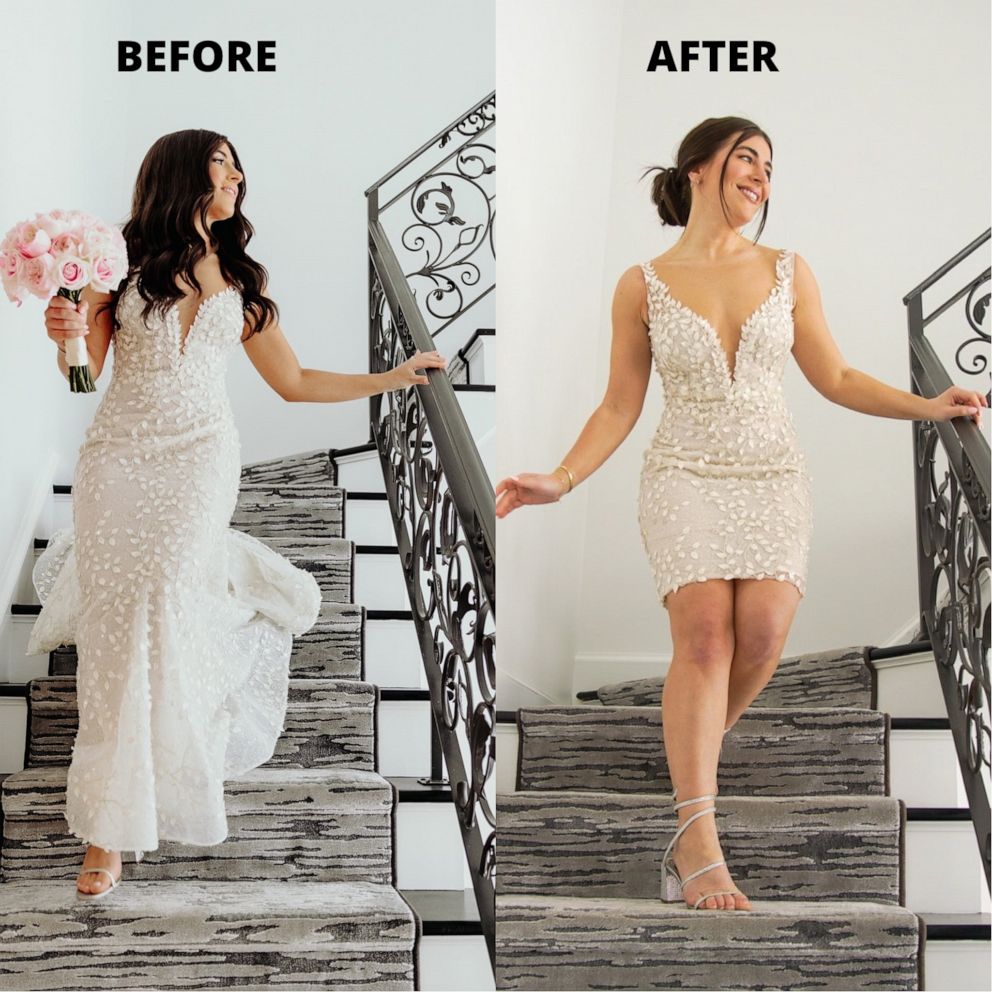 Many brides opt to preserve their gowns in the hopes that their future children will someday re-wear their big day ensembles. Popik said her own mother had done the same, but despite preservation, the dress had not withstood the test of time.
Popnik, after deciding to look for something new, said she ultimately fell in love with a Tony Ward gown that was exclusive to Kleinfeld Bridal, and purchased it after her first try-on appointment, donning it for her wedding last year.
Popik has shared several additional videos about shortening her dress in recent weeks, and some TikTok users have reached out with ideas on how to reuse the leftover material from the bottom half of the gown.
"It's been really special to connect with women around the world, to hear their stories and to discuss other sustainable ways I can re-purpose the rest of the fabric I have left from the dress," said Popik. "I've received hundreds of suggestions, including donating to a company that re-purposes wedding gowns to make dresses for [stillborn infants], and other charitable causes. It's been really inspiring."
"I hope that I can inspire other women to always do what feels right for them, even if it goes against the grain of societal expectations," she added. "If even one bride re-purposes her wedding gown so that she can wear her sentimental dress while creating new special memories, I'll be happy."
Popik said she hopes to motivate other brides not only to "have more fun with their bridal wardrobe" but also to "think more sustainably in general."