The social media hashtag #StopAsianHate is one that many fashion and beauty industry leaders are standing behind.
Following anti-Asian violence that has since increased amid the pandemic as well as a recent Atlanta shooting in which six Asian women were killed, rallies fighting Asian hate have continued to soar across the nation.
Designers including Prabal Gurung as well as beauty industry notables such as Allure magazine's editor-in-chief Michelle Lee are using their massive platforms to speak up and speak out against hate crimes toward individuals of Asian descent.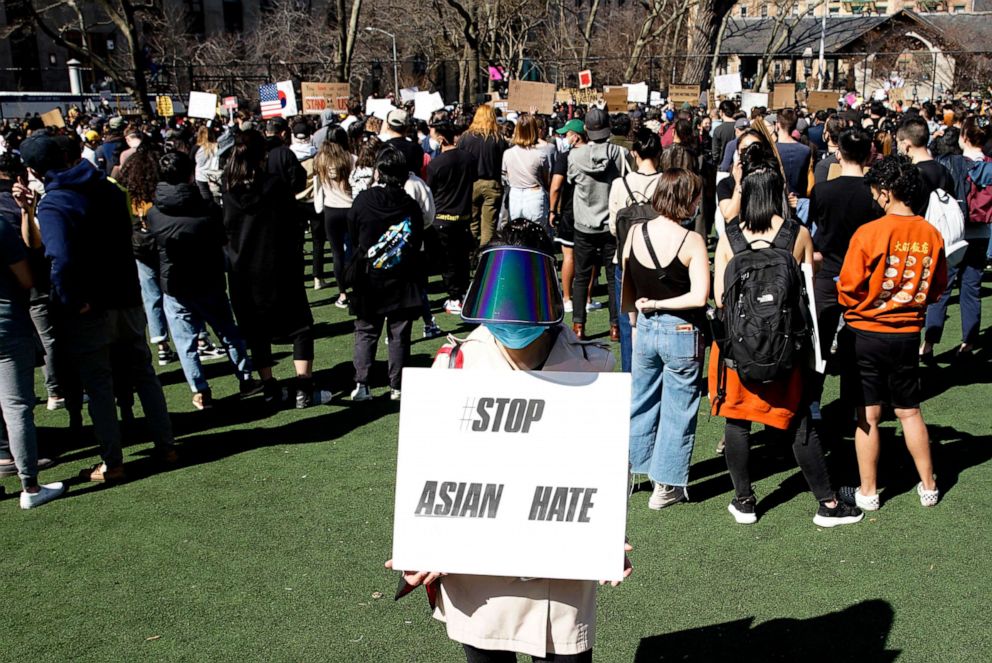 Below, check out how some of these elite forces in fashion and beauty are providing resources, spreading awareness and championing brands to rally against anti-Asian hate crime.
Prabal Gurung
The fashion designer and New York Fashion Week favorite has continued to use his platforms to amplify awareness around anti-Asian racism for several years.
He recently stood in solidarity in New York City among activists and community leaders to acknowledge the power of representation.
"Now more than ever, we cannot let hate and bigotry divide us," Gurung said in a post. "We must continue to fight against stereotypes and hate of any kind in our day-to-day life. The work continues."
Gurung has also been present for many other rallies that have and continue to take place in NYC.
Michelle Lee
In February, Allure's editor-in-chief encouraged fans to #StopAsianHate by sharing a series of videos detailing recent attacks made on Asians as well as her own personal childhood experiences dealing with racism.
Lee recalls repeatedly being called an "ugly chink" every day. "They completely harassed me," she said.
"We need your help to speak out, amplify our message, and put a stop to the divisive anti-Asian rhetoric out there," said Lee in a post. "And remember, this is a time for unity — not a time for us to turn against one another. If you're trying to fight racism with more racism, we're all going to lose."
Phillip Lim
The fashion designer has continually spread awareness about anti-Asian racism on social media and beyond. On Instagram, he shared heartfelt words around his feelings of helplessness and defeat due to the lack of reporting in mainstream media surrounding hate crimes against Asian individuals and businesses.
He also listed five ways to stand in solidarity with specific actions such as helping to combat lies about Asian American communities being responsible for the COVID-19 virus as well as checking in on your Asian friends, peers, colleagues, neighbors to "just let them know you see them."
Lim also created a collection of "Stop Asian Hate' key chains in which all net proceeds will go toward AAPI'S GoFundMe to support grassroots AAPI organizations across the nation.
"As Asian Americans, we have to understand that now's the time to activate our voices and make noise," he told Vogue.
Eva Chen
The former magazine editor turned head of fashion partnerships at Instagram shared a heartwarming post inspiring her followers to stop Asian hate.
Photographed alongside her grandmother, she reflected on memories with her and warned about the tidal wave of hate against Asians ... "with elderly as victims."
"They think Asians won't speak up, fight back, or report crimes," said Chen. "Well, this overly opinionated Asian American will shout from the rooftops that we MUST fight anti-Asian hate crimes and speak up every day.
She added: "You don't have to be Asian to share or raise awareness."
Chen also hosted an Instagram live conversation with other powerful Asian women Cathy Yan, Amanda Nguyen, and Michelle Lee to further speak out against anti-Asian racism.
Jason Wu
The fashion designer shared a post explaining while growing up there wasn't a lot of Asian representation in fashion and how he personally struggled to feel like he fit in.
"While there has been great strides in the rise of the AAPI community within the fashion industry over the last decade, our work is far from over," said Wu.
Following the recent discrimination against the Asian community, he proceeded to call on the industry to work harder in representing true diversity and to show the world that beauty comes in many forms. Wu followed with the hashtags #distanceyourselffromhate #stopasianhate.