Harry Styles has a host of achievements under his belt and he just added one more as the first male to cover Vogue solo in the magazine's 127-year history.
On Friday, the publication unveiled the singer-songwriter as its December cover star, and he's blowing up a blue balloon while dressed stylishly in a black tuxedo jacket and dress designed by Gucci.
In the issue, he discusses dressing up, making music and living in the moment.
"Anytime you're putting barriers up in your life, you're limiting yourself," Styles said in his cover story interview with Vogue.
Images for Styles' photo shoot, were captured by photographer Tyler Mitchell, who previously received many accolades for becoming the first Black photographer to shoot a Vogue cover.
Throughout the spread, "The Watermelon Sugar" singer is seen wearing everything from a flowing white tulle skirt as well as a plaid bottom adorned with a head-turning gold chain.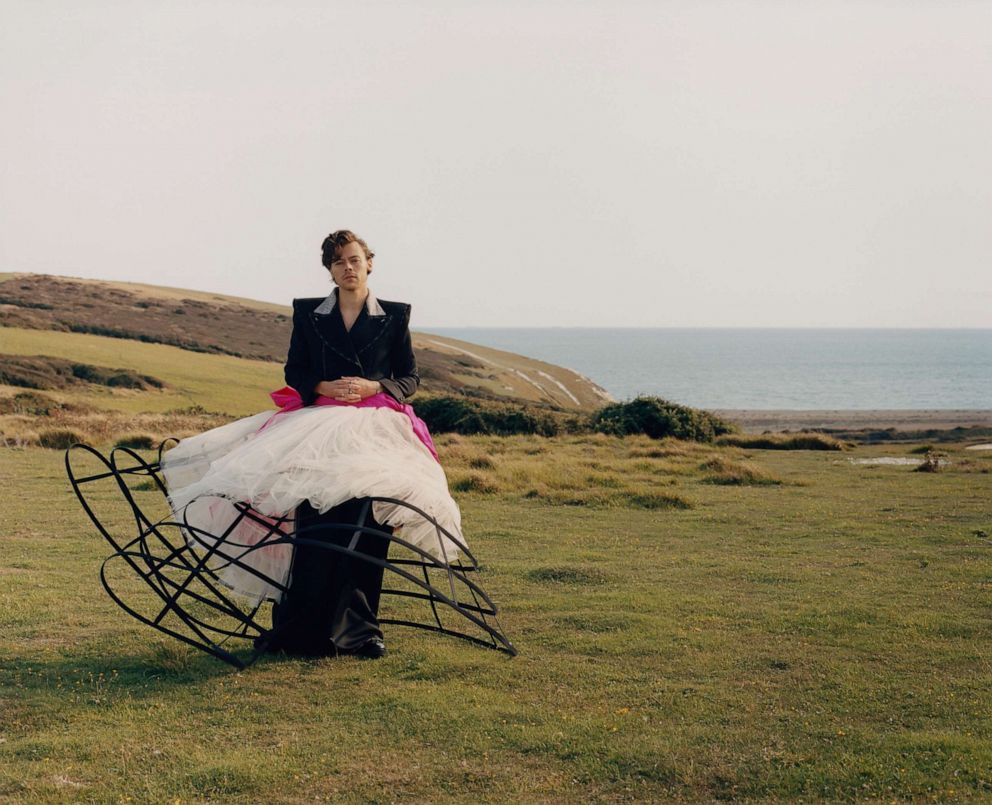 "Clothes are there to have fun with and experiment with and play with," he told Vogue. "What's really exciting is that all of these lines are just kind of crumbling away. When you take away 'There's clothes for men and there's clothes for women,' once you remove any barriers, obviously you open up the arena in which you can play."
He continued, "There's so much joy to be had in playing with clothes. I've never really thought too much about what it means -- it just becomes this extended part of creating something."
Styles also opened up about his thoughts surrounding the Black Lives Matter uprising around racial justice, saying, "I think it's a time for opening up and learning and listening." He went on to share how he has been reading and educating himself for 20 years and taking the right steps.
He added, "I believe in karma, and I think it's just a time right now where we could use a little more kindness and empathy and patience with people, be a little more prepared to listen and grow."