Like father, like daughter?
This certainly seems to be the case for Kanye West and his eldest daughter North West.
While attending Haute Couture Fashion Week in Paris, North was spotted wearing an iconic blue and red varsity jacket, blue-rimmed shades, black pants and Balenciaga Crocs stompers.
The Pastelle jacket is from a fashion line that Kanye launched in 2004, which never officially got off the ground. (The rapper and fashion mogul reportedly told business partners at some point in 2009 that the line no longer happening, according to Complex.)
Ye himself wore the jacket to the 2008 American Music Awards, where he won Favorite Rap/Hip-Hop Album as well as Favorite Rap/Hip-Hop Male Artist.
As she paraded the streets of Paris this week, North was hard to miss, even alongside mom Kim Kardashian, who wore a camouflage printed top and neon green leggings.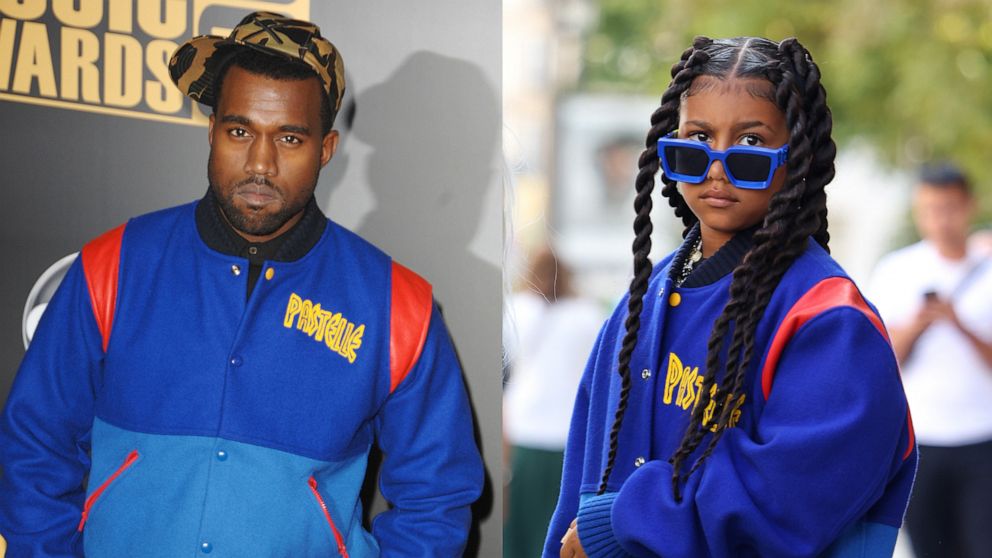 The Pastelle brand is hard to find these days and ultimately fell under the control of one of West's creative partners, Ian Dior, according to GQ.
Earlier this year, a medium-sized version of the Pastelle jacket North was photographed wearing sold for $10,000 on Justin Reed's high-end consignment online shop.
The jacket is described as 100% wool and features a rib-knit collar, lined waist zipper pockets and faux leather should adjuncts.
"The jacket's design is extremely emblematic of the time it was made," GQ's Jake Woolf wrote in a 2017 article. "These days Kanye is all about sweatpants and military-inspired outerwear, but in 2008, he was obsessed with the graphics and color explosion led by labels like Bape, Supreme, and Nike SB."