While it's true you should be wearing sunscreen all year long, now is the time to really make sure it's a staple within your routine.
UV rays are stronger in the summer months according to the American Cancer Society, therefore it's best to have and understand what levels of protection are available to you.
On Tuesday, Dr. Whitney Bowe shared with "Good Morning America" the latest in sunscreen protection for a variety of skin types and she warned viewers that it's important to wear whether you are indoors or outdoors.
Bowe advised that UVA rays can actually penetrate through window glass and can be damaging. "That not only increases your risk for skin cancer, but it also accelerates signs of aging," said Bowe.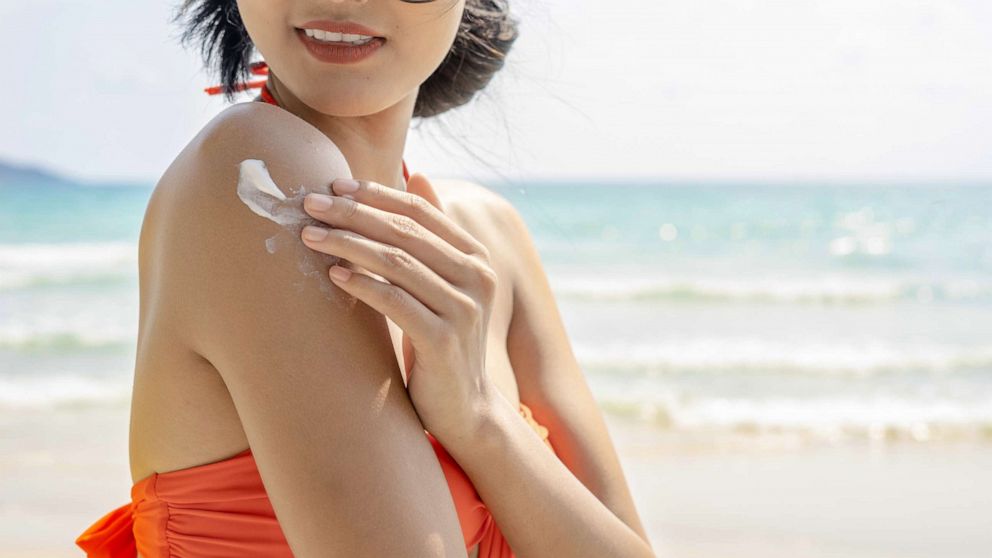 One important concept Bowe outlines in her free e-book to keep in mind when browsing for sunscreens includes understanding what physical (also known as mineral) blockers are. These types of blockers can go by the names of zinc oxide and titanium dioxide.
"Physical blockers can be more difficult to rub in, and they can sometimes leave a cast on skin, especially if you have skin of color," Bowe told "GMA." "However, mineral SPFs have come a long way, and some brand new ones blend beautifully into skin of all shades and colors."
Other words to watch for when selecting a sunscreen are "natural" and "organic." Bowe advised that there are no such things. "When patients think of natural sunscreen ingredients, the ones they have in mind are zinc oxide and titanium dioxide," she said. "In contrast, sunscreens that contain chemical ingredients like avobenzone and oxybenzone are thought to be unnatural."
However, Bowe said that ingredients such as zinc oxide and titanium dioxide are physical blockers that primarily sit on the surface of the skin, and that most are coated with other chemicals to make them more stable, easier to work with, or created for other formulation reasons. "You can ignore the word natural on sunscreen labels because that term doesn't mean anything," said Bowe.
In case you are wondering where to start, Bowe shared several of her top recommendations for a variety of different skin concerns.
Ahead, check out some of her top picks.
Recommendation for sensitive skin:
Kinship Self Reflect Sunscreen Broad Spectrum SPF 32
This sunscreen is formulated with turmeric which is anti-inflammatory which Bowe says is great for anyone with inflamed or sensitive skin. It also uses a probiotic technology called a lactobacillus ferment that helps support the skin's microbiome. "If you have sensitive skin, it could be a sign that your skin's microbiome is off balance and needs some support," she adds.
Recommendation for skin of color:
EleVen by Venus Williams Unrivaled Sun Serum SPF 35
This serum uses 25% zinc oxide and blends seamlessly on the darkest of skin tones because of a new technology called index matching. The sunscreen works by bending light to trick the eye into making it appear invisible.
Recommendation for hydration minus a greasy feel
Thinksport Everyday Face Sunscreen
It's an all-in-one sunscreen and tinted moisture that gives a little hint of color without leaving your skin feeling too greasy. It also contains ingredients such as hyaluronic acid and jojoba oil that hydrate without clogging the pores.
Recommendation if you are looking for something new and effective:
La Roche Posay Anthelios Melt In Milk Sunscreen SPF 6
"This is the new version of my old favorite, which topped the Consumer Reports list year after year," said Bowe. "La Roche Posay decided to remove the controversial ingredient, oxybenzone, in this updated formulation."
"Consumers have become very vocal about their concerns, and companies, big and small, are listening. I love seeing this shift towards clean beauty and only hope to see a stronger emphasis on clean products moving forward with stricter standards and sustainably sourced, healthy ingredients."