Woman goes viral after for refusing to switch seats with fellow mom on flight
A mom of three unknowingly sparked an online debate by sharing why she chose not to give up her window seat to a fellow mom on a recent flight.
Tammy Nelson, of Ohio, has garnered nearly 6,000 comments on a TikTok video she posted this month describing what happened on a flight from Cincinnati to San Jose, California.
"What would you do," Nelson captioned the video, which has over 2.7 million views. "I got on the plane and a woman was sitting in my seat and when I mentioned it to her, she said, 'Oh, you want to sit here? I thought we could switch because these are my kids' (she points to the two seats next to mine)."
Nelson told "Good Morning America" she told the woman she would be happy to switch seats with her if she had a window seat, which is what Nelson had purposefully booked on the flight.
"I always pick a window seat because I get motion sickness during takeoff and landing if I can't look out the window," Nelson said. "And then the second reason is, I don't get a lot of sleep, so I usually like to be able to sleep on plane and being in the window seat obviously gives you that easiest opportunity to do that."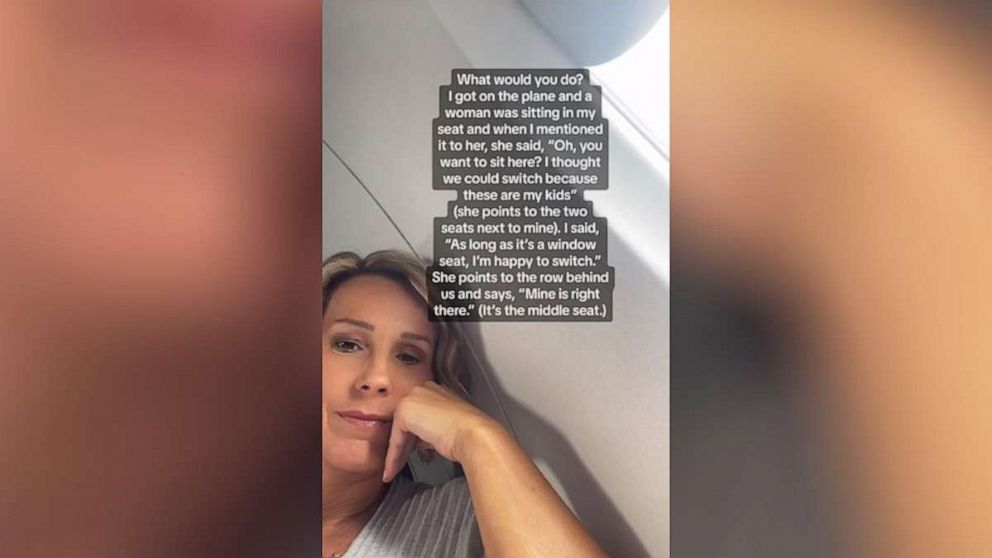 According to Nelson, the woman who wanted to switch seats with her had a ticket for the middle seat in the row behind her kids, which Nelson declined to accept.
At that point, the woman moved to her designated seat in the row behind Nelson and the two children, whom Nelson estimated to be around 11 and 15 years old.
"She was not happy. It wasn't like a fight but she kind of begrudgingly picked her stuff up and huffed and puffed and went back to her seat," Nelson recalled. "Then she continued to complain loudly to the person next to her."
Nelson said the rest of the flight was uneventful, and the two children who were seated next to her appeared to be fine throughout the flight.
She said she decided to post about her experience on TikTok because she thought it could be relatable. She said on that social media, she tries to give her followers a behind-the-scenes look at her life as the CEO and founder of a jewelry company, CONQUERing, a role that Nelson said requires a lot of travel.
Nelson explained that on this flight, she was traveling to San Jose for a presentation, for which she felt she needed to prepare.
"I had 90 minutes of sleep the night before I had this big presentation that I needed to give once I arrived at my destination," she said. "I told myself, 'You have to take care of yourself. You need sleep on this flight. You picked the seat in advance. Stick with the seat.'"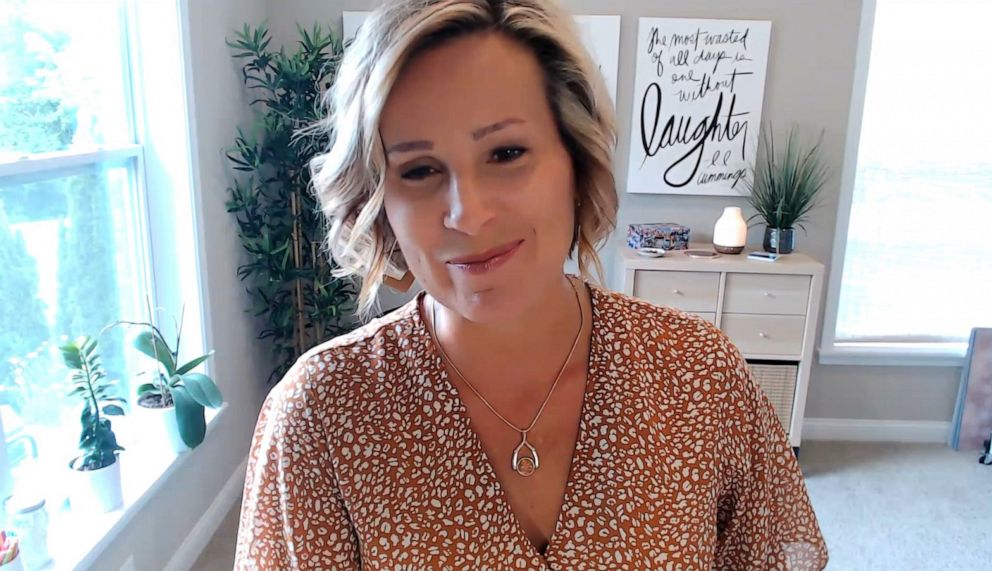 Among the thousands of people who commented on Nelson's video were fellow parents, many of whom said the woman who asked to switch seats with Nelson should have booked seats together for herself and her kids.
"Mother of 3 here… I would of never even asked. I book them together or find another!! You knew where the seats are when you purchase them," wrote one commenter.
"We are a family of 6 and we book 3 and 3 together. They need to book their flights correctly. You paid for your seat so you decide what to do," wrote another.
"So her kids got a good lesson on planning ahead," wrote another commenter. "I wish you would have told her to have her kids exchange seats with the people in her row."
Other commenters called for compassion, noting that maybe the woman who asked Nelson to switch seats was not able to book three seats together.
"Maybe she got the last three seats available?," one commenter wrote, adding of the kids' ages, "Her kids were old enough to sitnin [sic] their own. It might be different if they under 7. Or toddlers."
"I see both sides," wrote another commenter. "Rude of her for just taking the seat without asking first. Rude of you for not letting her sit with her kids."
Nelson noted that she used her status on the airline, which she flies frequently, to book her seat. She said in other instances, on different airlines, she pays the additional fees required to book a window seat.
She also explained that had the children next to her been much younger, she would have accommodated the mom's request to switch seats.
"Certainly, if they were toddlers, I would have switched and I would have put my own needs aside and let this mom be by these little kids," said Nelson, whose own kids are ages 15, 20 and 24.
Editor's note: This was originally published on July 19, 2023.