Influencer with alopecia gets 'unready' in videos to redefine beauty standards
Emma Mcintyre/WireImage via Getty Images, FILE
Actress Ashley Tisdale is sharing details of her struggle with alopecia, a condition she says she has battled since her early 20s.
Tisdale, now 37, shared in an Instagram video that she was diagnosed with alopecia, or hair loss, by a dermatologist after noticing a bald spot at her hairline.
"I didn't even know what that was," she said of alopecia, a broad umbrella term that describes multiple different types of hair loss conditions.
Among the subtypes are androgenetic alopecia, which is male or female pattern hair loss, one of the most common subtypes, and results in hair loss in the frontal and temporal scalp area in men and central scalp area of women.
Tisdale, who is also a singer and a mom to a nearly 2-year-old daughter, did not disclose the type of alopecia she was diagnosed with.
The "High School Musical" star said that in her experience, her condition sometimes worsened with stress. "A lot of it's triggered by stress, and I was going through a really stressful time," Tisdale said.
She added that in her experience, her "hair grew back and it always does, thankfully, but there's been a couple times in my life where I've had very stressful events and have noticed that [alopecia] will come back."
The course of alopecia and whether or note hair grows back differs across individuals and with the different types of alopecia, according to experts.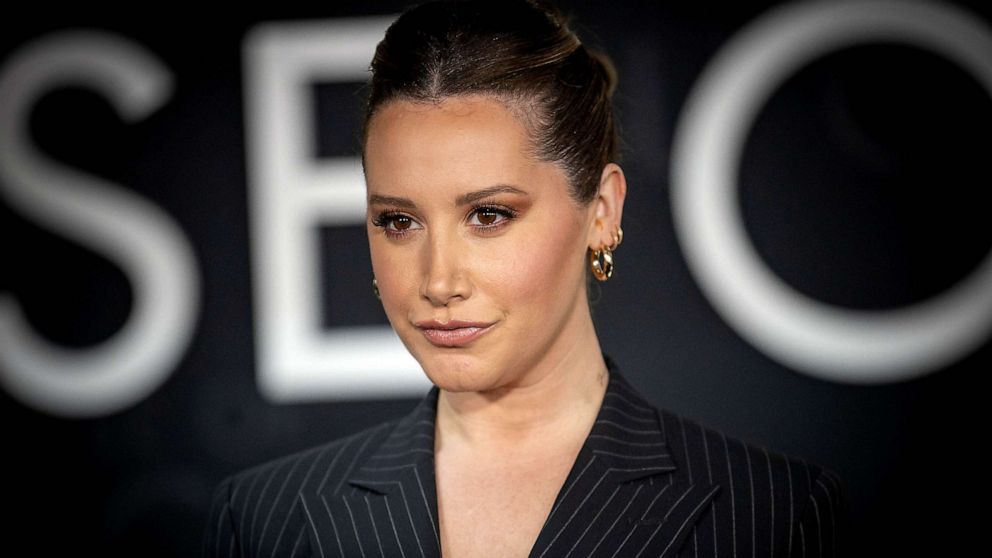 Tisdale said trying to manage her stress through tools like meditation has helped ease her experience with alopecia.
She also said she has found success using a treatment known as PRP, or platelet-rich plasma, which involves injecting a person's own plasma, taken from their own blood sample, and has been hypothesized to potentially promote hair growth.
The treatment, more commonly used for healing from sports injuries, is considered off-label for treating hair loss, but is offered by some dermatologists as a potential treatment.
Tisdale said she is sharing her own journey with alopecia to let other people know they "are not alone."
While hair loss is common in women as well as men, it can be a life-altering condition due to issues of body image and appearance.
Alopecia areata, which is one type of alopecia, was thrust into the headlines last year when actor Will Smith confronted host Chris Rock at the Oscars following a joke Rock made about Smith's wife Jada Pinkett Smith, and her shaved head.
Pinkett Smith, 51, first revealed she had alopecia areata in 2018. She has been public about her condition ever since and has previously said that her hair loss left her "shaking with fear," describing the topic as "not easy to talk about."
"I was in the shower one day and then just handfuls of hair in my hands and I was just like, 'Oh my God, am I going bald?'" she said in a 2018 episode of her "Red Table Talk" series. "It was one of those times in my life where I was literally shaking with fear. That's a really scary experience. That's why I cut my hair, and why I continue to cut it."
What to know about alopecia
There are multiple types of alopecia, which is a blanket term for hair loss.
Although experts don't fully understand the biochemical process of all these conditions, they believe some types occur when a person's immune system inappropriately targets their own hair follicles, which stifles hair growth, according to the National Institutes of Health, while other types may be caused by genetics, hormones or certain illnesses like hypo- or hyperthyroidism.
Experts believe a combination of environmental and genetic factors can trigger the disease.
Alopecia areata, specifically, is the disease that develops when the body attacks the hair follicles, causing hair loss. Among the subtypes are alopecia universalis, alopecia totalis and patchy alopecia areata, according to the American Academy of Dermatology Association (AADA).
Alopecia universalis, a complete loss of all body, face and scalp hair, is considered to be the most extreme and rarest form of the condition, according to the NIH.
Alopecia totalis, which is characterized by the loss of only hair on the scalp, is a less advanced form of the condition.
Patchy alopecia areata causes small circular and patchy bald spots to develop, usually on the scalp and face.
This is the most common type of alopecia areata, according to the NIH.
Alopecia areata affects nearly 2% of the general population at some point in their lifetime, or as many as nearly 7 million people in the United States, according to the National Alopecia Areata Foundation, a California-based nonprofit organization.
The condition affects men and women similarly and affects all racial and ethnic groups, according to the NIH.
Most people who get alopecia areata are affected during their teens, 20s or 30s, but it can occur at any age, the NIH states.
There is no cure for alopecia areata, but there are treatments, including steroid injections, topical steroids or immunomodulating drugs.
Last year, the U.S. Food and Drug Administration approved a first-of-its-kind treatment for alopecia areata. The medication, Olumiant, is an oral tablet that works by blocking specific immune pathways that have been shown to contribute to the body's inflammation leading to the conditions.
More than a cosmetic issue, alopecia can take an emotional and psychological toll on patients, and the unpredictability of the hair loss can also be frustrating.
"Even though reactions to the disease are different for everyone, there are some common emotions that many people who have alopecia areata and the people around them say that they experience," the National Alopecia Areata Foundation writes on its website. "These include feelings of grief, anxiety, loss, fear, embarrassment, loneliness and anger."
Alexis E. Carrington, M.D., a dermatology resident and former member of the ABC News Medical Unit, and Dr. Mark Abdelmalek, an ABC News medical contributor and a board-certified dermatologist and Mohs surgeon practicing in the Philadelphia area, contributed to this report.