The ketogenic, or keto, diet is one of the trendiest diets right now.
With its focus on foods high in fat and low in carbohydrates, the diet is often thought of for its focus on meat, particularly the ability to eat foods like steak and bacon on the diet.
Some people may have immediately thought of the keto diet when headlines announced earlier this week that a new study found a significant but small increased risk of death and cardiovascular disease with eating processed meat and red meat.
The study, published Monday in JAMA Internal Medicine, found eating just two servings of red meat and processed meat each week resulted in a 3% to 7% higher risk of cardiovascular disease and premature death from all causes.
Processed meats include everything from bacon and sausage to salami, hot dogs and deli meats.
The study of nearly 30,000 people found that a higher intake of poultry was associated with an increased risk of cardiovascular disease, but not premature death. Eating more fish did not have any impact, according to researchers.
On the keto diet, participants drastically cut carbohydrates to about 10% of their daily diet, which in some cases can be just 20 grams of carbohydrates per day, or the equivalent of one slice of white bread.
Their diet is then filled with fat and protein, which often comes in the form of meat products.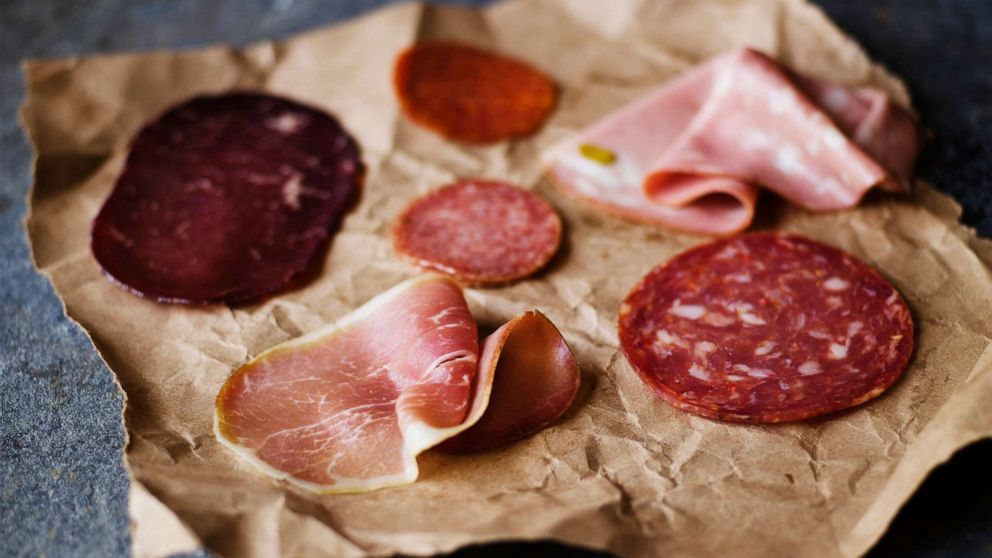 The amount of fat someone following the keto diet may consume in one day could be more than five times the recommended intake for daily fat for the average American, according to Maya Feller, a New York-based registered dietitian.
The key for keto dieters is to consume fat from healthy sources, such as olive oil and nuts, as this latest study shows, according to Feller.
"The challenge with the keto diet is many people follow it for months and there can be this idea that eating unlimited amounts of processed meats is fine because it's in line with the diet pattern," she told "Good Morning America." "But you really have to think about the proportion, or ratio, of foods as they come into your regular eating patterns."
"So if you're aiming to have 75% of your calories as fat, within that, what is the amount of saturated and unsaturated fat and what comes from plant-based products?" she said.
In addition to meat, foods that are "keto-friendly" include items like eggs, butter, unprocessed cheese, avocados, low-carb veggies and nuts and seeds.
Feller points out that the serving size for meat in the newly released study is 4 ounces, which is a smaller serving than what most Americans consume in a meal. She also notes that meat from an organic source could still have the same health outcomes.
"The issue is really that we just need to be more moderate and intentional with our food," she said. "Just because a meat is grass-fed and not processed doesn't mean that we should sit down and eat 16 ounces of it."
Processed meats and red meat are so often labeled with a warning sign by experts because they can be high in sodium and high in saturated fat, the type of fat that can raise "bad" cholesterol and increase the risk of heart disease.
The keto diet has for the past several years placed last or close to last in the Best Diet Overall list released annually by U.S. News and World Report because of its high level of saturated fat.
"One of our experts said, 'Any diet that recommends snacking on bacon can't be taken seriously as a health-promoting way to eat,'" Angela Haupt, assistant managing editor of health at U.S. News and World Report, told ABC News last year. "One of the concerns with keto is how high in saturated fat it is."
"Our experts say the diet can be especially dangerous to people with severe diabetes, kidney disease and heart disease," she said.
Critics of the keto diet also argue that the majority of the research on the keto diet has not yet looked at the long-term effects it has on non-epileptic people over the course of 15 to 20 years.
Whether you are on the keto diet or not, Feller said the biggest takeaway from Monday's study should be to incorporate more plants into your diet.
"Fruits and vegetables, think about how you can get those into your life," she said. "Just have an apple or an orange and don't worry about the natural sugars in those."
For people on the keto diet, Feller said that they should be under a doctor's care, especially in light of this study, and make sure to get blood work done regularly, particularly a lipid profile.
"For some people, they may find that after having their labs checked and looking at their lipid profiles and cardiovascular health, that a diet like this may not be in line with their best health outcomes," she said. "Maybe you have to modify, adding in more fresh vegetables and fruits that, yes, have carbs but have been associated with good health outcomes."