Three of America's top female athletes have suffered life-threatening complications while giving birth.
Now, the two athletes who survived giving birth, Olympic gold medalists Allyson Felix and Tianna Bartoletta Madison, are speaking out to shine a spotlight on the Black maternal health crisis in the United States as they mourn the loss of their teammate, Tori Bowie.
Bowie, 32, was found dead in her home last month near Orlando, Florida. Authorities said Bowie was eight months pregnant and had been in labor when she died.
An autopsy report released this week found that Bowie's death was "natural," noting that possible complications included respiratory distress and eclampsia.
Eclampsia is a medical emergency that happens when a pregnant woman with preeclampsia develops seizures, which can lead to coma or death, according to the U.S. Centers for Disease Control and Prevention.
Bowie won a gold medal at the 2016 Olympics alongside Felix and Madison as a member of the 4x100m U.S. relay team.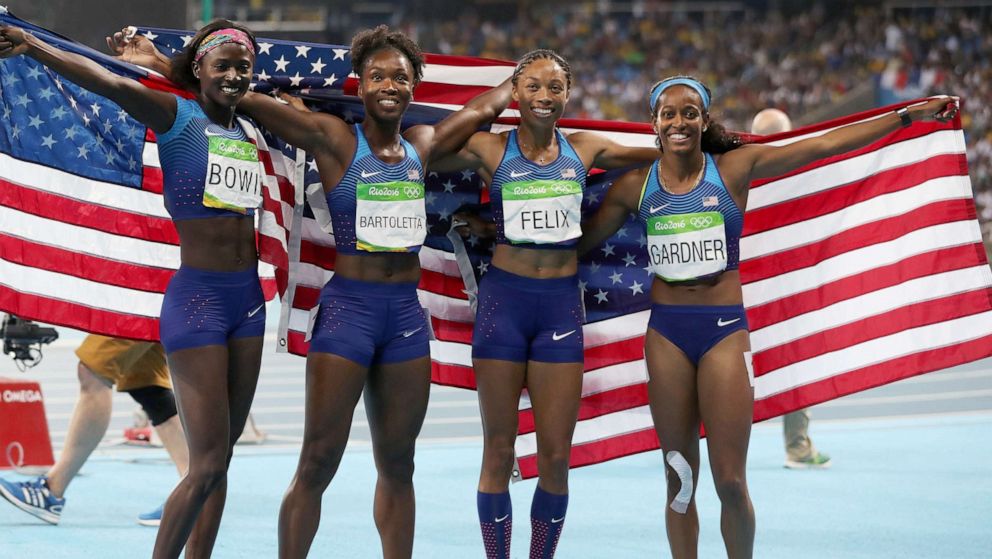 In reaction to Bowie's cause of death, Madison shared a post on Instagram noting that three of the four members of that gold medal-winning relay team "have nearly died or died in childbirth."
Alongside a photo of the teammates celebrating their 2016 Olympic win, Madison wrote that when she went to the hospital last year after going into labor with her son at 26 weeks pregnant, she was "NOT AT ALL confident that I'd be coming home."
Madison told "Good Morning America" she was shocked when she realized after Bowie's death that nearly her entire relay team suffered childbirth complications.
"All three of us have had this experience, and one of us didn't make it," she said, adding a call for change, saying, "It is absolutely not our fault, but it is our problem. We need to put ourselves in position to save ourselves, educate ourselves and advocate."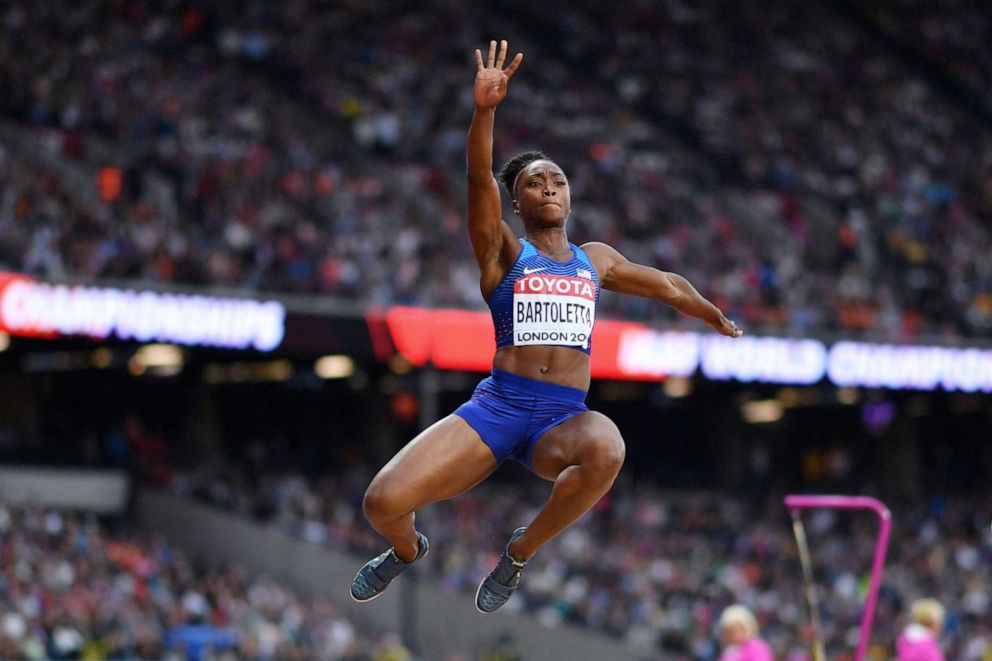 Felix, who also faced a potentially deadly experience when she gave birth to her daughter in November 2018, commented on Bartoletta's post, writing, "It's heartbreaking."
"We continue to face a maternity mortality crisis in this country. Black women are at risk. It's why I won't stop doing this work," Felix wrote. "We can't sit by and continue to watch our loved ones die when many of these complications are preventable. Standing with you T."
Felix, now 37, wrote more in an essay published Thursday by Time about the emergency C-section she faced when she delivered her daughter Camryn in 2018. Just before giving birth at 32 weeks, Felix was diagnosed with severe preeclampsia, high blood pressure that typically occurs in women after the 20th week of pregnancy, according to the CDC.
Felix wrote that she "was unsure" if she would make it through the C-section, and prior to that, was "unaware of the risks" she faced during her pregnancy.
"About five days before I gave birth to Camryn, I was having Thanksgiving dinner with my family. I mentioned that my feet were swollen. As we went around the table, the women shared their experiences during pregnancy. My cousin said she also had swollen feet. My mom didn't. Not once did someone say, 'oh, well, that's one of the indicators of preeclampsia.' None of us knew," Felix wrote. "When I became pregnant, my doctor didn't sit me down and tell me, 'these are things that you should look for in your pregnancy, because you are at a greater risk to experience these complications.'"
She continued, "That needs to change, now, especially in light of Tori's tragic passing. Awareness is huge. Serena Williams had near-death complications during her pregnancy. Beyoncé developed preeclampsia. I hate that it takes Tori's situation to put this back on the map and to get people to pay attention to it. But oftentimes, we need that wake-up call."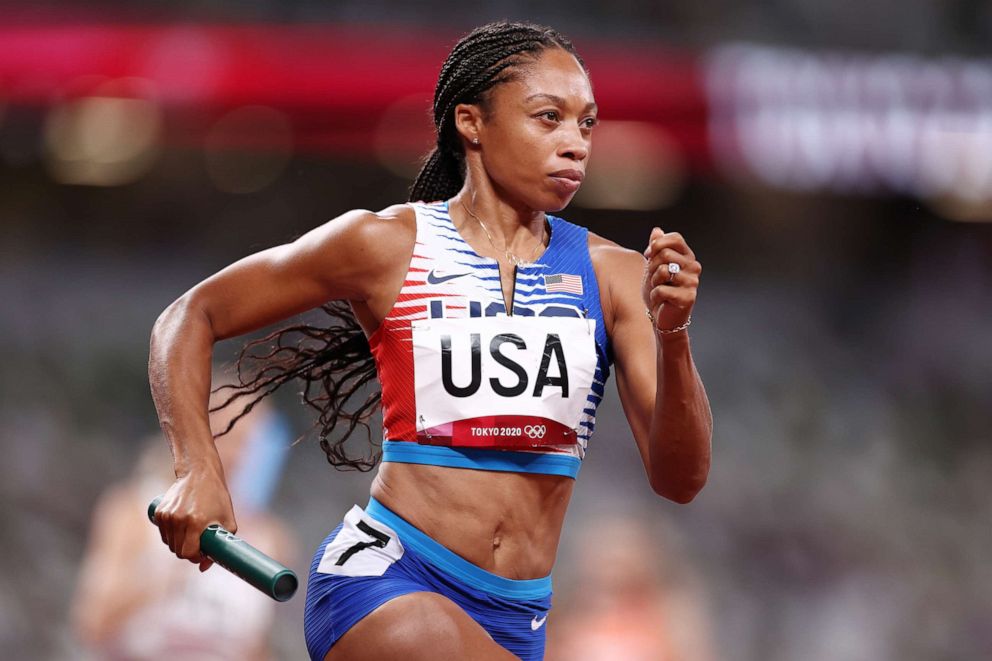 While eclampsia is more rare, preeclampsia, a condition of high blood pressure and kidney damage during pregnancy, is common, affecting as many as 1 in 25 pregnancies in the U.S., according to the CDC.
As Black women, both Felix and Bowie are among the population most affected by preeclampsia, data shows.
According to the Preeclampsia Foundation a U.S.-based nonprofit organization, the rate of preeclampsia is 60% higher among Black women than white women, and Black women are more likely to develop severe preeclampsia.
The American College of Obstetricians and Gynecologists also lists being Black as among the "moderate risk" factors for preeclampsia, a condition for which the exact cause is not known.
Bowie, Felix and Bartoletta, as Black women, are also in the highest risk category for death due to pregnancy-related complications.
In the U.S., Black women and Native American women are two to three times as likely to die from a pregnancy-related cause as white women, according to the CDC. Across all races, the U.S. has one of the highest maternal mortality rates in the world, with around 700 women dying each year as a result of complications due to pregnancy.
Despite having one of the world's most advanced health care systems, the U.S. has the highest rate of maternal mortality among developed nations and the rate has steadily risen for nearly 40 years, according to the CDC.
In 2021, the Biden administration issued a "nationwide call to action" on the maternal health crisis in the U.S. That same year, President Joe Biden issued the first-ever presidential proclamation for Black Maternal Health Week.
In late 2020, the U.S. Department of Health and Human Services launched an action plan to combat the high rates of pregnancy-related complications and deaths. The plan set out three key targets aimed at improving maternal health by 2025: reducing the maternal mortality rate by 50%, reducing low-risk cesarean deliveries by 25% and controlling blood pressure in 80% of reproductive age women.