Granddaughter captures grandma getting her 1st tattoo at 82 years old
A grandmother's wish to get her first tattoo on a whim has turned into a series of viral videos on TikTok, earning her the nickname "Tat Granny."
Judy Dede, 82, and her granddaughter Brandy O'Reilly, 44, were sitting in the car after grocery shopping when Dede declared, "I'm going to blow your mind. I want to get a tattoo," O'Reilly recalled.
O'Reilly was so stunned that she pulled out her phone and had her grandma repeat herself for a video that she would later send to the rest of the family and post on TikTok. The pair never expected that the video would go viral, with more than 5 million views and thousands of #TatGranny supporters eager to follow Dede's journey to getting inked.
"When I made my decision to do this, it was just me and my girls," Dede said. "Every day I'm just in awe of what's going on around me."
Dede said she was inspired to get a tattoo after seeing a Reader's Digest story about an 80-year-old woman who surprised her family by getting a tattoo on her birthday. O'Reilly, who has seven tattoos of her own, called her go-to shop, Black Sheep Tattoo in Fort Wayne, Indiana, and set up an appointment for her grandma on Oct. 30.
O'Reilly said she even coached her grandmother on how to prepare.
"Our biggest concern was her skin because of her age," she said. "I made sure that she had something good in her belly before we left, because you can't go get a tattoo on an empty stomach, and [she] drank lots of water to make sure that her skin was hydrated."
With so much excitement around the occasion, other family members were inspired to join in and get matching tattoos -- including O'Reilly, her wife, her mother and two of her sons.
"Even my 10-year-old got a matching tattoo drawn on his arm with a sharpie," O'Reilly added.
O'Reilly said each family member agreed on a design with sentimental symbols. At the bottom of the tattoo, there is a fish hook to represent O'Reilly's father, who passed away unexpectedly in July. A small ribbon will be filled with purple ink to represent various loved ones lost to cancer over the years. The design also features a peace sign and a heart, all connected through a treble clef that represents the family's love of music.
"My mother sang in a church choir. I sang in a trio in high school and traveled all over," Dede said. "I enjoy all kinds of music. I don't sing anymore. I try -- it's not very good, but I still do what I can. You get it in your blood, and you just can't get rid of it."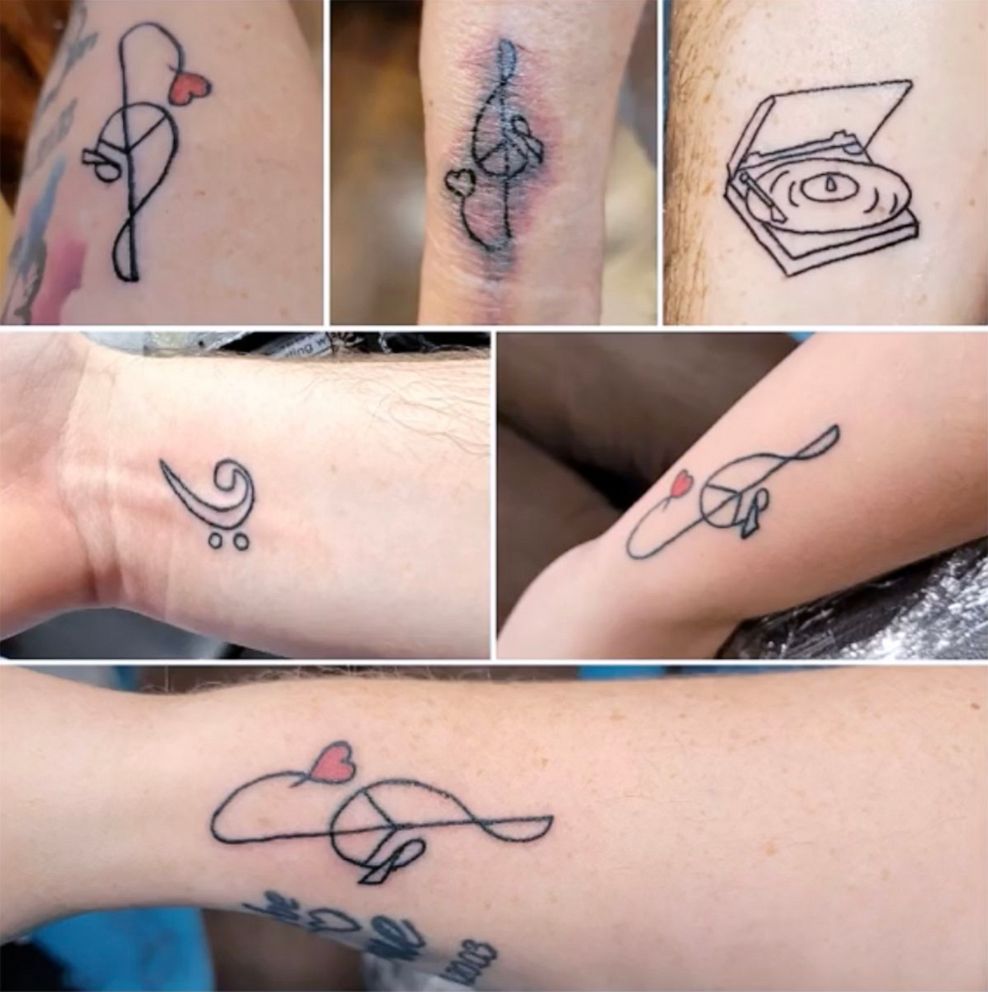 On Oct. 30, O'Reilly shared a video on TikTok of Dede getting the design inked into her forearm "like a champ."
"When I got in my chair, Brandy sat on the end and held my hand for support. I just gritted my teeth, turned my head and let it go. She said I did amazing," Dede said.
The tattoo took less than 15 minutes, but Dede's session was cut short to reduce the amount of swelling and bruising she experienced, O'Reilly said.
Despite minor setbacks, Dede said she's not only ready to go back and finish filling in her tattoo, but she's also already planning to get another one.
"I told her I'd get another one on my 83rd birthday. What do you think about that?" she added. "People think I'm done now. I think I'm just beginning."