Michelle Obama through the years
Former first lady Michelle Obama celebrated National Signing Day with thousands of students at University of California, Los Angeles on Wednesday.
The day marked her sixth College Signing Day celebration with Reach Higher, the organization she started during her time at the White House in 2014 to encourage students to pursue education beyond high school.
Other stars honoring the students choosing to continue their studies at a four-year college or university, a community college, in the military or in a professional training program, included John Legend, La La Anthony, Bebe Rexha, Adam Rippon, Lil Rel Howery and Usher among others.
During the former first lady's address, the first-generation college graduate, who earned degrees from Princeton University and Harvard Law School, commended the young men and women for making strides to continue their education. "You are about to make the best investment that you can possibly make," she told the students in the crowd.
"That's true whether you're going to a trade school, or to the military or to a community college or to a four-year university," she continued.
During her speech, Obama also gave some advice to the future trailblazers.
If you've been "counted out before," keep going and fight for what you deserve
Mrs. Obama explained that she knows that a lot of students in the crowd have been "counted out before."
"Maybe your parents didn't get to go to college," she said. "Maybe you were like me and someone told you that you that you weren't college material. Or that maybe you were setting your sights too high."
She said she could relate to facing those factors.
"When I was in high school and I wanted to apply to the college of my choice I had someone tell me that I shouldn't reach too high," she said. "They told me that I wanted too much for myself -- I should dream a little smaller, and let me tell you that will happen to you again and again and again."
"There will be people in your life that will tell you not to dream too big because they are haters, and they don't want anymore for you than they think that you should deserve," she continued.
Anybody who's achieved anything has failed and failed again...it's the ability to bounce back from that failure. That's what makes you a true champion.
She pleaded with the students in the crowd to believe in themselves when they are faced with situations like that.
"In those moments, because they will happen -- they've happened to me, they've happened to my husband, where people said you don't belong, this isn't for you -- in those times... you have to ask yourselves whether you're going to believe the haters or whether you're going to believe the own truth of your story."
"If you stumble, I want you to get back up," she added. "It's not about not making mistakes. It's not about not failing. Anybody who's achieved anything has failed and failed again...it's the ability to bounce back from that failure. That's what makes you a true champion."
Never underestimate the value of community colleges
The former first lady pointed out that she was wearing a shirt from Compton College, explaining, "because I want to give community colleges a little extra love."
"We are fortunate in this country to have an amazing community college system, and Compton College has a great story to tell," she shared. "The school fell on some tough times a few years ago, but they buckled down, they worked hard and now they're back on their feet and providing an excellent, affordable education to thousands of students every year."
"They're showing once again that you just don't count out folks from Compton," she said, receiving cheers from the crowd.
Tell the doubters to "make room for you"
Obama acknowledged the struggles many of the students in the crowd faced in order to get to where they are today.
"I know that's what you all have done in order to be here today -- you kept on reaching higher for yourselves and your future. You've told all those doubters that they better make room. That's what this is all about -- making people make room for you for where you belong."
She also admitted that those struggles and people that don't believe in you will continually surface throughout life.
"The road doesn't end today. Once you get to college you have to apply those skills that you used to get you here -- that same grit, that same resilience that makes you who you are," she said. "When you run into those challenges -- because you will -- I don't want you to be afraid of the challenge ... I want you to understand you do not do this alone."
Find a community of support in college
She advised students to ask for help and reach during times of need in college. "You go get a tutor, you find a counselor, you make those professors teach you!"
"When you get to college, you have to build a community for yourself," she continued. "That's the only way you're going to make it."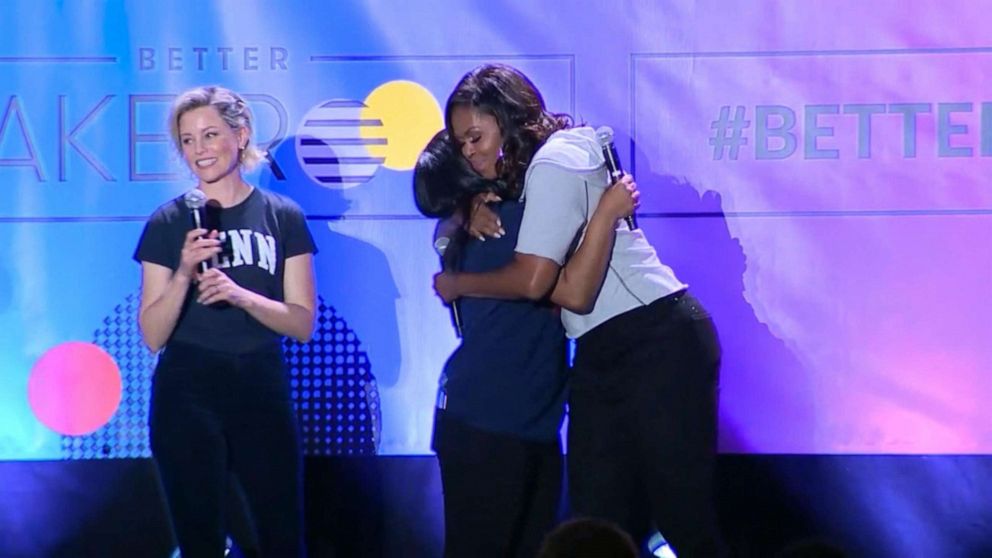 "You do not sit alone in your dorm room by yourself... You guys have to have a posse of support -- the people who are going to lift you up everyday," she shared.
"None of us does this alone!"