Watch this pilot thank his flight attendant mom during their 1st flight together
@doss_the_boss_/Instagram
A United Airlines pilot recently had a "career highlight" moment when he piloted a Spain-bound flight on which his mom was working as a flight attendant.
Cole Doss, 31, used his time on the microphone delivering the pre-flight announcement to honor his mom, a flight attendant for over 40 years.
"She's been one of my biggest supporters in my life and in my career becoming a pilot, ever since my very first flight lesson," Doss told passengers, later adding, "To my mom, I love you, and to everyone onboard, welcome aboard our family-friendly skies."
In a video of the moment that Doss shared on Instagram, he is seen holding his mom's arm up in celebration of both her support and her long career.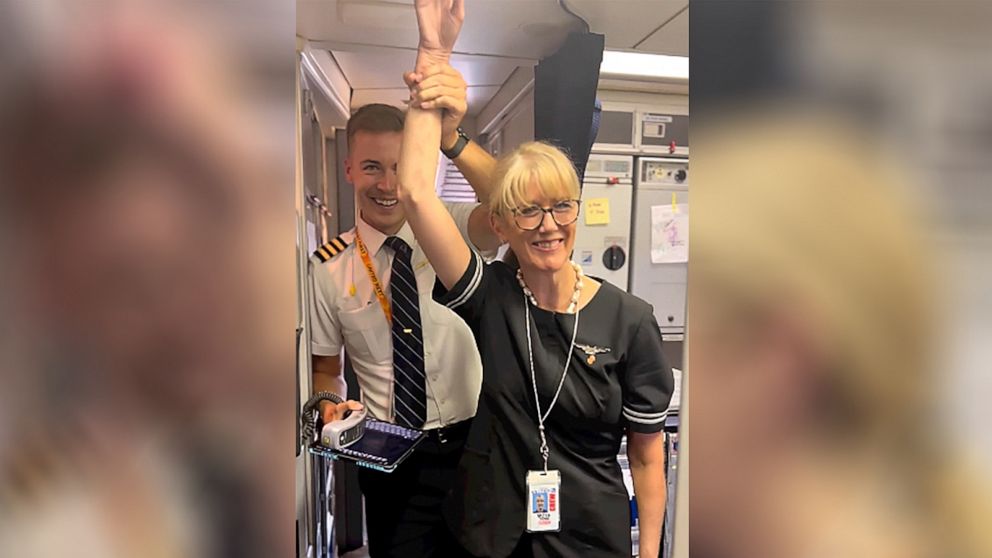 Doss told "Good Morning America" the flight last month from Washington, D.C., to Madrid was not only the first time he and his mom worked on a flight together, but also the first time his mom had been on a flight that he piloted.
"That was the first time I was able to fly my mom ever," he said. "In flight school, she was a little nervous about the small planes, so I was never able to fly with her there."
Doss said his mom typically works on Asia-bound flights, but when she learned he was piloting a flight to Spain, she switched schedules with a fellow flight attendant so she could be on the same flight.
On the day of the flight, Doss, a United Airlines pilot since February 2022, and his mom also commuted to the plane together.
"We met in the employee parking lot. We took the bus together. We went to security together. We walked to the gate together," Doss said. "So, it was really neat being able to share all those moments with her."
Doss said he decided to pay tribute to his mom in such a public way on the flight because moms and flight attendants "deserve all the credit they can get."
"I wanted to do something incredibly special to pay back my mom and and let everyone know that this was a really cool and momentous event for the both of us," he said.
He added, "It was definitely a career highlight for me."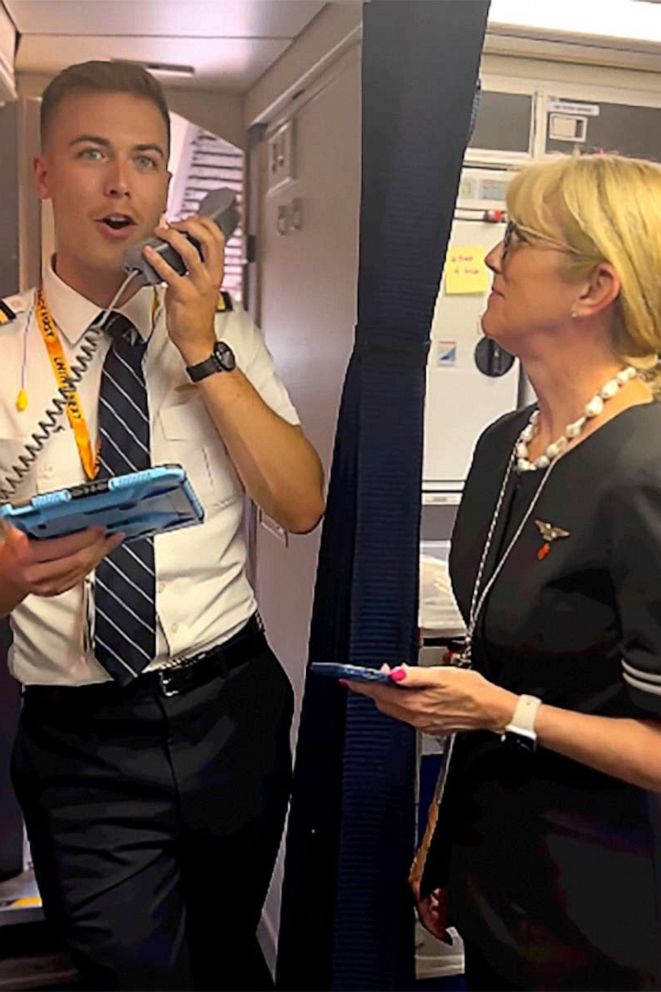 Doss said his mom also worked the return flight back to Washington, D.C., that he piloted as well. He said he did not make an in-flight announcement on that flight, joking that he left that to his mom to do.
"She was really proud of me so I'm sure she probably told most of the passengers that her son was flying up front," Doss said.
In addition to his mom's role as a flight attendant for United Airlines, Doss' dad is a retired flight attendant for American Airlines. His sister is currently a flight attendant for American Airlines.
Doss said he was about halfway through college as a business major when he decided to change career paths and follow his parents into aviation.
"My parents were incredibly supportive," he said. "They both have a passion for aviation and my dad, before becoming a flight attendant, was working on becoming a pilot as well ... so becoming a pilot [myself] kind of fulfilled both of our goals."