Beyoncé's 2018 Coachella performance broke the internet with its powerful homage to historically Black colleges and universities, or HBCUs, particularly their band culture.
A year later, she released the Netflix film "Homecoming," giving viewers a behind the scenes look into the performance, finding inspiration from HBCU bands to formulate the marching band theme, outfits and even the title of the documentary.
"I always dreamed of going to an HBCU," she said in the film.
While the singer didn't play an instrument during her performance, the choreography was heavily influenced by an integral part of any HBCU band: the majorettes.
What are majorettes?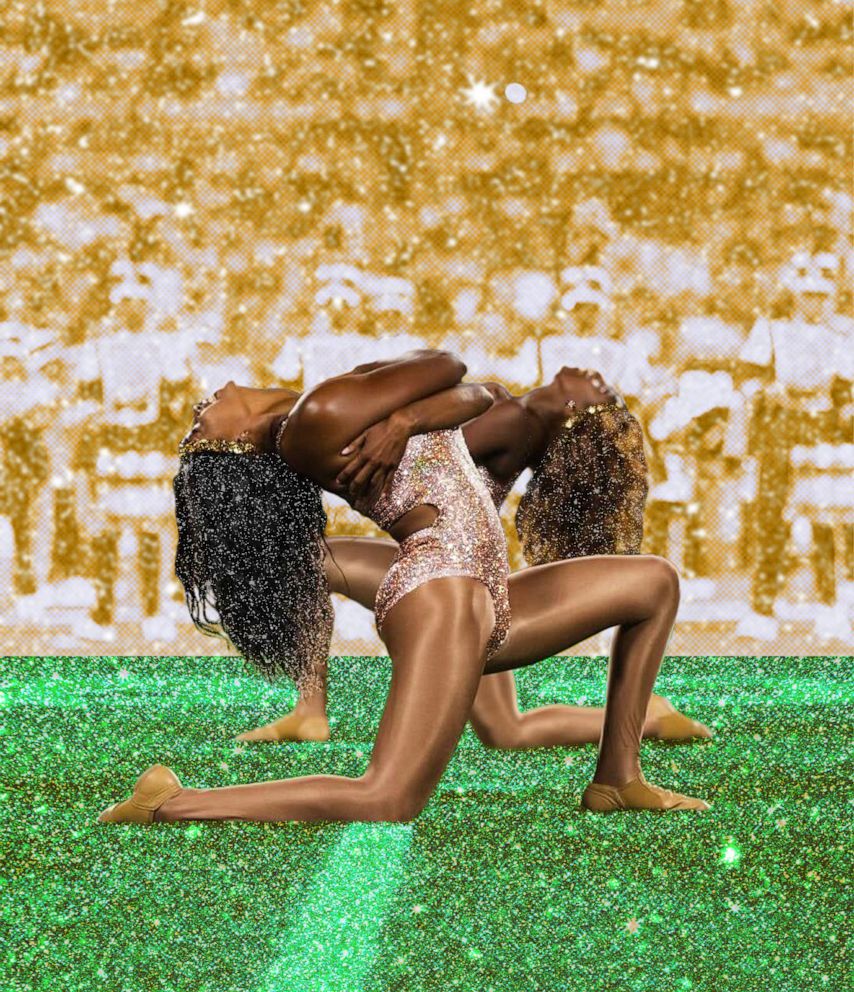 Derived from the Dutch word "Dansmarietjes," the original majorettes were carnival dancers who twirled batons in their performances. When the style reached the American South, it morphed into what HBCUs know today.
"I think it is a mix of pop culture dance and other expressions through movement that is done on the fields with a marching band," said Traci Greene, coach of the Southern University Dancing Dolls and a former Dancing Doll majorette herself.
Majorette dancers mix multiple styles of dancing, including jazz, hip-hop, ballet, burlesque, cabaret, kick lines and more, to entertain audiences while simultaneously honoring the dancers who came before them.
"I think if you can define it, it's a dancer who cannot be defined," said Sydney Clark, a fourth-year member of North Carolina A&T State University's Golden Delight auxiliary majorette team. "It's a person who is doing things with their body that physically or mentally you can't really comprehend, but physically you can't take your eyes off of them."
Performances by majorette teams are often grand, with props, bright outfits, cohesive hairstyles, tricks and dances in collaboration with their school's band song selections, which often reflect Black culture on HBCU campuses.
Although Beyoncé's tribute to HBCU majorette culture was the first time some people were exposed to the lifestyle, the first known majorette performance dates back to 1968.
The history of the dance
The 1968 Orange Blossom Classic, an annual HBCU football sporting event in Florida, hosted the first known majorette performance with the introduction of Alcorn State University's Golden Girls majorette team. Gloria Gray Liggans was a part of the original eight dancers on the line.
"I don't think any of us really thought it would bloom or be what it is right now," Liggans said, "We were just college students wanting to be a part of the band. Maybe perform at home games, travel some."
Liggans, along with the other original seven girls -- Mar Deen Bingham Boykin, Delores Black Jenkins, Patricia Gibbs, Barbara Heidelberg Fox, Paulette McClain Moore, Josephine Washington Parker and Margaret Bacchus Wilson -- made their debut with "long, golden boots and gold capes" at the halftime show with their team against Florida A&M University, Essence reported in November.
According to Liggans, the vision came directly from band director Samuel S. Griffin after seeing Notre Dame University's band perform with a "twirler" who wore a gold performance costume.
"I give all the accolades to the band director, it was all him," Liggans added. "It wasn't us, it was him. He had the idea and the vision, and he said it was a blessing that it went forward."
Connection to Black culture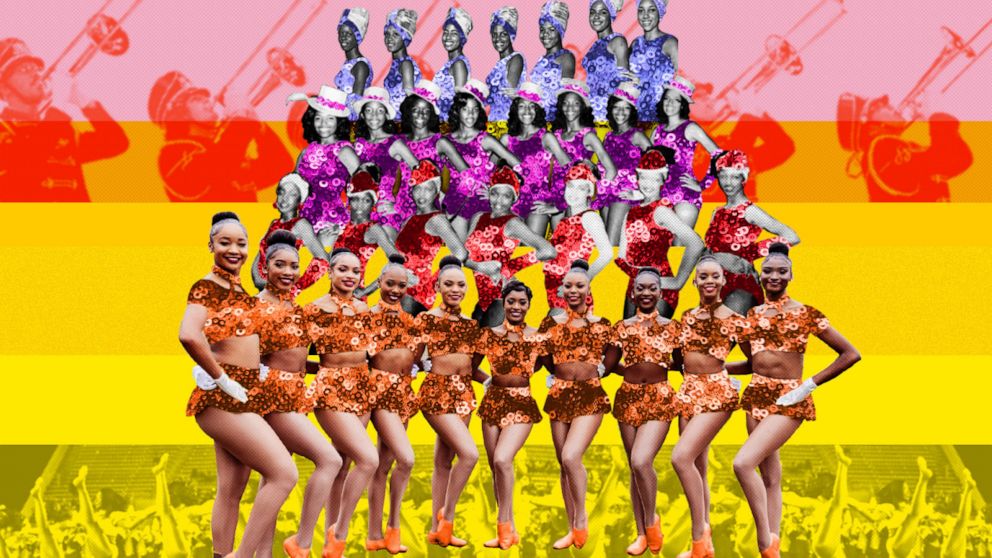 Almost 55 years after that December 1968 game, majorette culture has grown in popularity from TikTok trends to being featured in Vice President Kamala Harris' inauguration procession.
"It actually doesn't surprise me at all because I feel like Black culture and music has always had such a broad reach in the world," Greene said. "I guess the natural transition would be that HBCU culture is now what's popular."
Greene started as the coach of Southern's Dancing Dolls last year but shared she'd been a Dancing Doll herself while she was an undergrad student and captain of the team from 1993-1995.
For those involved in HBCU culture, majorette dance is important not only to the campus but to Black culture as a whole, adding to the connection between Black people and dance in general.
"I feel like it's something we have kept in our culture because looking at African roots, dancing has always been a part," Liggans said.
Greene views the dance style as a Black dancer's "voice through movement."
"For a culture whose voice has been stifled for decades in our history, movement and song and things like that, creative movement is the only way we could truly express ourselves through joy, through whatever emotional turmoil we were going through," she said. "It's extremely important in Black culture and in HBCU culture."
Although majorette culture combines new dance styles with old dance styles, majorettes hope to reach each generation with a strong connection to the culture that started it.
"I think this space is not only important but necessary," Clark said. "It's a space of freedom. I think it's a space to express yourself, and with music that is so important to our culture.
Promotion of education
Although majorettes primarily focus on dance and entertainment, its growing exposure through social media has served as an inspiration for some young people to want to go to college.
"I love the fact that little Black girls want to be like me," Clark said. "That is such an amazing feeling to have because it not only allows them to continue to dance but it allows them the opportunity to go to school. I think pushing college into Black communities is very, very, very important."
There are around 100 HBCUs in the U.S., and HBCUs account for almost 20% of all African American graduates, according to the United Negro College Fund.
While other colleges have seen a decline in enrollment, HBCUs have seen a steady increase in enrollment in recent years.
"The thing I'm most delighted about is [majorette culture is] bringing attention to HBCUs so that people will attend [them] and consider getting a very high-quality education from [them] just by seeing the dance line," Greene said.
Sisterhood and family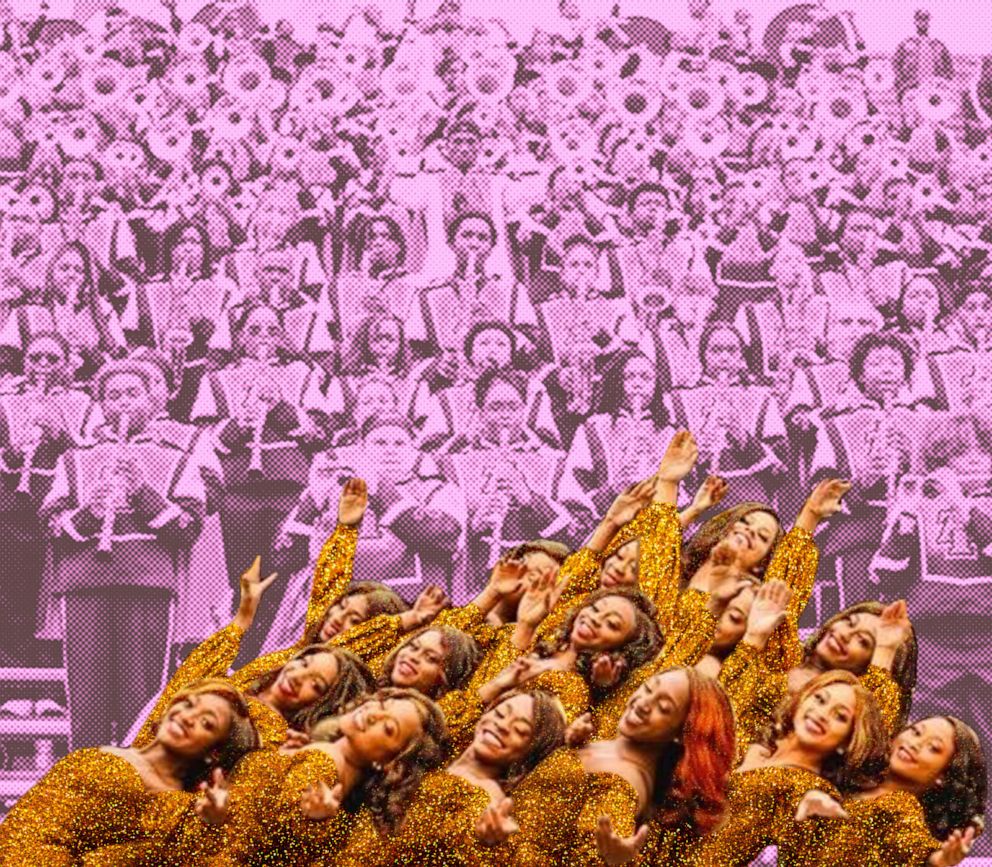 Junior Jakayla Lofton has been a part of Alcorn State University's Golden Girls since 2021 and said that being a part of the team has allowed her to grow as a dancer -- and as a woman.
"You can talk to anybody, no matter what time they came in or year they came in, it doesn't matter," she said. "The Golden Girls didn't really just teach me dance, they taught me real-life lessons. They taught me how to become a woman, a better friend, a better sister, and I will never ever forget those moments."
HBCUs have traditionally been home to the Divine Nine Greek fraternities and sororities, but they're also home to the honorary band fraternity Kappa Kappa Psi and sorority Tau Beta Sigma, which serve campuses as well.
Clark, a Spring 2020 initiate into the Theta Zeta chapter of Tau Beta Sigma, agrees that through her sorority and majorette dancing, she was able to grow as a person and learn things she otherwise would not have.
"I think that when I go out into the world, I am at a higher level because I've been disciplined to be at that higher level through band and through that sisterhood," she said. "The fact that you get to be in this safe space with people who equally love music just as much as you do is such a necessary thing to have at HBCUs."
Hard work
Majorette performances are high energy, with continuous stand routines throughout football games and a halftime show on the football field.
Most dancers practice like professional athletes, with "rigorous dance schedules," according to Greene, drastic diet changes, workouts that include cardio and weight lifting, and extensive travel schedules during football season and off-season.
"It's not just something where you can train for a week and be ready to hit the field. We train all summer like it's a professional sport," Clark said.
Despite the hard work that goes into being a majorette dancer on HBCU campuses, the passion of these dancers never seems to waver.
"You can have no choice but to give it your all and leave your mark on the field," Lofton said. "I hope they can see my passion. I hope they can see how much I love to be here, and I hope to inspire younger dancers to be in [this] place … to entice you to look at me and look how I'm loving it and to come and join us."
The growth in popularity of HBCU bands has landed them performances worldwide, including at NFL games and Disney World events.
The spread of HBCU majorette culture encourages those involved to help educate those curious on how to join.
"We have to try to keep our culture alive, and it seems like HBCUs are the ones who are trying to keep [it up]," Liggans said. "Not down the culture or demean it in any way. They try to uplift it and appreciate it because that is our culture."