Louis Vuitton's men's spring-summer 2023 fashion show was full of electrifying moments, and the monumental presence of Florida A&M University's Marching 100 was one of them.
The iconic band from FAMU -- a historically Black college and university -- charged onto the vibrant runway wearing the school's signature green and orange while playing jubilant tunes by means of bellowing drums, trumpets and more instruments.
Located at Paris' famed Carré du Louvre, the fashion house transformed the venue into a supersized toy racetrack that featured rich neon hues, a yellow brick road-like runway and huge Louis Vuitton logo-printed red balloons.
"'Strange Math' a cinematic prelude to the next #LouisVuitton Men's show explores the relationship between imagination and reality," the brand captioned a video shot overhead of the band performing.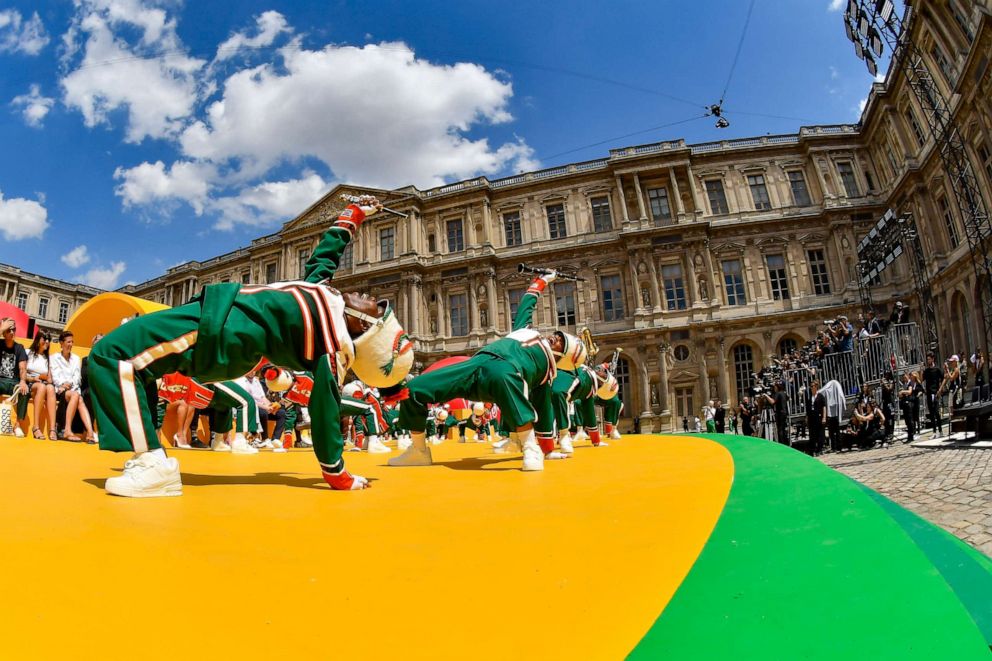 Reflecting upon his experience ahead of the show, FAMU drum major/field commander Jadon Roberts told ABC News that he was more than excited to be a part of it all. "This has been one of the most amazing experiences I've ever had in my life," he said.
Roberts added, "Getting to work with Louis Vuitton, there was a lot expected of us, so we've had a lot of tough rehearsals, a lot of hard work put in, but we always rise to the occasion."
Often touted as the "best marching band in the land," FAMU's Marching 100 has also dominated a number of other major affairs including the Super Bowl, the Summer Olympics and the inaugural parades of both presidents Clinton as well as Obama.
"The HBCU band culture is something else," said Roberts. "It's something you can only get at an HBCU. The culture is different. We dance, we move, we perform and just like to bring the energy."
"We've definitely seen over the last few years a rising interest all around the world — that culture of marching band experience. We saw it with Beyoncé at Coachella, we see it in movies and TV shows. So, we specialize in this, and we're proud to do it. We expect to get more invites like this and more interest to grow in this kind of marching band," he added.
The victorious HBCU band hails from Tallahassee, Florida and was founded in 1946.
Since its beginnings, the band has been credited with 30 innovative techniques that have become standard operating procedures for many high school and collegiate marching band programs.
In addition to FAMU's performance, rapper Kendrick Lamar also performed music from his recently released "Mr. Morale & the Big Steppers" as a tribute to the late Virgil Abloh who was Louis Vuitton's former creative director of menswear.