Top picks for luggage, carry-ons, backpacks and more
ABC News Photo Illustration, Béis, Walmart, July
Investing in good luggage is truly a gift that keeps on giving, especially when you find exactly what's right for your travel needs.
If you don't consider yourself a travel savant, "Good Morning America" lifestyle contributor Lori Bergamotto is sharing tips and picks to have you traveling like a pro.
"Take a good hard look at the interior of your luggage. Most brands will supply the outside measurements, but do your due diligence and check out how much space you actually have for your things," Bergamotto says.
"If space is your number one priority, then opt for squared edges over curved ones."
If you consider yourself to be an over-packer, double-check durability before purchasing.
"Check the handles, wheels and zippers. The handle should retract into the bag and not wiggle, while the wheels should be sturdy in their attachment and not veer off track. Zippers with YKK on them are generally considered the most sturdy," she adds.
With these tips in mind, scroll down to shop for some of the best luggage picks on the market.
Get more shopGMA -- sign up for our newsletter, and follow on Instagram and TikTok.
By clicking on these shopping links, visitors will leave Goodmorningamerica.com. These e-commerce sites are operated under different terms and privacy policies than Goodmorningamerica.com. ABC will receive a commission for purchases made through these links. Prices may change from the date of publication.
Best carry-on luggage
July is the buzz-worthy pick for the traveler looking for an all-around sturdy purchase. The brand claims to have the lightest double-wheel suitcase in the world. Plus, who doesn't love personalization with 10 different fonts and 19 color options?
Our "GMA" tester shared, "I found it incredibly easy to maneuver and weave through the airport, despite completely packing it to the gills! I also loved the interior, which on one side has an additional zipper pocket that helps really pack everything in there."
July Carry On Light + Use code GMA for free personalization
Best check-in luggage
If you haven't heard of BEIS, now is the time to check it out.
Our "GMA" tester loved the cushioned handle and the vast packing space -- great for extended trips, bulky items or spare room if you're planning to shop while you're abroad. Our tester added, "From a girl who hasn't replaced her luggage in 10 years since college, I am converted!"
Best travel backpack
An Amazon basic that will become a staple in your travel routine. Think a suitcase on your back. For the price, the durability and zipper function really wowed users.
Best value luggage set
If you're considering traveling the world and haven't made an investment just yet, this spinner set is for you. Our "GMA" tester was impressed that the bags felt durable, but not heavy, and thought they were a great deal for the price.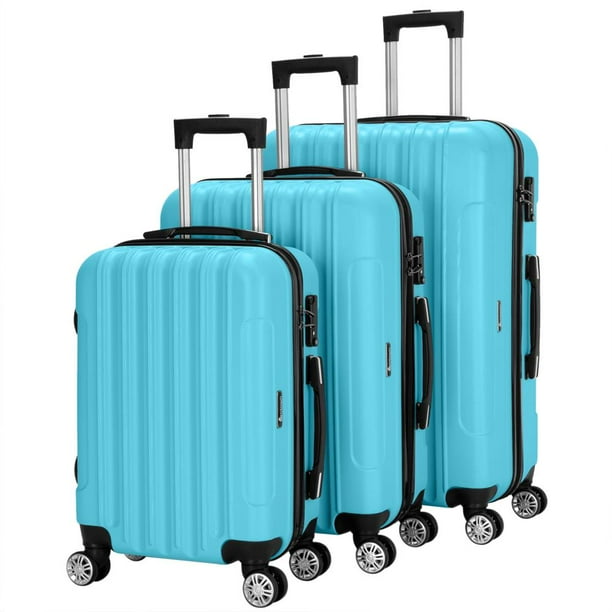 Zimtown 3 Piece Nested Spinner Suitcase Luggage Set With TSA Lock Blue
More GMA picks: