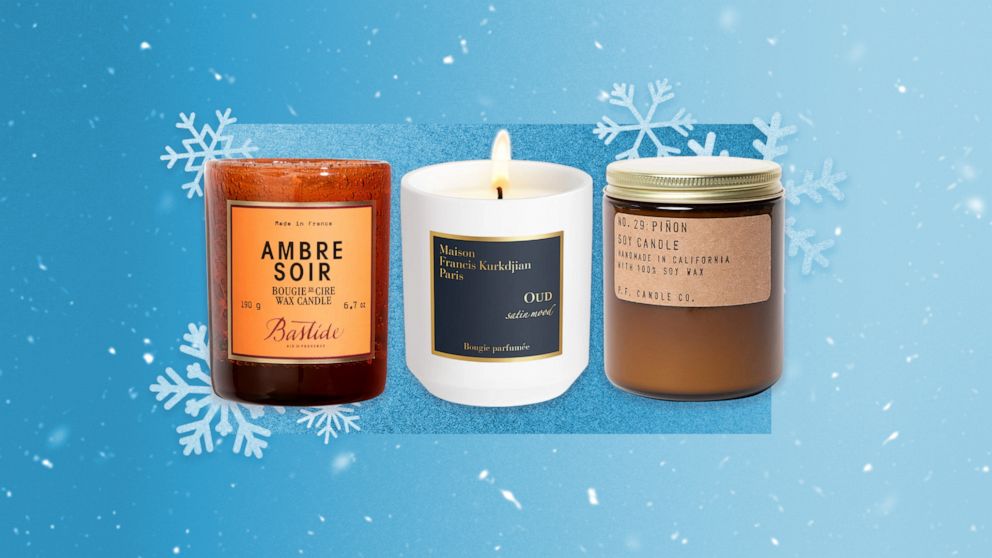 With the new year comes a desire to refresh our spaces, from our bedrooms to our living rooms to our at-home office.
One of the simplest ways to make a space feel new is to put away last year's holiday candles and bring out fresh, cozy winter scents fit for the season.
And who better to find the best candles than Kudzi Chikumbu, aka Sir Candle Man?
Just as he shared his picks for fall, Chikumbu is back to share 11 winter candles "Good Morning America" readers are sure to love. One, for example, evokes date night at a cozy jazz club, he tells us. Another is ideal "for the cold winter days when you want the feeling of warmth and joy." (Sign us up!)
Continue below to shop all of Chikumbu's picks.
Get more shopGMA! Sign up for our newsletter, and follow on Instagram and TikTok.
By clicking on these shopping links, visitors will leave Goodmorningamerica.com. These e-commerce sites are operated under different terms and privacy policies than Goodmorningamerica.com. ABC will receive a commission for purchases made through these links. Prices may change from the date of publication.
Harlem Candle Company in "Speakeasy"
"Imagine going out for date night to a cozy jazz club [on] a cold winter night," Chikumbu says. "This scent is warm from the vanilla and dark chocolate but also interesting because of the plum blossom and incense."
LAFCO in "Feu De Bois Ski House"
This is "the perfect blend of creamy sandalwood, rich frankincense and deep leather. The definition of a cozy night."
Maison Francis Kurkdjian in "Oud Satin Mood"
"The combination of vanilla, rose and oud is exquisite and makes for an elegant scent that's perfect for a welcoming and toasty cocktail party with friends during the wintertime," Chikumbu says.
Bastide in "Ambre Soir"
"The combination of amber, sandalwood and musk brings back the memories of sweet sunsets and decadent florals. This is a great scent for the cold winter days when you want the feeling of warmth and joy."
diptyque in "Vanille"
"One of the most elevated vanilla candles. This is like having vanilla ice cream while sitting by the firepit outside," Chikumbu explains. "Smoky and sweet and always a treat."
snif in "Instant Karma"
"For a more sultry and dreamy scent, this is the candle you need. It has all the must-have elements of a comforting candle -- like cedarwood and cardamom -- but spices it up with dark plum and black team. Bonus: the name makes for a great conversation starter in your home."
NEST New York in "Charcoal Woods"
"This candle is the winter vacation to the cabin you didn't know you needed. Woodsy, sweet, a little smoky and a touch bit spicy. Smells like good memories with people you love."
CLR in "Orange"
"Just because it's cold outside, doesn't mean we can't have some joy," Chikumbu says. "This candle's amber and citrus notes are the perfect way to bring light and love into your space even if it's cold and gloomy outside."
Nomad Noé in "Rebel"
"The winter is not only a time for warm snuggly times but also a great time to think of the upcoming spring and new adventures. This citrus-and-incense scented candle is perfect. [It's] reinvigorating and uplifting."
P.F. Candle Co. in "Piñon"
"The cedar, wood and vanilla are well-balanced, light and make for the perfect work-from-home candle," Chukumbu says. Plus, it isn't too overpowering.
L'or de Seraphine x Bloomingdale's Flagship
"Understated luxury for your space. This collaboration candle has sandalwood, bergamot, musk and amber, making for the most perfect scent when people enter your home or space from the cold outside."