The novel coronavirus pandemic has now killed more than 39,000 people around the world.
With more than 164,000 diagnosed cases, the United States has the highest national total in the world.
Medical personnel are the front line of defense when it comes to fighting this COVID-19.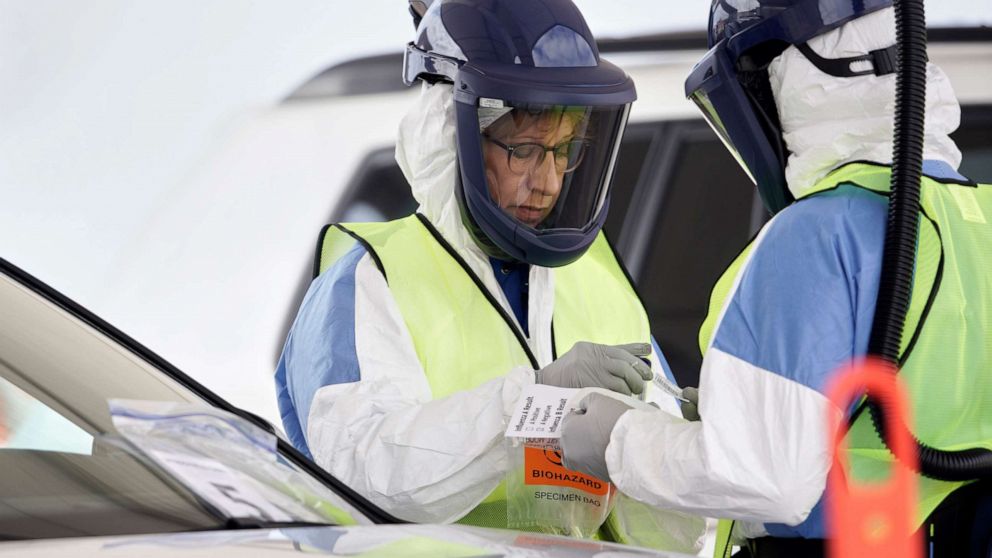 From shoes to coffee, companies have started giving back to support medical workers during this tough time.
#mydentity by Guy Tang
Guy Tang and Henkel are donating over $1 million worth of #mydentity haircare products to those impacted by the Covid-19 pandemic.
They are giving shampoo, conditioner and hairspray to organizations including Cedars-Sinai Medical Center in Los Angeles.
"With the Coronavirus leaving the less fortunate in dire straits, I am extremely grateful to be able to use that same power and inspiration to help those in need. We are all in this together," Tang said in a statement.
EOS
EOS has donated 100,000 Shea Better Hand Creams to New York area hospitals and healthcare workers.
"We are immensely grateful to our health care heroes for the dedication they demonstrate every day to help our city heal, and while no words or acts are sufficient to express the depth of our gratitude, we'd like to show them our thanks through this small act of kindness," says EOS CMO, Soyoung Kang.
PUMA
PUMA has donated more than 20,000 pairs of sneakers and more than 5,000 pieces of apparel and accessories to several organizations.
"This shoe donation will provide healthcare workers with a fresh pair of sneakers to use to and from their shifts to avoid bringing home contaminated footwear, as well as ease the financial burdens being placed on children and families in our communities right now," the brand wrote in a statement.
Liquid I.V.
Hydration product company Liquid I.V. has donated their products to 1,000 hospitals.
So far they have given out over 1.6 million sticks of their electrolyte drink mix and are getting ready to donate even more.
Jelly Belly Candy Company
Jelly Belly Candy Company has teamed up with Operation Gratitude to give 1 million bags of jelly beans to first responders.
They're also asking their fans to share a digital smile with those that need it most right now with #ShareASmile.
Echelon
Echelon Fit is offering 15% off all inventory and their 90 day FitPass one for free to all military and first responders.
Click here to get more information.
Stanley Black & Decker
Stanley Black & Decker made a purchase of 3 million face masks and other personal protective equipment, for frontline healthcare workers and first responders.
The company's tools and storage units, engineered fasteners and security solutions are used by the essential health care, first responder, construction, maintenance, transportation, government and medical manufacturing workers.
"Throughout this unprecedented period, we remain focused on our number one priority of ensuring the safety and health of our employees, while at the same time continuing to serve our customers, maintaining our financial strength and doing our part to help communities and governments mitigate the effects of the virus," Stanley Black & Decker President & CEO Jim Loree said in a statement.
La Roche-Posay
La Roche-Posay is donating nearly 1 million purifying hand gels to hospitals and clinics around the world.
TELETIES
Hair care company TELETIES is donating 15,000 of their no-rip hair ties to health professionals at some of the nation's busiest hospitals.
"While we can never express the depth of our gratitude, we wanted to say, "thank you" and hopefully make their days a little brighter," the company said in a statement.
Hanna Andersson
Baby & Children's Clothing Store Hanna Andersson is donating thousands of organic cotton pajama sets to their healthcare workers and patients in need.
"I am heartbroken to hear what hospital patients and healthcare workers are experiencing right now and knew we had to step up our efforts to help those in need," Mike Edwards, President and CEO of Hanna Andersson, said in a statement.
Hu Kitchen and Hu Products
Hu Kitchen and Hu Products is donating 30k new sets of scrubs along with boxes of their vegan chocolate to nurses, doctors, and all healthcare workers.
UGG
Each week for the month of April, UGG is giving 500 pairs of slippers to real-life superheroes who are going above and beyond.
You can nominate your hero on Instagram by tagging the brand with #UGGTOGETHER.
"When facing adversity, the world is stronger, braver and better together," Andrea O'Donnell, President, Fashion Lifestyle, Deckers Brands said in a statement.
UGG has also initiated partnerships with select hotels in New York to give first responders and medical personnel UGG slippers when they check in.
OOFOS
The Boston-based shoe company OOFOS is starting a program to help those who are helping others during this time of need.
In the first phase, the company is donating more than 1,000 pairs of shoes to nurses and medical professionals all around the country.
Their shoes are sanitary and have antimicrobial properties so they can be washed between shifts.
"While our company is Boston-based, we have field members all over the U.S. who work intimately with their communities, and who personally know nurses fighting this pandemic bravely on the front lines," Darren Brown, head of marketing at OOFOS, told "Good Morning America."
"Because of this, we wanted to donate shoes not only to medical professionals in our backyard of Boston with Massachusetts General Hospital, but also wanted to open this opportunity up to our field team, allowing them to reach out to their communities and show nurses that they are seen, supported and thanked for all they are doing."
Dr. Scholl's
Scholl's Wellness Company is donating 100,000 pairs of Dr. Scholl's insoles to support health care workers.
Hospitals can submit requests to receive insoles for their medical workers by emailing coronavirus.outreach@drscholls.com.
"We wanted to do what we could for all the caregivers who are working tirelessly on the front lines, and it is our sincerest hope that this gesture shows our appreciation for those who are there for us when we need them the most," Craig Stevenson, Scholl's Wellness Company CEO, said in a statement.
Clove
Clove has donated $45,000 of its shoes to medical professionals around the country.
Brooks Running
Starting April 2, Brooks Running will be donating 10,000 pairs of shoes to healthcare workers around the country.
Healthcare workers can sign up here to receive a pair of shoes while supplies last.
Keds
Keds is supporting the women on the ground of this pandemic by giving away free pairs of shoes.
Click here to nominate a woman in your life.
Allbirds
Allbirds has distributed $500,000 in shoes to health care workers and medical personnel working in the United States.
The company is also starting a "buy-one-give-one" option for people shopping for the products to split the cost of donating a pair of Wool Runners to those in need.
"Health care workers have been our nation's heroes through this pandemic; we are humbled by their service and simply trying to do what we can to provide comfort to them during this time," a spokesperson told "GMA."
KEEN
Family-owner footwear brand KEEN launched the "Together We Can Help" initiative to have people nominate those they felt were most in need of a new pair of shoes.
In less than a week they gave away 100,000 pairs of shoes to people in need.
"People like nurses working overtime shifts, grocery store clerks re-stocking shelves, and families trying to keep up with their kids now that schools are shut down, all got a boost thanks to a new pair of KEEN shoes," the brand said in a statement.
Crocs
Crocs is donating a free pair of shoes to health care workers fighting COVID-19 through its new program, "A Free Pair for Healthcare."
Starting at 12 p.m. ET every day, these workers can request a pair of shoes until supplies last.
Crocs is also distributing an additional 100,000 pairs of shoes to select health care facilities across the country.
"These workers have our deepest respect, and we are humbled to be able to answer their call and provide whatever we can to help during this unprecedented time," Crocs CEO Andrew Rees said in a statement.
FIGS
Premium scrubs brand FIGS announced it would be donating 30,000 sets of scrubs to hospitals over the next two months.
"It has been an unprecedented time at FIGS. We are shipping scrubs 24/7 to ensure the healthcare community has what they need to protect themselves. We are excited and honored to provide extraordinary service in these extraordinary times. It is our responsibility to support each and every one of them," FIGS' co-founders Heather Hasson and Trina Spear told "GMA."
Pronovias Group
Luxury bridalwear company Pronovias is donating wedding dresses to hospital-employed future brides working on the front lines of this crisis.
Until Aug. 21, brides-to-be who are employed by a hospital and helping with this crisis are eligible for a free wedding dress.
"Using the slogan #LoveConquersAll, Pronovias Group wants to share a message of love and selflessness in these times of uncertainty and distress, hoping that, before long, brides will again be able to celebrate their love," the company said in a statement.
Willow Pump
Willow Pump is donating their hands free breast pumps to healthcare workers while supplies last.
"The pump has always been a favorite of nurses, doctors and EMT's whose jobs don't allow for the typical breaks of an office environment – an even more important factor given the pressure of current circumstances," the company said in a statement.
Venus ET Fleur
Flower company Venus ET Fleur wants to brighten up healthcare workers days by giving away their "Le Mini arrangement."
IPSY
Beauty subscription service IPSY is donating 50,000 care packages to health care workers across the country.
Anyone who works in a health care facility can sign up here to receive these packages while supplies last.
LANO
Australian skincare brand LANO is donating 1,000 bars of their popular soap to hospital staff.
"We have been hearing that hospital staff have been going above and beyond in these trying times and were in need of skincare as the masks have been causing skin damage – acne, bruising - due to wearing them for a long period of time. We are donating 1,000 Lanolin & Egg-White Cleansing Bars as a token of our appreciation," Kirsten Carriol, CEO and founder of Lanolips, told "GMA."
Bliss
The clean beauty brand Bliss is donating thousands of its self-care products to hospitals across the United States.
People can nominate their #healthcareheroes on Instagram to receive a special care package. The brand will pick five winners every Thursday.
FEKKAI
The health and beauty brand FEKKAI is sending 4,000 dry shampoos and over 250 hand creams to hospitals all over the country.
"We have tremendous admiration for all of the healthcare workers fighting in this unprecedented time. When we heard that they needed products to help them through their long days, we were eager to help," FEKKAI founder Frederic Fekkai told "GMA."
Theragun
Massaging device company Theragun is helping hospital personnel alleviate tension by donating their devices to hospitals across the country.
So far, the brand has delivered devices to hospital break rooms in over 30 states.
"We are donating Theraguns to hospitals all across the US to help provide relief for the medical staff and their bodies. These people's bodies are taking a beating through their service to others. If Theragun can provide them with just a few minutes of relief, then the donation is worth it," Dr. Jason Wersland, founder of Theragun, said.
The company is also donating 100 meals for every device sold through Feeding America.
Vital Proteins
Vital Proteins has donated over 30,000 Collagen Water bottles to places in need including medical centers.
OWYN
Plant-based drink company OWYN teamed up with Grammy Award-winning recording artist Cardi B to donate 20,000 bottles of their drink to doctors and first responders in the New York area.
The duo also plan on helping other areas highly affected by COVID-19.
"Cardi B along with OWYN intend on donating more bottles to other cities with high counts of COVID-19 cases," OWYN said in a statement.
Starbucks
Until May 3, Starbucks will be giving a free tall brewed coffee to anyone one identifies as a first responder or front line worker supporting our healthcare system.
This includes police officers, firefighters, paramedics, doctors, nurses, hospital and medical staff, and medical researchers.
The company is also donating money to support the delivery of 50,00 care packages to healthcare workers.
Krispy Kreme Doughnuts
As a thank you to healthcare workers, Krispy Kreme Doughnuts is giving all healthcare workers a free dozen doughnuts on Mondays.
The offer is valid across the United States for their Original Glazed Doughnuts through May 11.
Tropical Smoothie Cafe
Tropical Smoothie Cafe is on a mission to give away 100,000 smoothies to hospital workers across the country.
"In these trying times, it can be comforting to know that we're #InItTogether, and hope that this campaign inspires others to give back in any way they can and remember that even the smallest acts of kindness can have a significant impact," Charles Watson, CEO of Tropical Smoothie Cafe, told "GMA."