Mindy Kaling made multiple stylish appearances at the 2023 Oscars on Sunday.
While attending the 95th Academy Awards, "The Mindy Project" star stunned on the champagne carpet, wearing a daring white gown by Vera Wang. The dress featured a sheer midriff panel, spaghetti straps and detached sleeves.
Kaling, 43, completed her look for the first part of glamorous outing with a pair of statement earrings and nude lipstick while wearing her hair pulled half-up.
During the ceremony, Kaling made a second appearance onstage to present the award for best original score, sporting the same dress in black with a different set of earrings and bold red lip.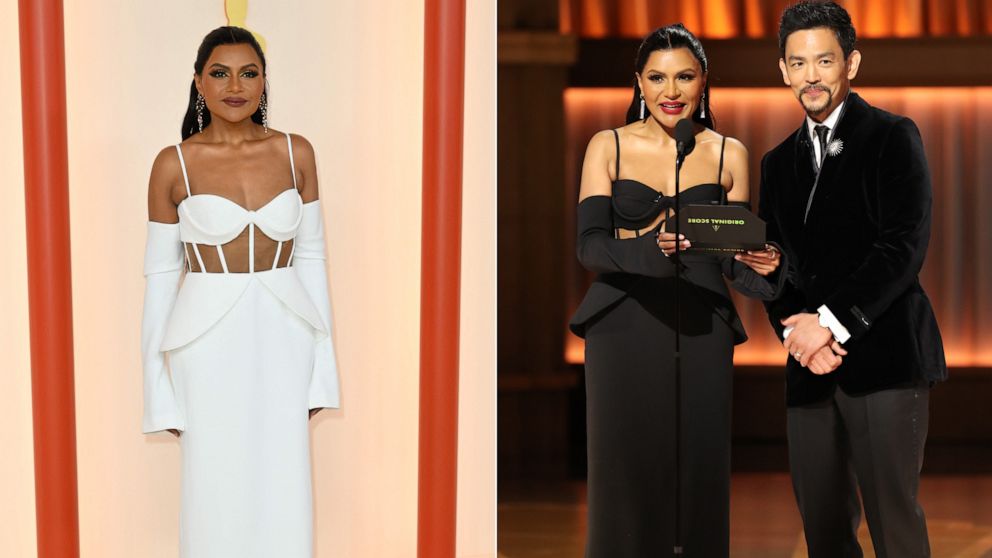 In an Instagram post on Monday, Kaling shared pictures of both ensembles and reflected on her attendance at the Oscars calling it "a fashion dream."
She also revealed the meaning behind the contrasting colors, according to Wang.
"I was so honored to wear @verawanggang, an icon and an inspiration to so many people, particularly Asian Americans. But to wear her gown in two colors!!" she wrote in the caption. "I asked her why she designed this dress in black and white for me and she said they embody 'her fascination with the duality of both….. it's the eternal attraction of opposites! It also conveys the modernity and sophistication and purity of both colors!' See?? She is the joyful artist of my dreams!"
She continued, "As for me… well, I am that woman who, when I love a piece of clothing, I buy it in every color. Also, who knows if I am ever getting married, I am wearing as many Vera Wang gowns as I can! 😉❤️ I love you @verawanggang. And @mollyddickson @priyadeluxe for putting this all together."
Kaling was among several celebrities to turn heads at Hollywood's biggest night on Sunday in a white ensemble. See other showstopping looks from stars like Halle Berry, Michelle Yeoh and Jamie Lee Curtis here.