A look at Pharrell's nonprofit organization
Julien De Rosa/AFP via Getty Images
Pharrell Williams has made his Louis Vuitton debut.
The artist, who was recently appointed the men's creative director for the luxury brand, showcased looks from Louis Vuitton's Spring/Summer 2024 collection on Tuesday night at Paris Men's Fashion Week.
The star-studded show took place on Pont Neuf and featured Louis Vuitton's iconic Damier design in gold on the runway, a choir and an orchestra.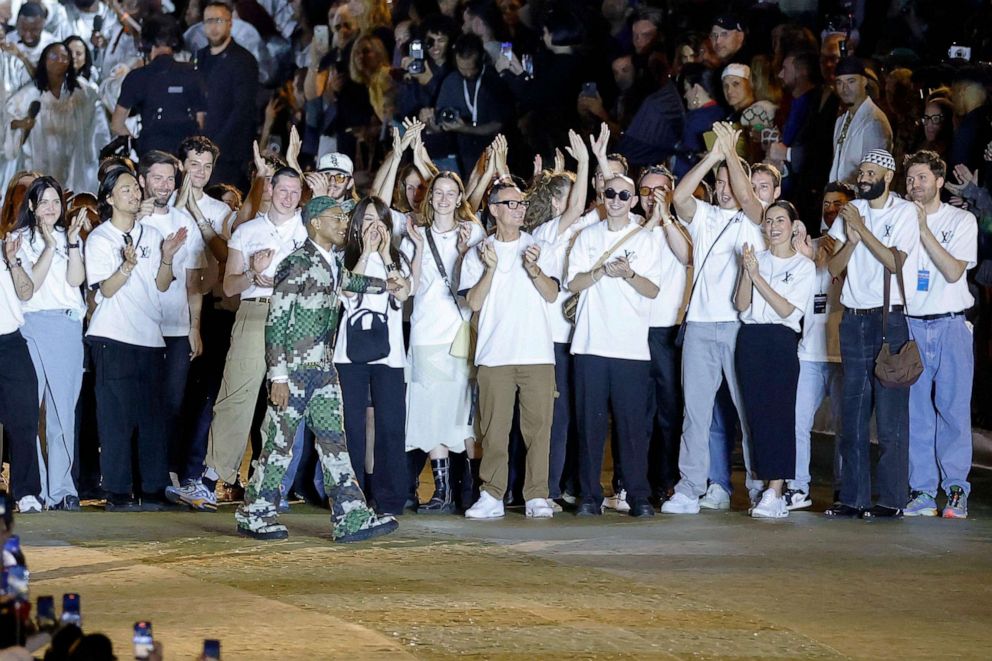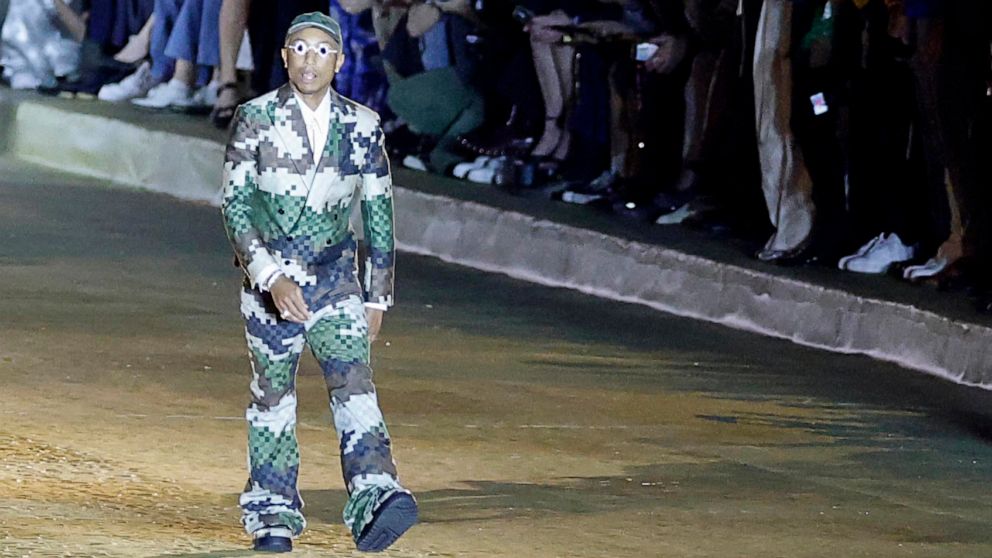 Beyoncé, Jay-Z, Rihanna, A$AP Rocky, Kim Kardashian and Jared Leto were seated in the front row at the show. Quavo, Megan Thee Stallion, Jaden and Willow Smith, Naomi Campbell, Kelly Rowland, Miranda Kerr, and Tyler, the Creator, along with several other stars, were also in attendance.
At the end of the show, Williams walked down the runway in a camouflage-inspired outfit and was joined by his wife Helen Lasichanh and their four children: son Rocket Ayer Williams, 15, and their 6-year-old triplets.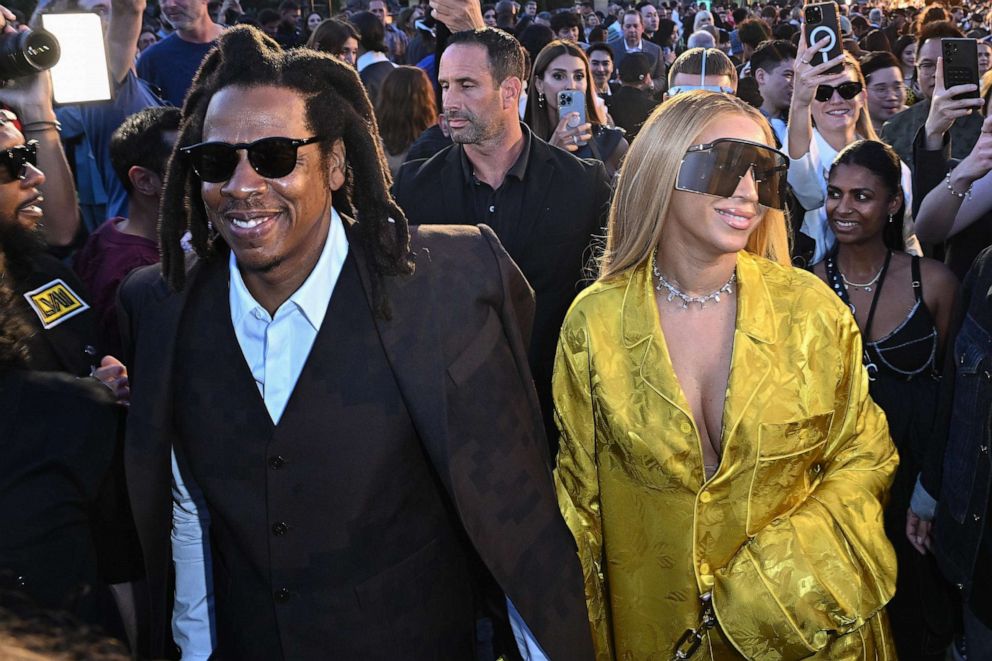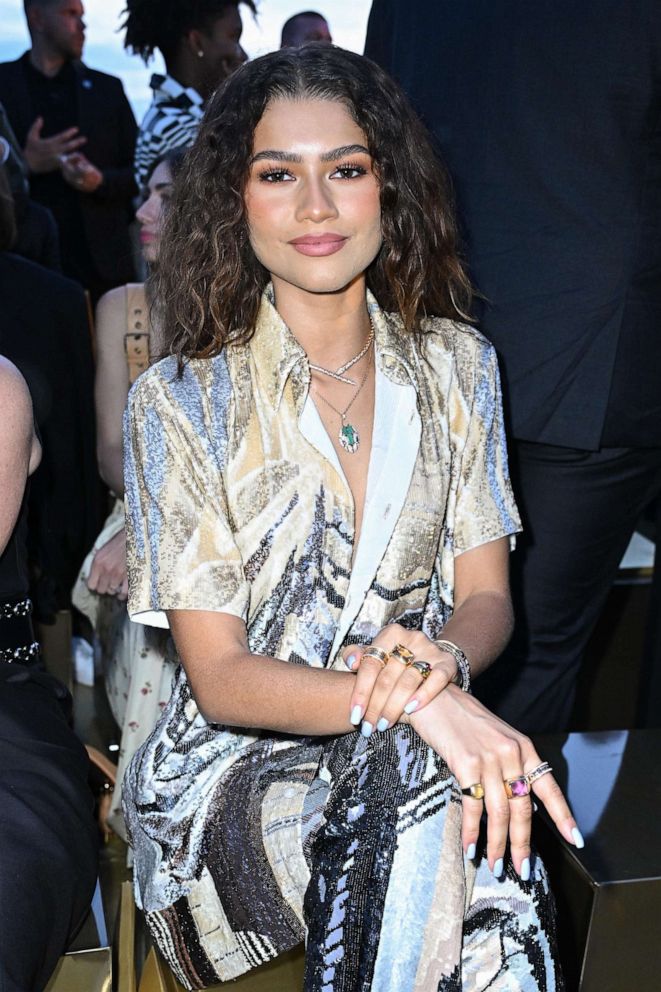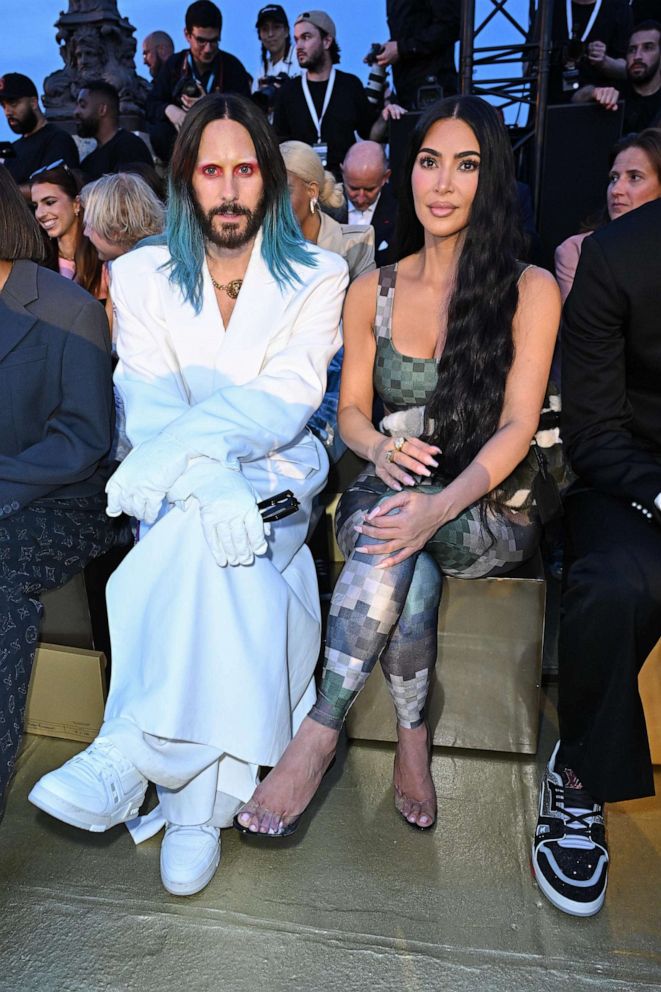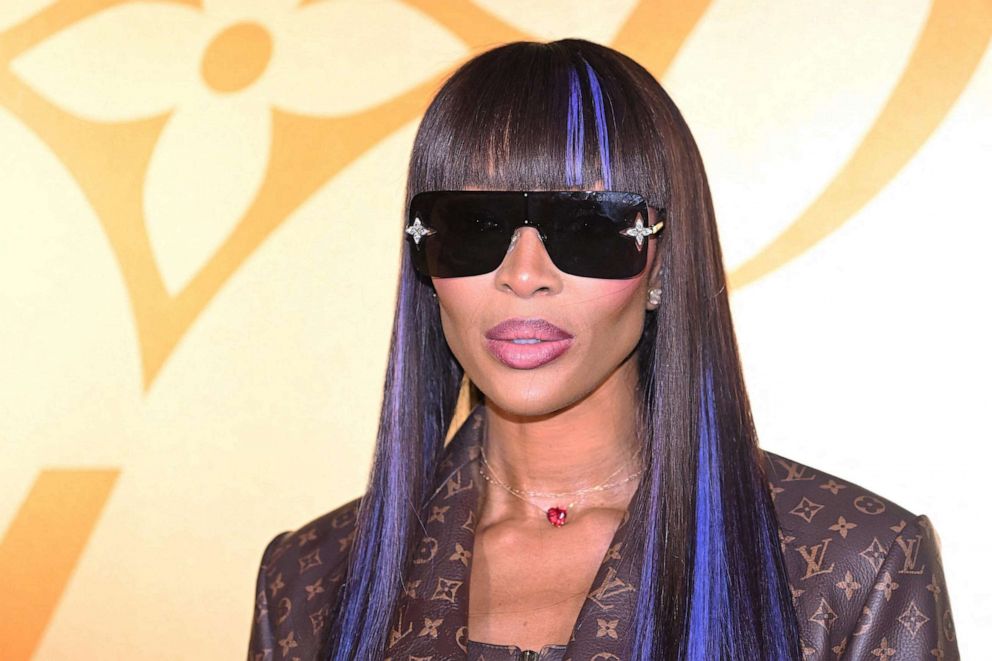 Speaking to WWD ahead of the show, Williams said he was "touched" to be chosen as the brand's men's creative director.
"Every day, I gotta pinch myself because it's an appointment, and I was chosen," he said. "Pietro [Beccari] saw something, and I'm touched by that and I honor that every day."
The theme of Williams' debut collection is "lovers," the artist told the New York Times, and includes "printed leather jerseys and rugbys, quilted denim, Mao-neck blazers and ghillie camo with LV logo cutouts," according to the outlet.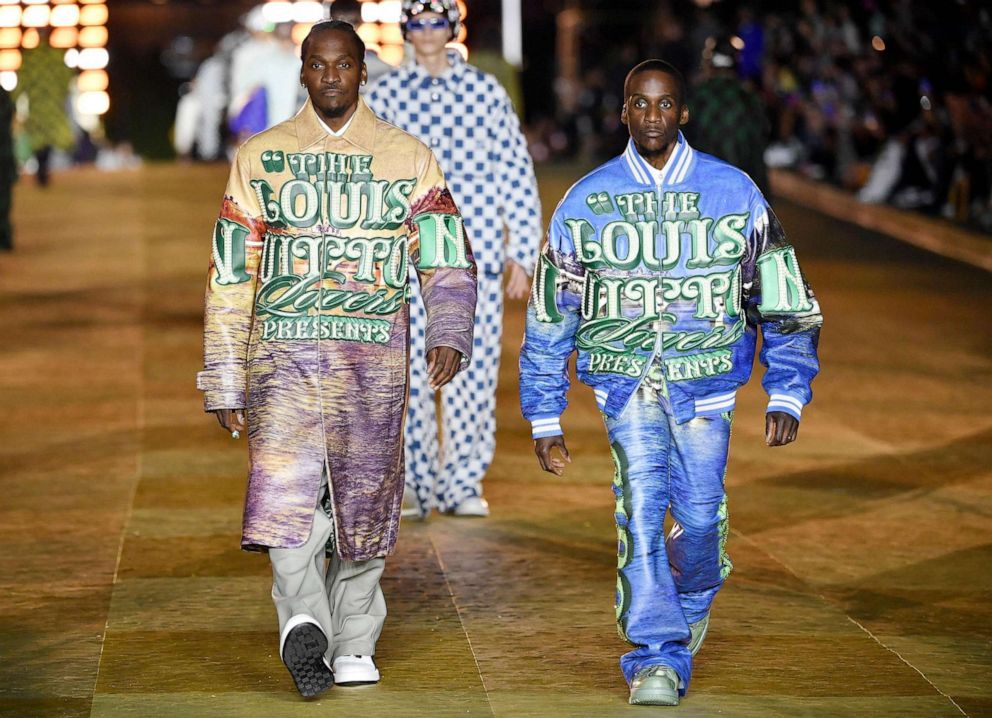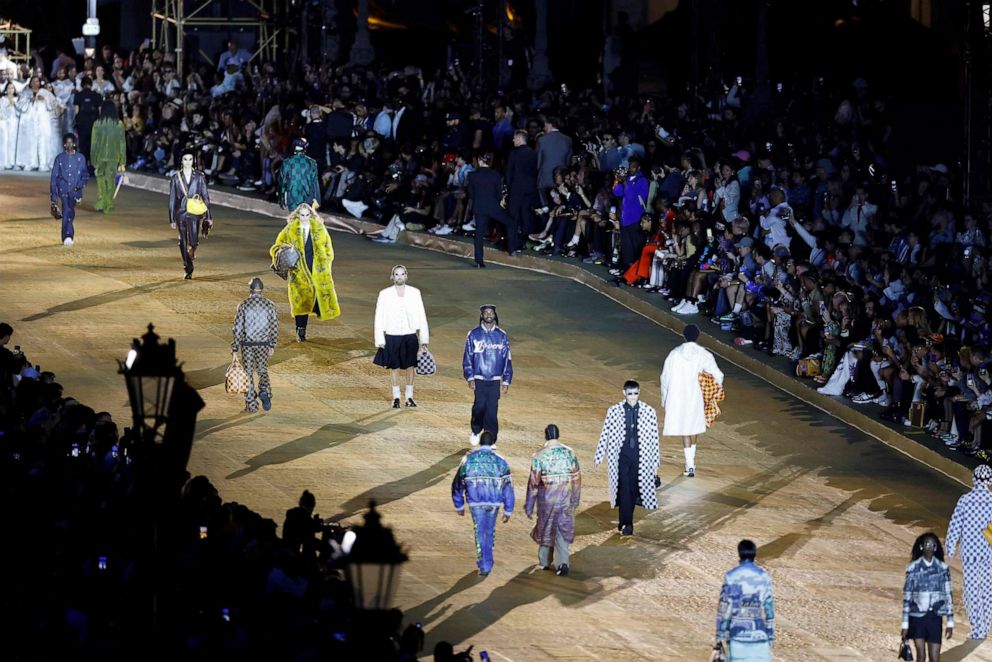 "I want to give you that same experience that you get when you go to Canal Street, a place that has appropriated the house for decades, right?" he told the Times. "Let's reverse it. Let's get inspired by the fact that they'll make some colorways that the house has never made. But then let's actually make it the finest of leather."
As for his goals as a creative director, Williams said he hopes to expand the house's brand ambassador program to include not only Black musicians and actors but other notable Black leaders in science, academics and more.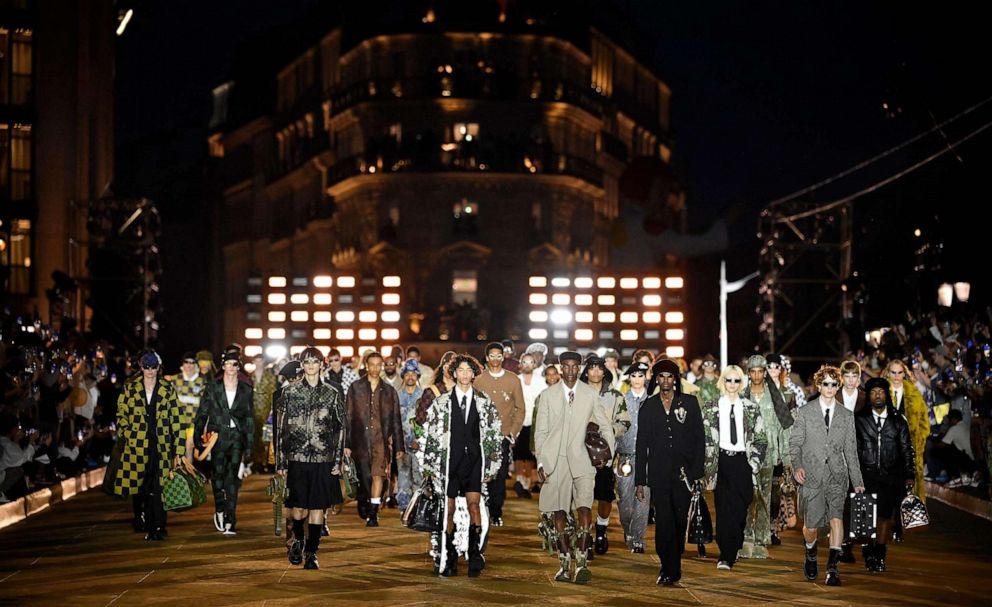 "They have to be supportive of the culture because the culture contributes to the bottom line," he told the outlet, adding he's had conversations with the brand "about how important the community is to them, and how being supportive to them is a natural and a prerequisite."
"Over here, they lift us," he noted. "They appreciate what we do. They see the talent that we have."
Williams previously teased his collection with a billboard featuring a pregnant Rihanna.
"What I love about this is, it's the biggest fashion house in the world, and that is a Black woman with child," he told the Times about the advert.