Drag queen Sasha Velour gets ready for Pride
"Anybody can do drag. You don't have to be gay, but once you start doing drag, you'll want to be."
Those were the words of season nine winner of "RuPaul's Drag Race" Sasha Velour as "Good Morning Ameria" got an up close and personal look at how she gets ready before a big show.
"The best thing about it is that it's a fantasy that is even more honest, even more truthful than reality."
"Through Sasha Velour, this out-of-this-world character and this extreme confidence that's so far beyond what I feel day to day, I am able to express a side of myself that feels just as real to me, and that other people are able to see as real."
"Nightgowns," also known as the "drag artist's drag show," was started organically in a bar in 2015 by Velour, who now serves as host, director, and in-house lighting designer. The Brooklyn-based extravaganza is an inclusive creative platform that gives drag queens, drag kings, AFAB, trans, and gender nonconforming drag performers a place to give audiences a fresh creative "truly queer" night of theater.
"There is a really purposeful production behind every performance," says Velour.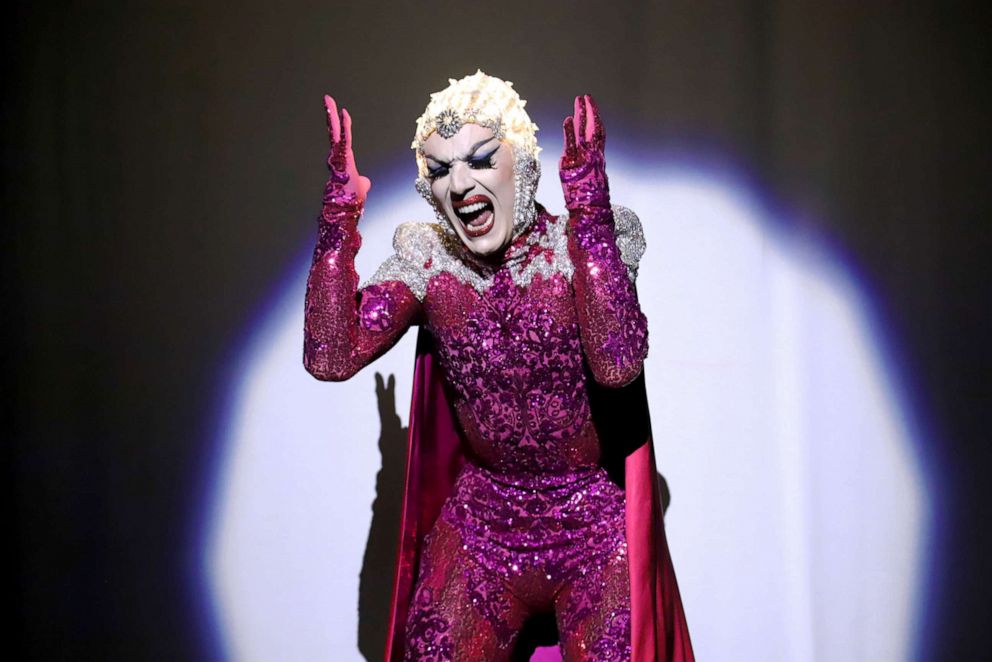 Where she finds inspiration
"I am about to transform myself with makeup into some kind of glamourous non-binary fem pirate," explains Velour as she begins to get into her zone.
As extravagant as her looks are, she admits that her makeup is usually done the same way every time because the look always works well for her.
While it usually takes roughly two and half hours to complete Velour's drag makeup look, you can usually count on there to be lifted elongated eyebrows, heavy sharp feline flicked eyeliner, lots of thick fluffy eyelashes, and a bright red sparkly power lip.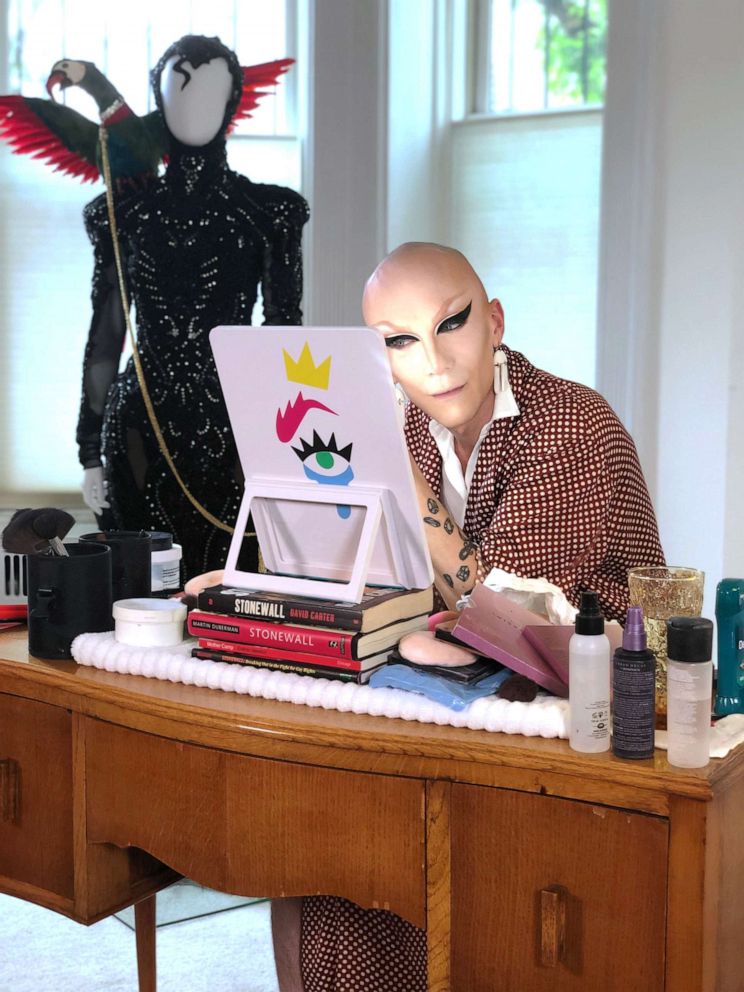 Most of Velour's style inspiration stems from her own drawings as well as vintage fashion. She prefers to illustrate tiny cartoon-like characters of herself since most of her looks are for the stage and the audience is usually far away.
"As they say 'paint for the back row,' ...I like to dress for the back row as well," Velour says.
As they say 'paint for the back row,' ...I like to dress for the back row as well
While you will catch many drag queens rocking elaborate wigs, you will rarely ever see her wearing one. She usually sticks to a bald head or gorgeous headpiece for reasons inspired by her late mother.
Velour's mother lost her hair due to cancer and chemotherapy treatments, and she thought it was beautiful how she finally found the courage to confidently step out into the world with no hair on her head.
"When my mom passed away, it was kind of like getting in touch with her," says Velour. "I'm an only child and feminine is something we shared that was special."
The transformation
Velour likes to begin her makeup by basing with a great contour and highlight, and everything else builds from there.
"I don't love the feel of makeup all over my face, but I love being able to transform myself into a painting," she says."
For Velour, the look isn't complete without a lip. Her favorite part of painting her face is honing it all end with a fiery red lipstick with touches of glitter.
"She's not there until the red glitter lips are complete," she says.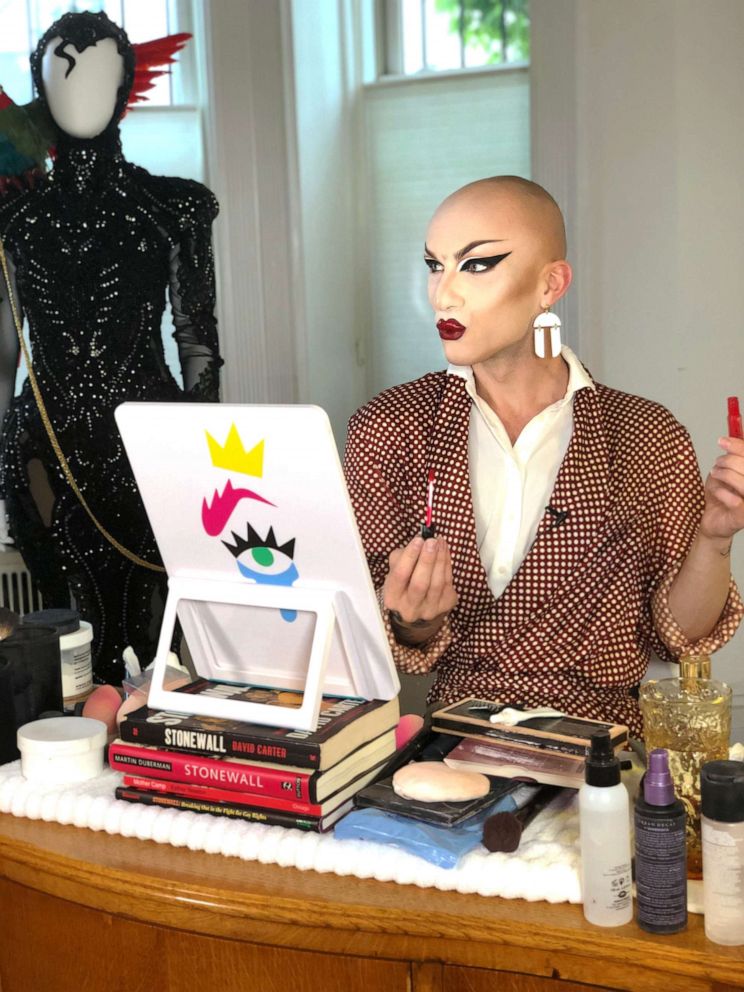 As most drag performances can be very active and intense, Velour's secret for keeping her makeup intact is to begin with liquid-based makeup first, and follow with powder.
She also uses a ton of setting spray to keep everything in place, no matter how hard she sweats.
The final look
When it comes to shows, Velour never has less than three outfits packed.
Before heading into her Lyft ride (which is also is this year's sponsor for "Nightgowns") to tonight's show, she slips into a dazzling hooded black gown with a faux parrot attached to her shoulder.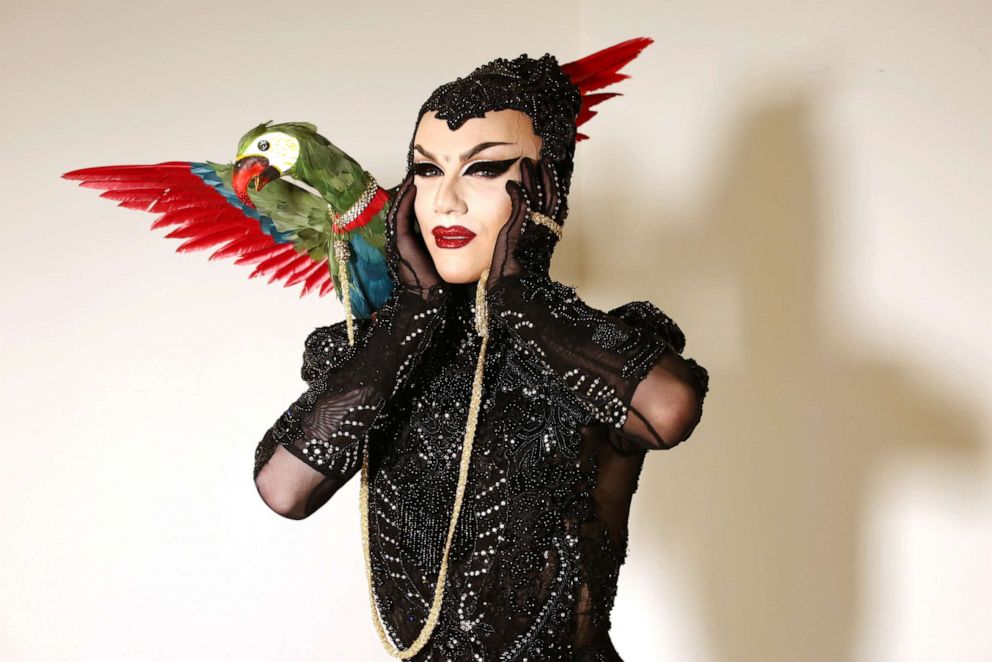 "This costume that I'm wearing today is my travel outfit. Pirates are traveling, and that's what I felt like wearing just to show up through the doors."
Don't be afraid to break the rules
Contrary to popular belief, you don't have to be a gay man to do drag, according to Velour.
"Literally anyone can do drag," she said. "It really doesn't matter if you call yourself a drag king or a drag queen or a drag artist, those things should be more reflective of the style and creation that you put out into the world."
For those wanting to try drag for the first time but who have reservations, Velour encourages them to push past those fears.
"You can't hide who you are and what you want to do," she says. "Just put it out there and stick to it."
"Don't be afraid to break the rules especially if they are rules that have no meaning or purpose...like the rules of what to wear or how to be a specific gender. That's for you to decide, and you should be creative with it."
Editor's note: This was originally published on June 27, 2019.