'Tube Girl' takes us behind the scenes of creating a viral video
Sabrina Bahsoon used to say she wanted to become a rock star, and within a few weeks, the TikToker has turned London's subway into her main stage.
Known as "Tube Girl," Bahsoon started a movement with her videos, dancing on the Tube -- the British Underground system used by millions each day -- like no one's watching.
"Except they totally are," she told ABC News.
Her format is simple, only requiring ear pods, a phone and good energy.
Bahsoon picks a song, then picks a coach that "matches the vibe." She gets on it and turns down the train window, and as it moves from one station to the other, she films her selfie videos, with the iPhone turned to 0.5 mode.
"Don't try it without 0.5," she warned. "I did it once and it's a very humbling experience."
Before becoming the world's Tube Girl, Bahsoon, 22, was a fresh graduate from law school who didn't feel like she fit in with the corporate lifestyle and started filming herself for fun this summer.
"I wanted to shoot a self-made music video for a song that I liked but my friends told me that they didn't want to film it for me," she said.
"So I was just like, 'OK, I'm gonna do it myself.' I tried on the street, I tried on a bus and then I was just on the Tube and realized the wind was hitting perfectly. And that's how it happened."
She added, "I found that if you're dancing like a crazy person, men leave you alone."
She said that was the reason she initially started isolating herself from people on the train with music.
Her mesmerizing style radiates confidence and positivity -- the kind you only get from someone who doesn't take herself too seriously and is not afraid of other people's judgment.
Not that Bahsoon was always this confident. She said she remembers asking her three sisters, her main supporters, if the videos were OK to post.
But then, surrounded by people who believed in her and free from any feeling of judgment toward others, she found herself to be fearless and creative.
"To me, confidence means just knowing yourself really well in the sense of your abilities, what you're good at, and also giving yourself enough credit," Bahsoon said.
With more than half a million followers on TikTok and tens of millions of likes accumulated in the last two months, users still wonder how she does what she does.
"When I first saw Sabrina Bahsoon doing it, my jaw physically dropped," Jiayue Jenny Li told ABC News. Li was among the first to replicate the #tubegirl trend as a part of a challenge to overcome social anxiety.
"I was in awe at the camera work, the confidence, the carefree attitude. All I kept thinking was, 'Wow, I wish I could be that confident and carefree in front of other people.'"
Li also said this trend impacted her life offline too. "I no longer dread going on the tube, commuting can be so dispiriting, but now I look at it in a different light," she said.
When Bahsoon sees #tubegirl TikToks on her feed like Li's videos, she said she gets incredibly excited. "I just cannot wrap my head around this," she said.
The hashtag #tubegirl has now over 662 million videos on TikTok.
While the trend is taking over the app and the subways around the world, from Warsaw to New York, Bahsoon, who until three weeks ago was a regular student trying to understand her place in the world, said she is simply enjoying her moment.
"I manifested and wished for this for so long that I feel almost prepared against impostor syndrome," she said. "But then I have my moments when I wonder 'why me,' and I think this is all so random!"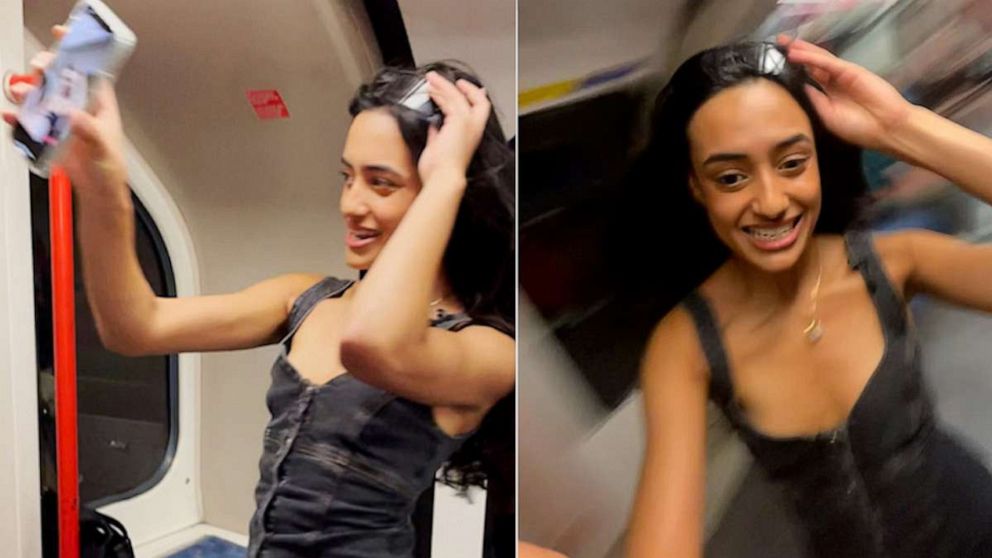 Bahsoon said she gets stopped a lot on the streets now and spends less time at home, which she said was "the biggest adjustment."
She said she's also had several big brands and artists come to her with business proposals. MAC, Bentley, Omar Apollo and Troye Sivan are just a few of her recent collaborations.
Bahsoon said Apollo, in particular, gave her something extra: a heartfelt encouragement to be herself and enjoy everything coming her way without too many questions.
With a Malaysian background ("I am also partly from Sierra Leone and Lebanon," she specified), Bahsoon said she has not felt represented in the fashion and music industry in the past. "I don't look like all these people in these rooms … but here I am," she said.
TikTok fame, however, has opened all sorts of fashion doors for Tube Girl. For Bahsoon, who said she has always wanted to model but never got a gig, one particular dream is now coming true: walking a fashion show during Paris Fashion Week.
"Confidence is the runway to success and Sabrina, aka 'Tube Girl,' exemplifies it with every step she takes," said designer Christian Cowan, who hosted Bahsoon on his catwalk in Paris on Thursday.
"I chose her to walk in my runway show because she doesn't just wear the clothes -- she wears them with unwavering self-assuredness, and that's a statement we're proud to make," Cowan added.
Bahsoon's story is certainly about social media fame but it's also about the confidence to be yourself and have fun, free of judgment.
While she still has boxes to tick (such as meeting Ross Lynch and Tate McRae), she said she will keep dancing on the Tube in the meantime -- except now, she won't be doing it alone.
"Which is amazing," she added. "It makes me look less crazy that everyone is doing it, too!"