Princess Kate is once again making fashion headlines. But this time with an accessory accessible to anyone of any age.
Kate, 36, has in two recent appearances worn a black velvet bow in her ponytail.
The simple yet chic accessory has caught the eye of both fashion insiders and every day royal watchers who see in Kate's look an inexpensive way to royally jazz up any look.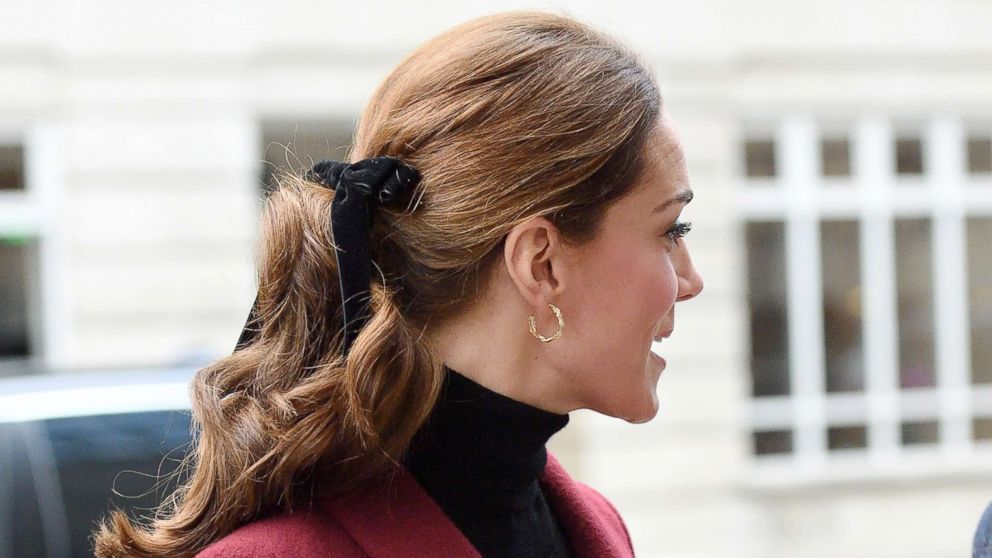 "The bow is such a moment because most of what Kate and Meghan [Markle] wear is out of reach for most people," said Elizabeth Holmes, a style reporter whose "So Many Thoughts" Instagram commentary on the royals' fashion is a must-read for royal watchers and fashion insiders alike.
"When they do wear something that is accessibly priced, people get really excited because it's a chance to feel a part of the royals," she said. "A bow is one big step forward because it so easy for anyone to go to a craft store and get a spool of ribbon and tie it into their hair."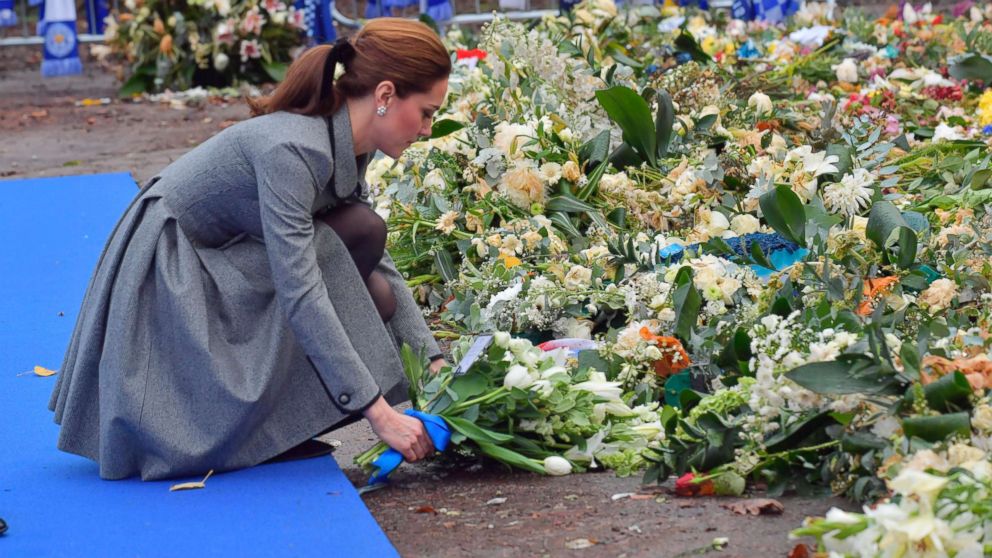 A velvet bow can of course be homemade for just a few dollars but retailers like J. Crew, Anthropologie and Nordstrom and Neiman Marcus are also selling their own, more expensive, versions of the accessory.
(MORE: Duchess Kate 'absolutely' excited for Meghan Markle's baby: 'It's such a special time')
Holmes, who formerly wrote about fashion for The Wall Street Journal, said the return of the velvet bow first came on her radar two years ago when it was spotted on runways during the fall 2016 season.
"It takes a while for trends to trickle down from the runway to Target," she said. "Kate wore it at exactly the right time. There are now all of these places where you can go out and buy [a velvet bow]."
(MORE: Prince Louis, Prince George and Princess Charlotte seen together in new royal family photos released for Prince Charles' 70th birthday)
The exact source of Kate's black bow has not been confirmed. J. Crew's very similar-looking girls' velvet hair tie that sells for around $28 is now sold out on the retailer's website.
The bow trend has also hit Hollywood. "Mary Poppins Returns" star Karen Gillan accessorized her Michael Kors ensemble with a red velvet bow on the red carpet at the movie's premiere Thursday night.
How to wear a velvet bow as an adult
A velvet bow accessory trend is also in perfect timing with the holiday season, according to Holmes. But you don't have to save the look for a holiday party, she notes.
"I would encourage people to play around with it," said Holmes, the mother of two young sons. "I've been trying to think of ways to wear it to preschool pick-up."
A bow accessory can also be a great way to recreate an old look, as Princess Kate has done, noted Holmes.
"Kate has been on a streak of repeat [outfits] since coming back from maternity leave," she said. "A new way to freshen up an old look is to add some styling to it. An accessory like a bow can make an old look exciting again so she does get press coverage."
Kate, who gave birth to her third child, Prince Louis, in April, accessorized a repeat maroon skirt suit with a black velvet hair bow when she visited the University of College London on Nov. 21.
Just one week later, when she and Prince William visited Leicester, Kate again used a bow to accessorize a repeat look -- a houndstooth coat with a Peter Pan collar.
Holmes's styling advice for non-royals who want to rock a velvet bow is to keep it simple.
"Let the bow be the star of the ensemble," she said. "Pair it with a simple sweater or a shift dress."