Meghan Markle's royal tour style: Duchess wears Stella McCartney, Givenchy on final day of royal tour
Prince Harry and Meghan Markle take part in traditional Maori 'powhiri'
Andrew Parsons /i-Images/Polaris
October 31, 2018, 11:32 am
Prince Harry and Meghan Markle, the Duke and Duchess of Sussex, attended more than 70 engagements on their just-wrapped 16-day tour of New Zealand, Australia, Fiji and Tonga.
For Meghan, that meant countless outfit changes along the way.
Meghan, 37, highlighted some of her favorite fashion brands, including Stella McCartney and Givenchy, and put a spotlight on local New Zealand and Australian designers during the tour.
She wore everything from a magical, custom evening gown by Oscar de la Renta to J. Crew jeans, Rothy's flats and a $56 ASOS maternity dress.
Meghan put on the whirlwind fashion display while pregnant. She and Harry announced at the start of the tour that they are expecting their first child.
"Good Morning America" tracked all of Meghan's fashion choices during the royal tour Down Under.
Take a look.
Rotorua, New Zealand
The Duchess of Sussex wore three outfits on the final day of the royal tour.
Meghan wore a Stella McCartney dress as she and Harry joined a powhiri, a traditional Maori welcoming ceremony that features dancing, singing and a hongi -- or traditional Maori greeting. She added a traditional Maori korowai, or cloak, on top of the dress when she attended the powhiri.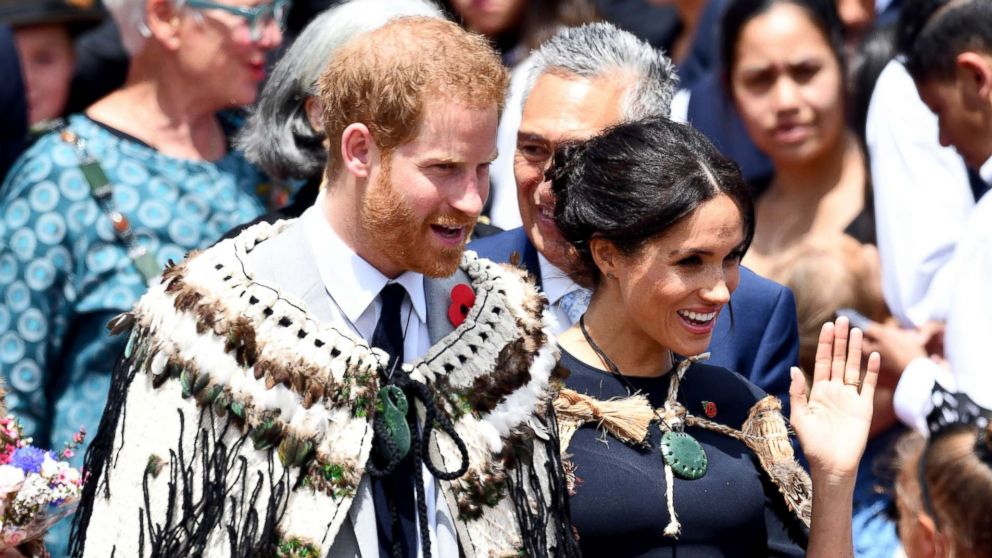 She changed into a custom sweater and skirt by Givenchy, her wedding dress designer, when she and Harry visited Rainbow Springs to learn more about the center's kiwi breeding program.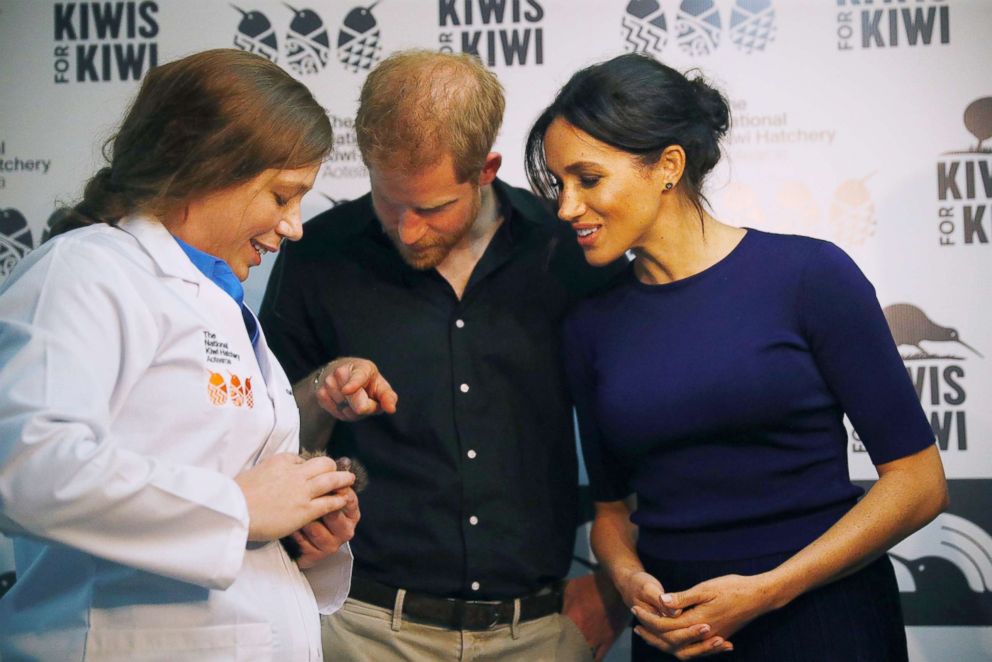 For the final event of the tour, Meghan chose a more casual look, swapping out her Givenchy skirt for jeans and changing from heels to flats to walk hand-in-hand with Harry through the Redwoods Treewalk Rotorua.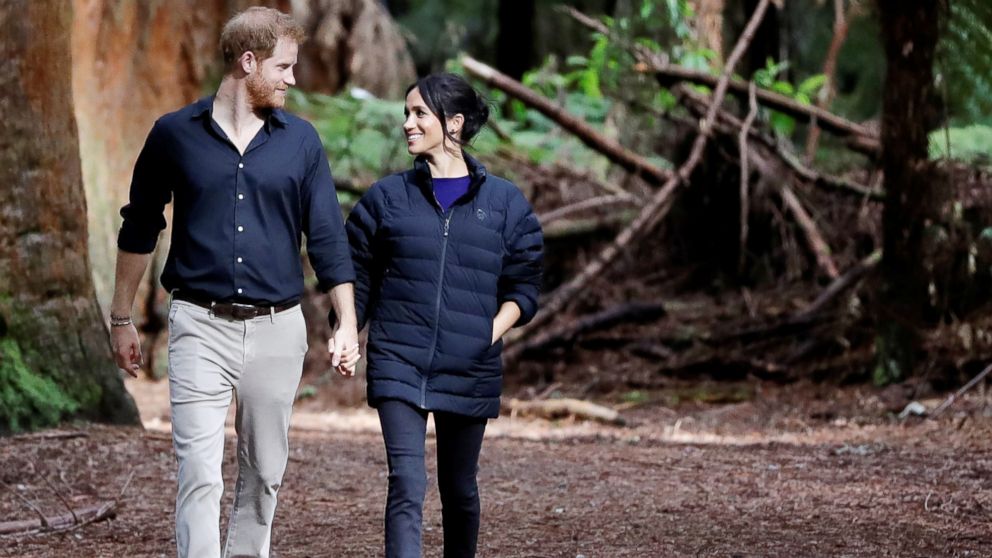 Meghan's flats appear to be by Birdie's, a San Francisco-based brand she was a fan of before she became a royal. The flats retail for $120.
Auckland, New Zealand
Meghan donned an American class, J. Crew, for a visit with Harry, the Duke of Sussex, to Auckland, New Zealand.
Meghan chose J. Crew jeans and a blazer by Karen Walker for the Queen's Commonwealth Canopy dedication in Auckland. The Karen Walker blazer, called the "Fathom Jacket," retails for $437.
She changed into a blush sheath dress by Brandon Maxwell, an American designer, and a Burberry trench coat for a visit with Harry to a local charity and to greet fans.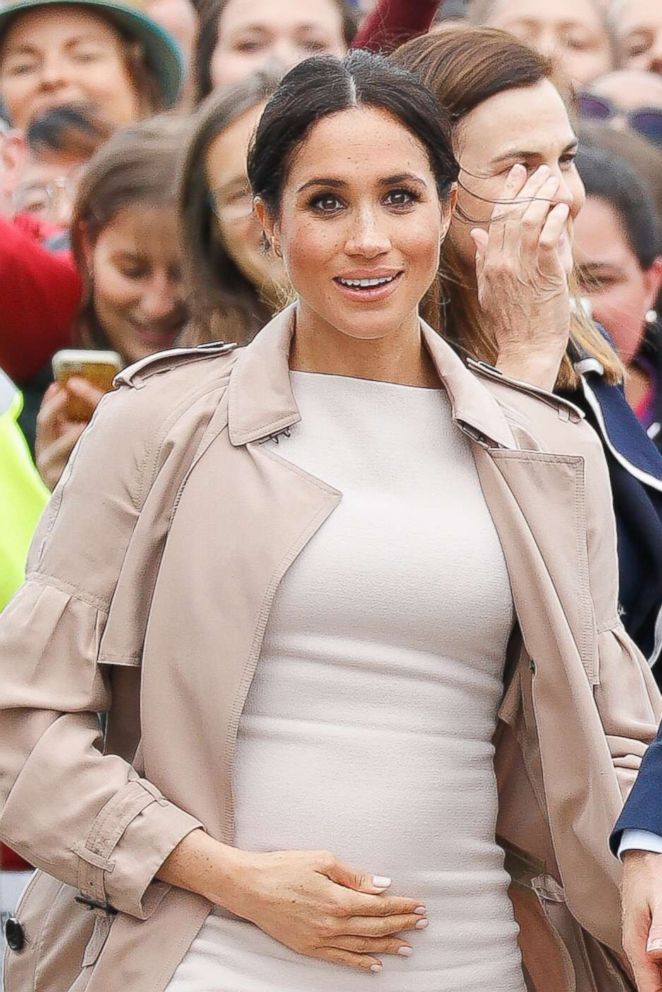 Meghan changed into her third outfit of the day, a navy Antonio Berardi dress, for a reception hosted by New Zealand Prime Minister Jacinda Ardern at the Auckland War Memorial Museum.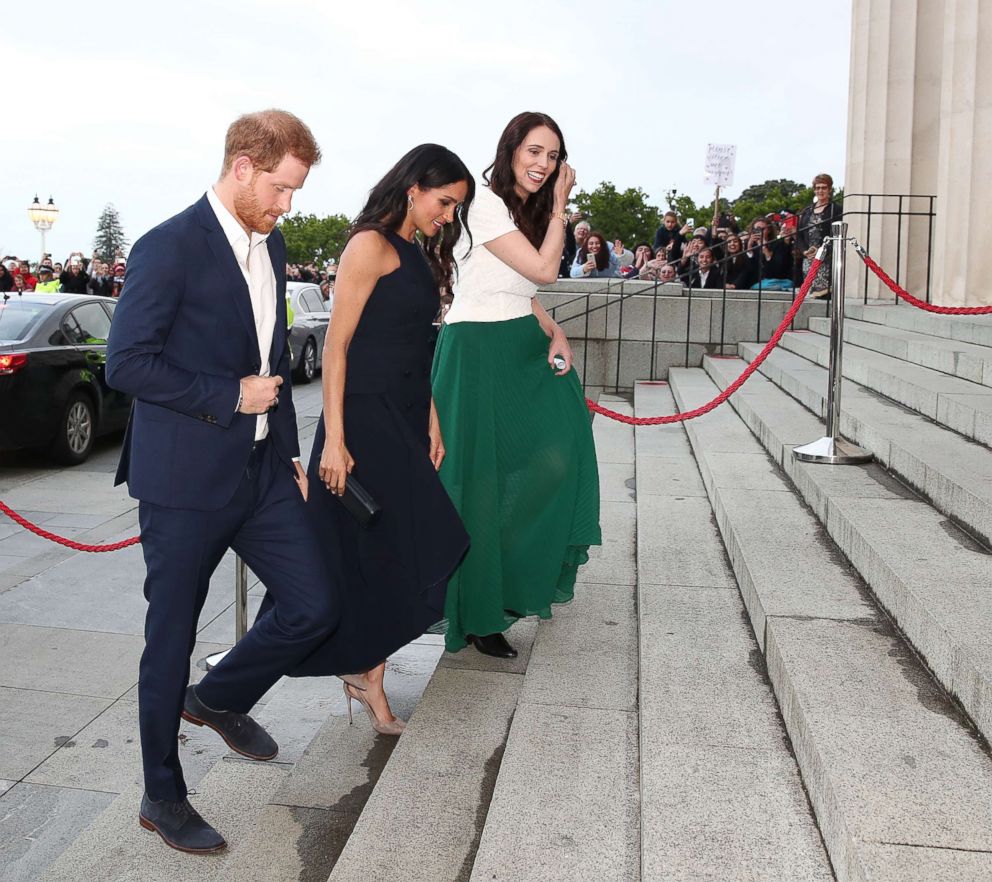 Wellington, New Zealand
Meghan chose a custom white blazer dress to meet with young students and professionals working in Wellington's film and creative industries. The "Leap of Faith" dress is by Maggie Marilyn, a New Zealand fashion brand that launched in 2016.
A version of the "ethically made" dress, which Meghan wore as sleeveless, is available for preorder on the brand's site for $1,020.
Meghan donned Outland Denim jeans again for a visit with Prince Harry earlier in the day to Maranui Cafe to discuss mental heath with young people.
She paired the jeans with a Jac and Jack top, Club Monaco coat and lace-up boots.
Meghan changed into more casual shoes and added a rain jacket for a visit to Abel Tasman National Park in Wellington. The Duchess of Sussex reportedly wore Stella McCartney sneakers for the visit.
Wellington, New Zealand
Meghan arrived in New Zealand with Prince Harry wearing a maternity dress by ASOS and a plaid trench coat by New Zealand designer Karen Walker.
Meghan's dress, which is already out of stock, retails for only $56.
Meghan later delivered a powerful speech marking the 125th anniversary on the women's right to vote in New Zealand wearing a custom silk wool dress by Uruguay designer Gabriela Hearst.
She accented the dress with a pendant necklace by another female designer, New Zealand-born Jessica Diamond.
Invictus Games Closing Ceremony, Sydney
Meghan spoke in front of thousands of Invictus Games attendees in a tuxedo dress by Antonio Berardi, a London-based designer.
She accessorized the custom dress with nude heels by Aquazzura. The brand's Casablanca pump retails for $750.
Earlier in the day, Meghan wore a wrap jacket by Australian designer Scanlan Theodore to watch a wheelchair basketball match. The jacket, which is now out of stock, retails for $550.
She paired the jack with black jeans by Outland Denim, an Australian company, that she wore earlier on the second day of the royal tour.
Sydney, Australia
Meghan wore a magical Oscar de la Renta gown to the Australian Geographic Society Awards in Sydney.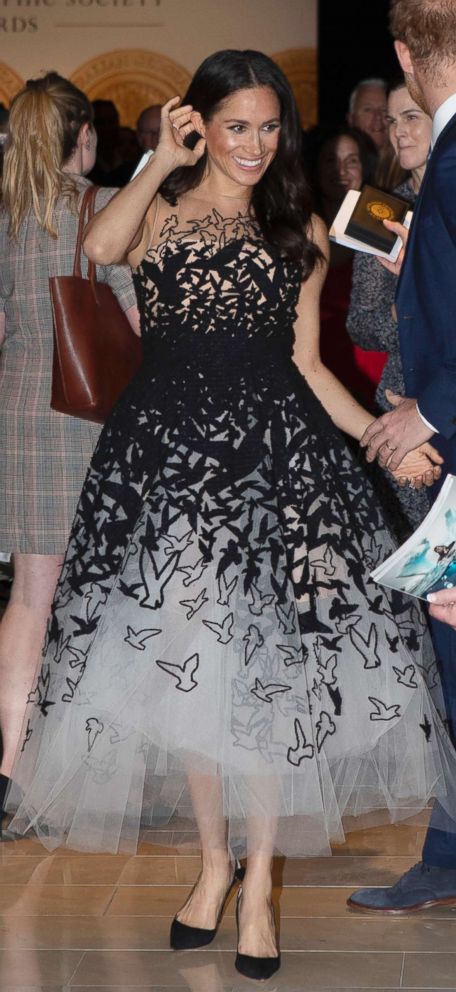 She and Harry presented young people with awards at the event, an "annual gathering of Australia's brightest and best in exploration, science and conservation," according to Kensington Palace.
Tonga
Meghan began her last day in Tonga wearing a sleek pony tail and a striped dress by Australian designer Martin Grant.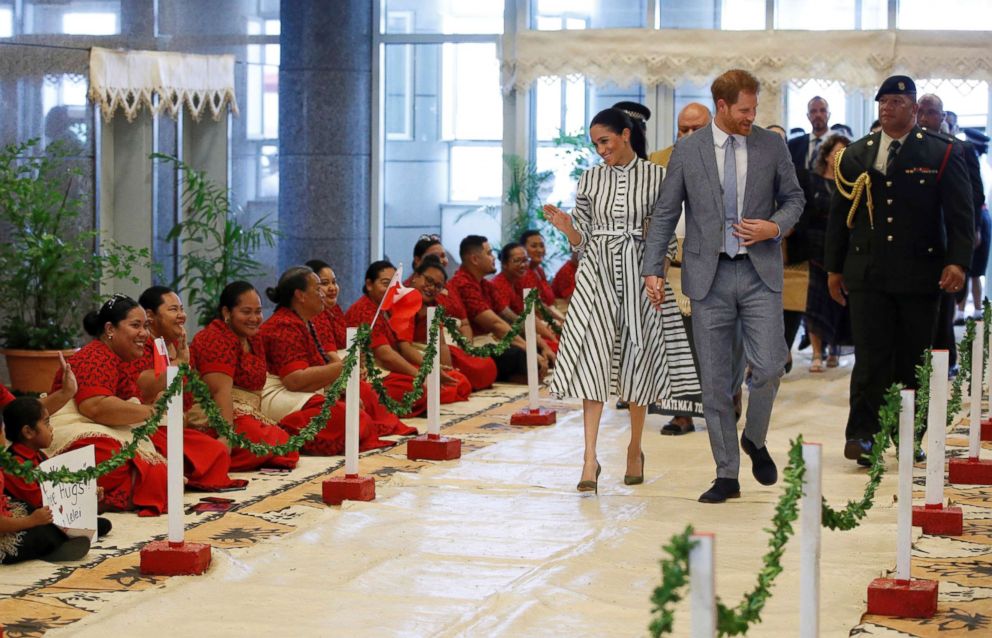 She later changed into a blue Veronica Beard dress for an engagement at the Tongatapu and 'Eua National Park Reserve.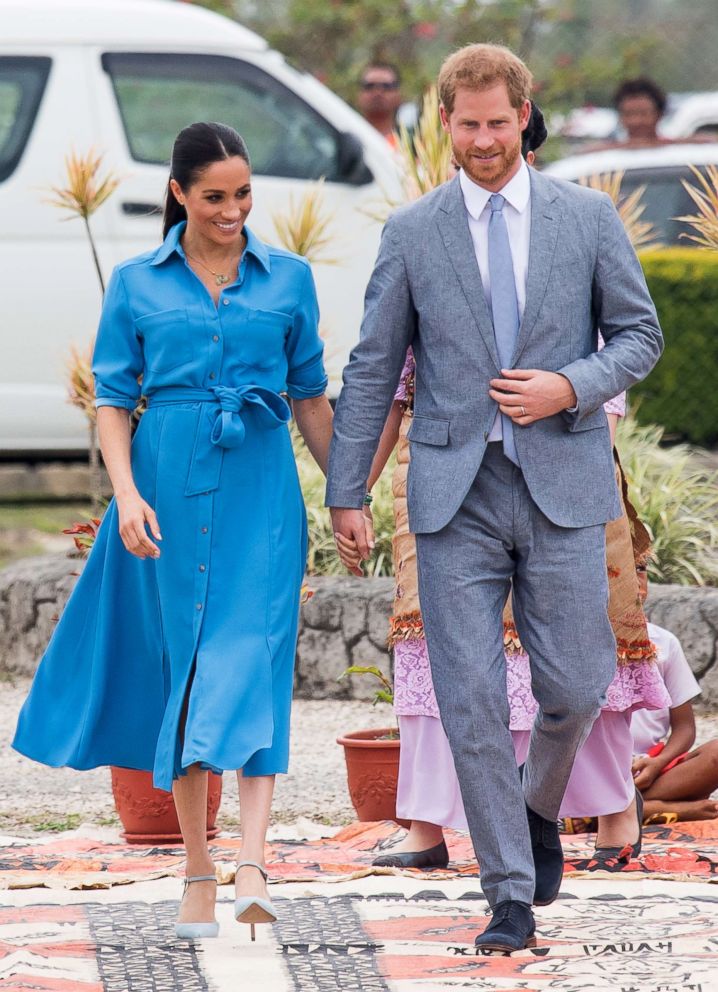 Meghan also wore the dress as she and Harry board their charter flight back to Sydney.
Tonga
Meghan stunned in a white formal gown by Theia at an official dinner hosted by King Tupou VI and Queen Nanasipau'u.

She accented the gown with a Givenchy clutch and a very personal accessory, an aquamarine ring from the collection of her late mother-in-law, Princess Diana. Harry gifted the ring to Meghan when they wed in May and Meghan wore the ring to their evening wedding reception.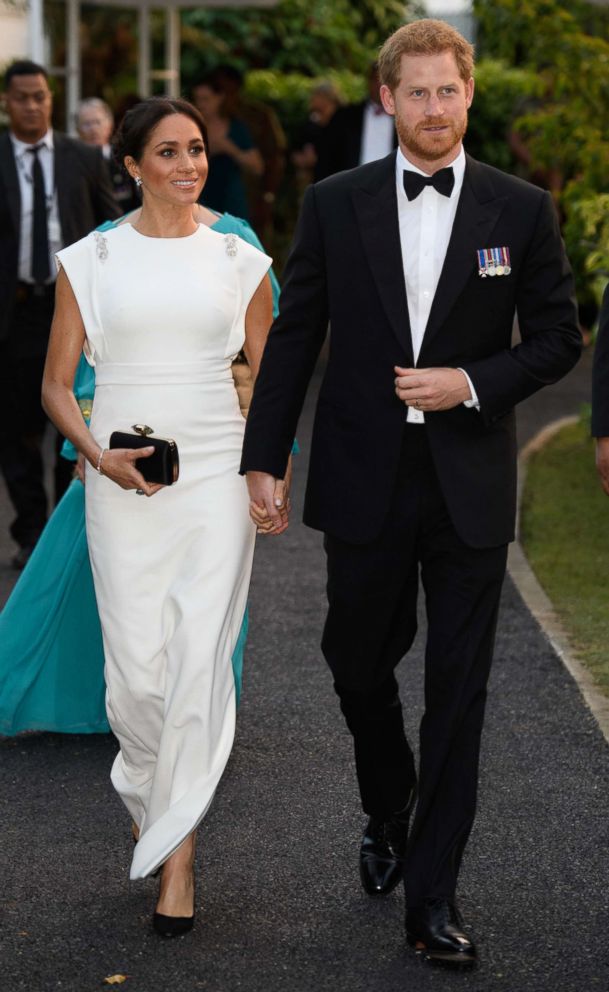 Earlier in the day, Meghan chose a more colorful Self Portrait dress, in Tongan red, for their arrival to Tonga.

Nadi, Fiji
On her last day in Fiji with Prince Harry, Meghan wore a green dress by New York-based designer Jason Wu.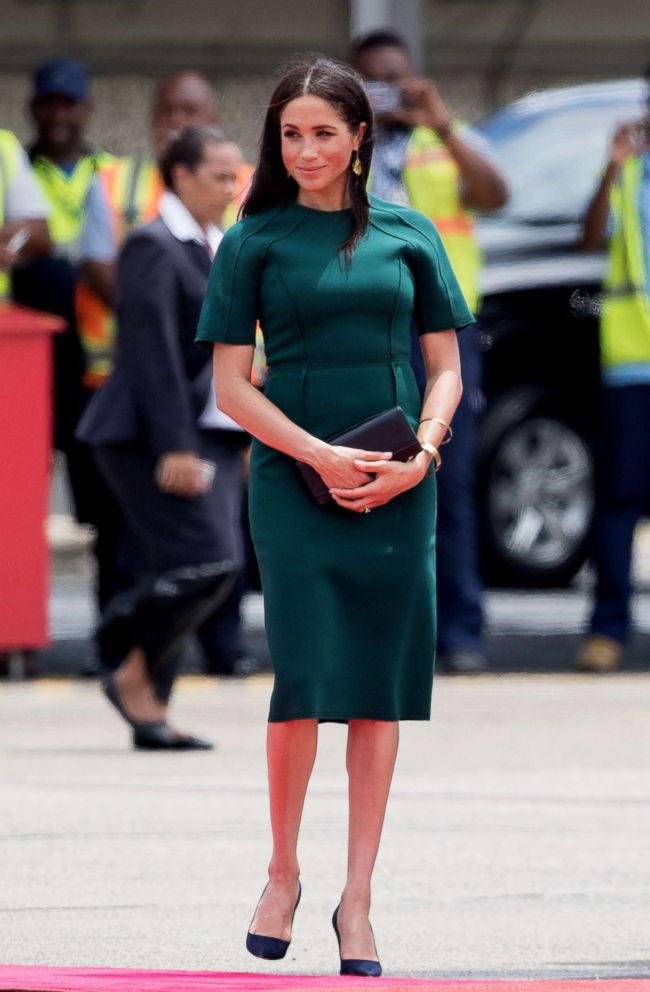 Meghan and Harry attended a special event at Nadi Airport, where they unveiled a new statue commemorating Sergeant Talaiasi Labalaba, a British-Fijian soldier.
Suva, Fiji
Meghan chose a pink wrap dress with pom pom details for her second day in Fiji with Prince Harry, where she delivered an address on girls' education at the University of the South Pacific.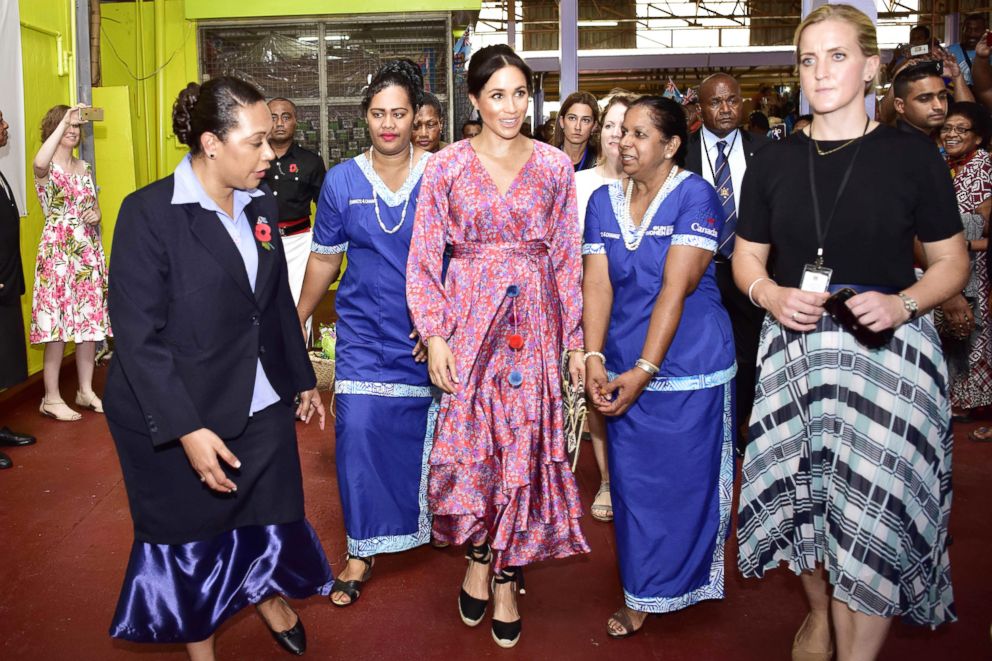 Meghan's Frederica Printed Ruffle Dress is described as featuring a "wrap silhouette with a v neckline, long sleeves and asymmetrical ruffle hem." It retails for $1,495 on Moda 'Operandi, where it is already sold out.
The dress is by fashion line Figue, whose creative director is a French woman, Stephanie von Watzdorf.
Fiji
Meghan dazzled in blue at a state dinner hosted for her and Harry in Fiji.
Her cape gown was designed by Safiyaa, a London-based fashion line founded by Daniela Karnuts.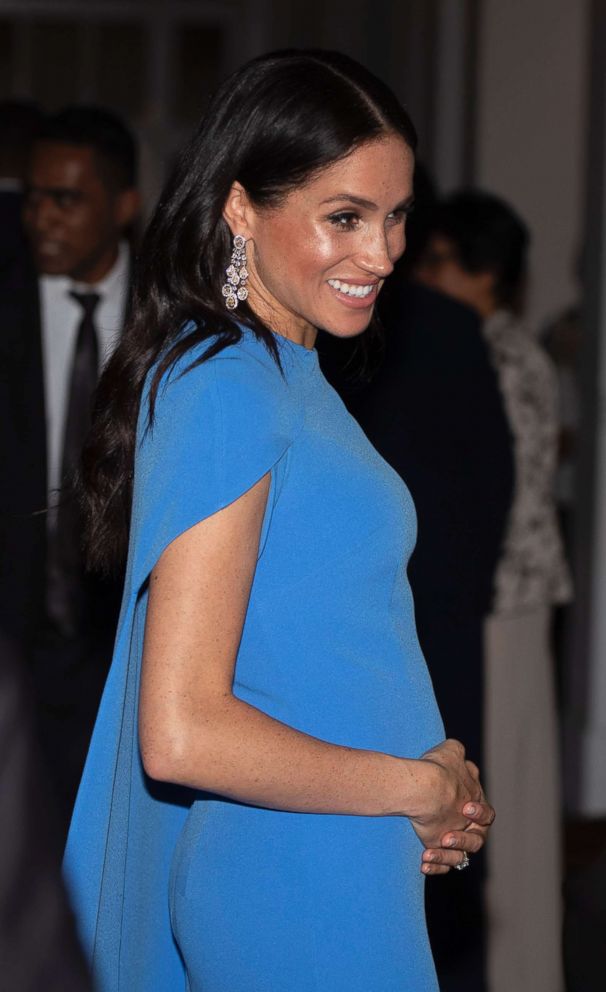 The Ginkgo Embroidered Cape Dress retails for $2,085 and includes "ginkgo-inspired embroidery" in its original design on Safiyaa's website.
Meghan paired the gown with a stunning pair of borrowed diamond earrings.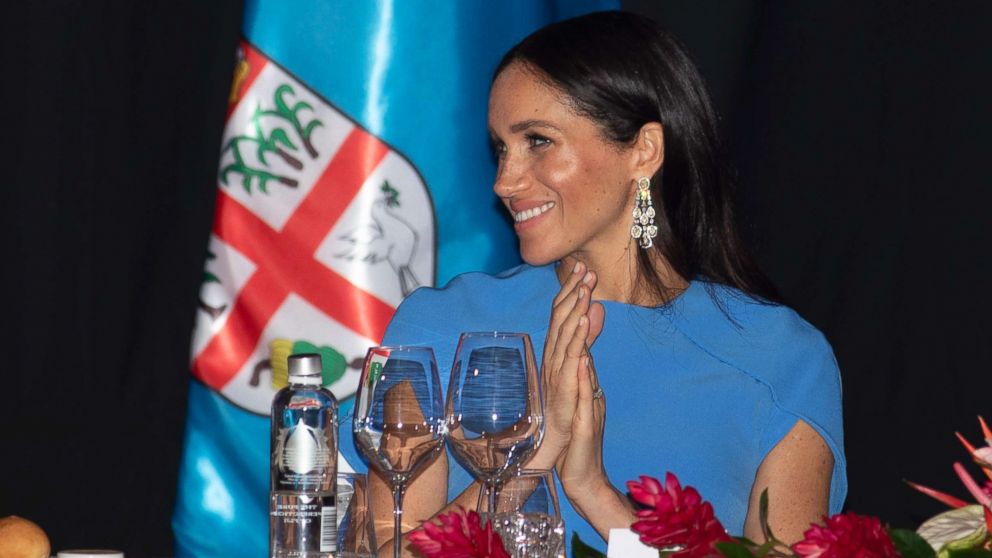 Earlier in the day, Meghan wore a cream dress by Australian label Zimmerman and a Stephen Jones hat for her arrival with Harry in Fiji.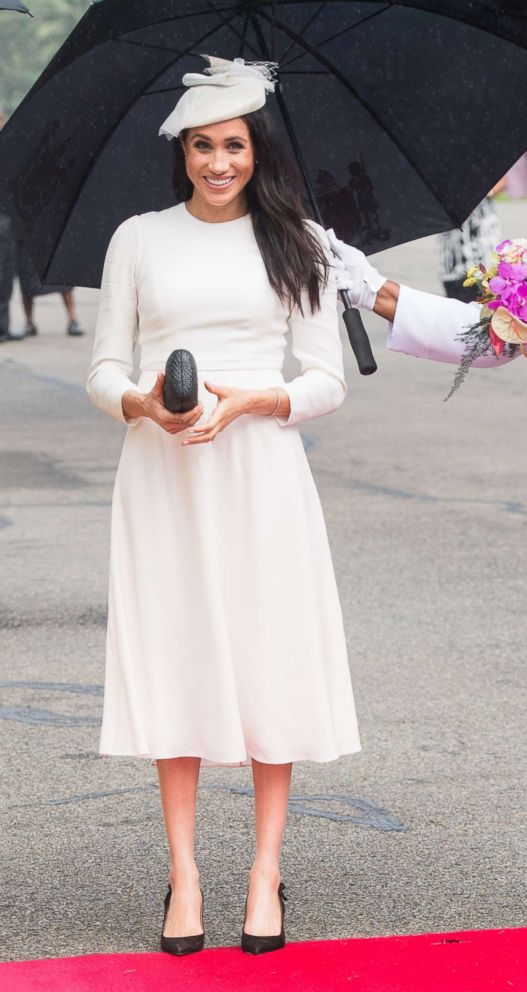 She accented the dress with earrings gifted to her by Queen Elizabeth during their first joint engagement in Chester and a bracelet gifted to her by Prince Charles.
Fraser Island
Meghan dressed island casual for a visit with Harry to Fraser Island, located off Australia's eastern Queensland Coast.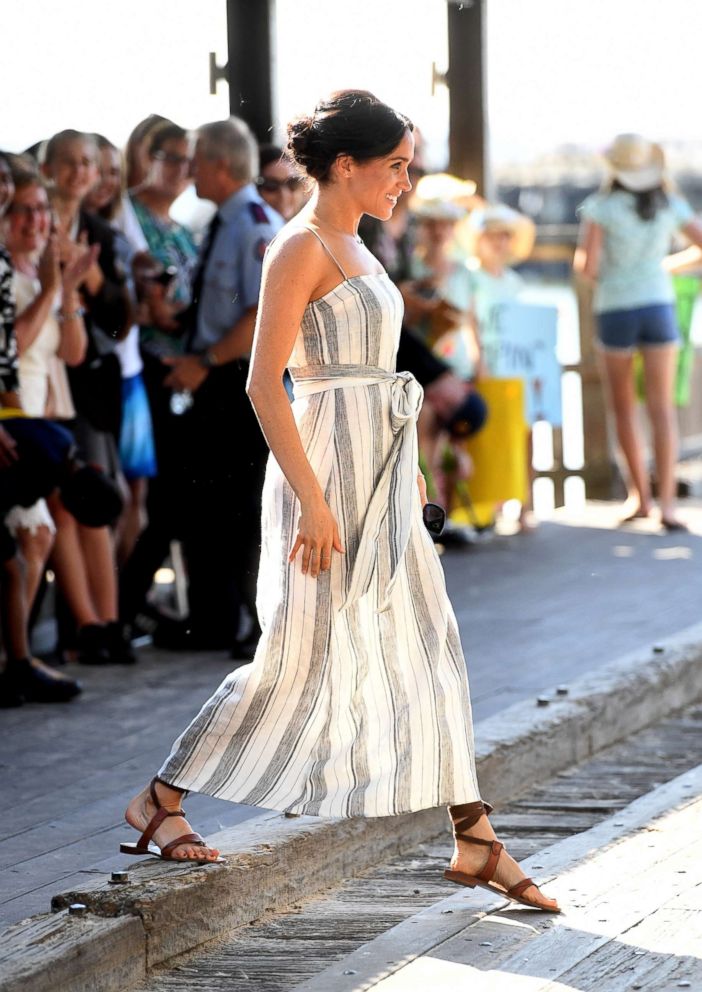 Meghan chose a sleeveless linen dress by U.S. brand Reformation, which focuses on making its clothes from sustainable fabrics. Meghan's "pineapple dress" retails for $218 and is already sold out on the company's website.
Meghan paired the dress with a pair of $245 sandals by celebrity-favorite footwear designer Sarah Flint.
Anzac Memorial Hyde Park
Meghan chose a black dress by designer Emilia Wickstead for the opening of the Anzac Memorial in Sydney's Hyde Park, to honor Australians who have been killed in conflict.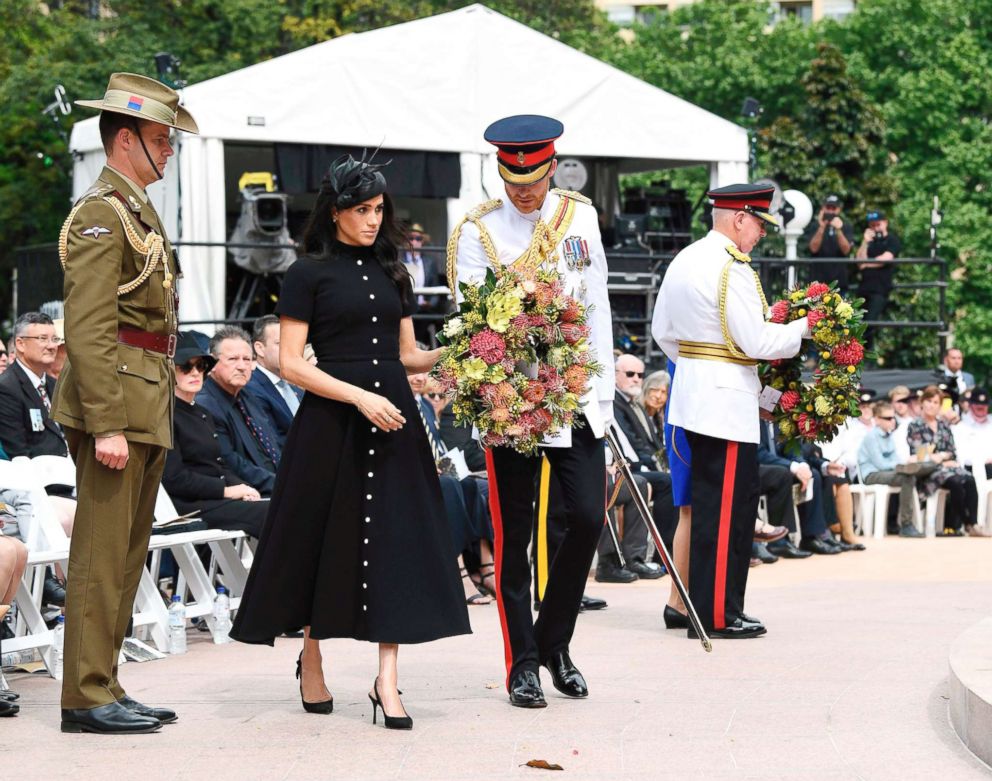 She paired the dress with a hat by Philip Treacy, a favorite milliner of the royal family.
2018 Invictus Games, Sydney
Meghan accessorized her official Invictus Games shirt with a white blazer and black jeans as she and Harry attended the first events of the 2018 Games in Sydney.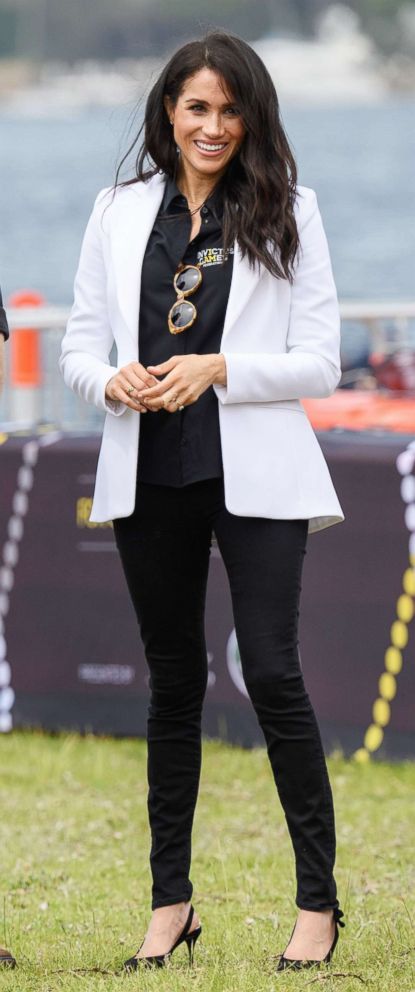 For the Opening Ceremony of the 2018 Invictus Games at Sydney Opera House, Meghan wore a dress by Stella McCartney, who also designed the gown Meghan wore to her evening wedding reception.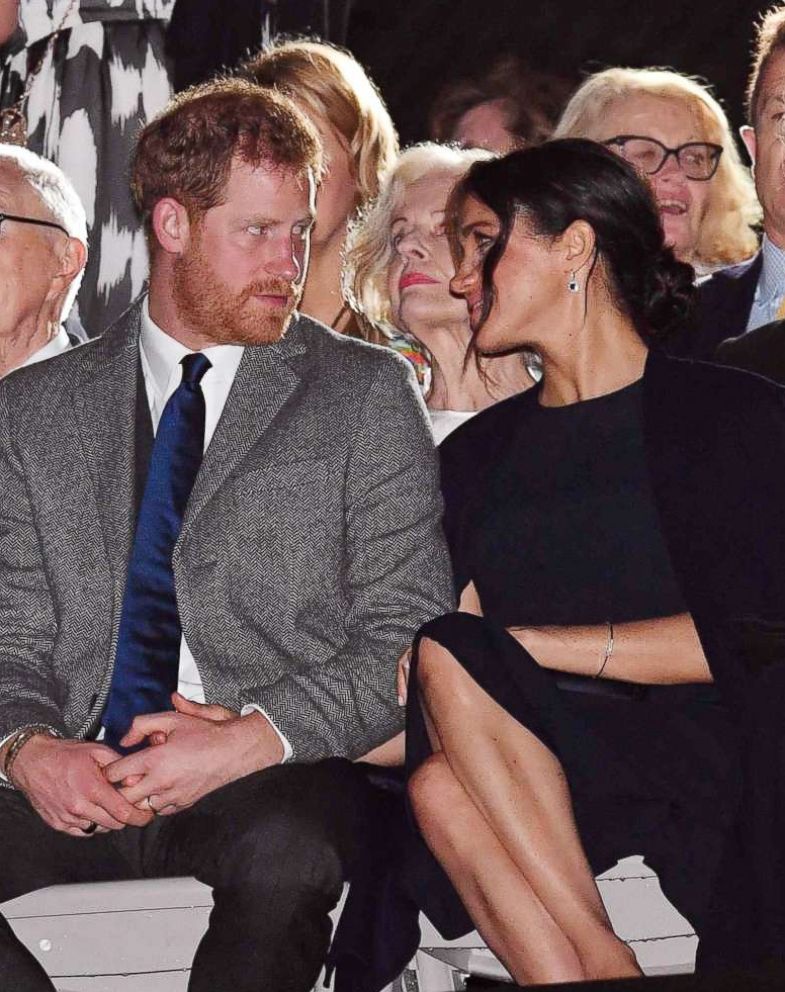 Meghan chose a much more causal look, appropriately, when she and Harry went boarded a boat to watch a sailing event.
She paired black pants and an official Invictus Games windbreaker with a pair of trendy sneakers by French footwear brand Veja.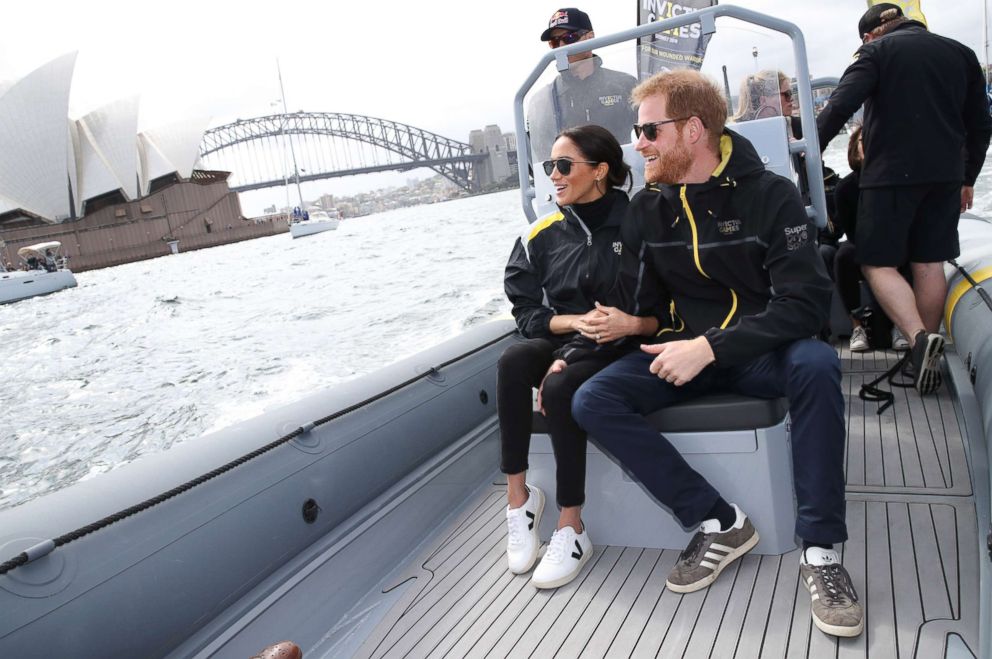 Sydney, Australia
Meghan went casual in a Martin Grant maxi dress for a visit to Sydney's iconic Bondi Beach with Prince Harry.
The duchess accessorized her dress with wedge shoes but took them off to walk in the sand on the beach.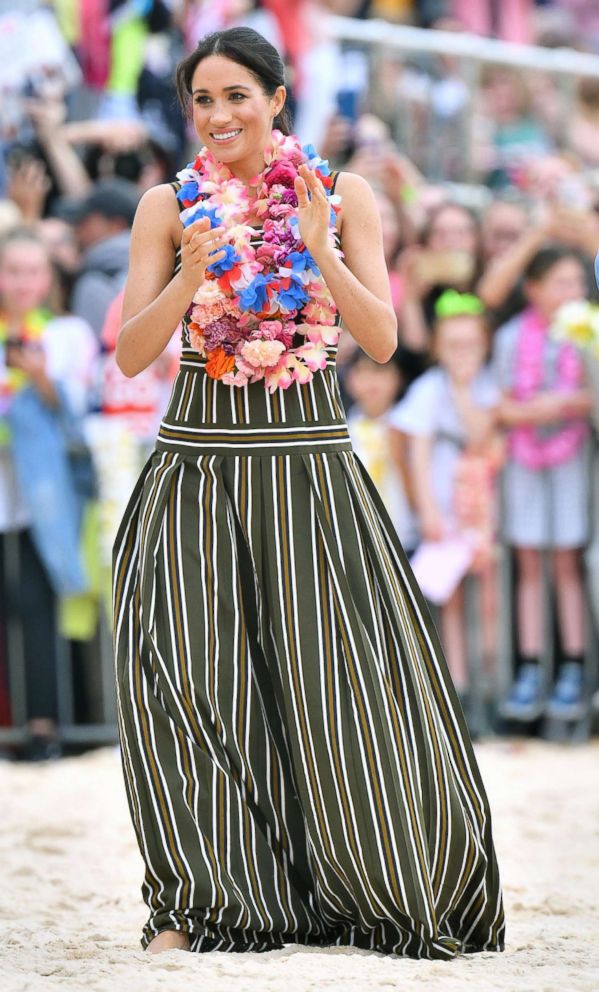 In choosing the $1,420 dress by Grant, Meghan continued her tradition of dressing in Australian designers during her visit Down Under.
Later in the day, Meghan changed into a pleated two-tone crepe midi dress by Roksanda for a visit to a girls' school.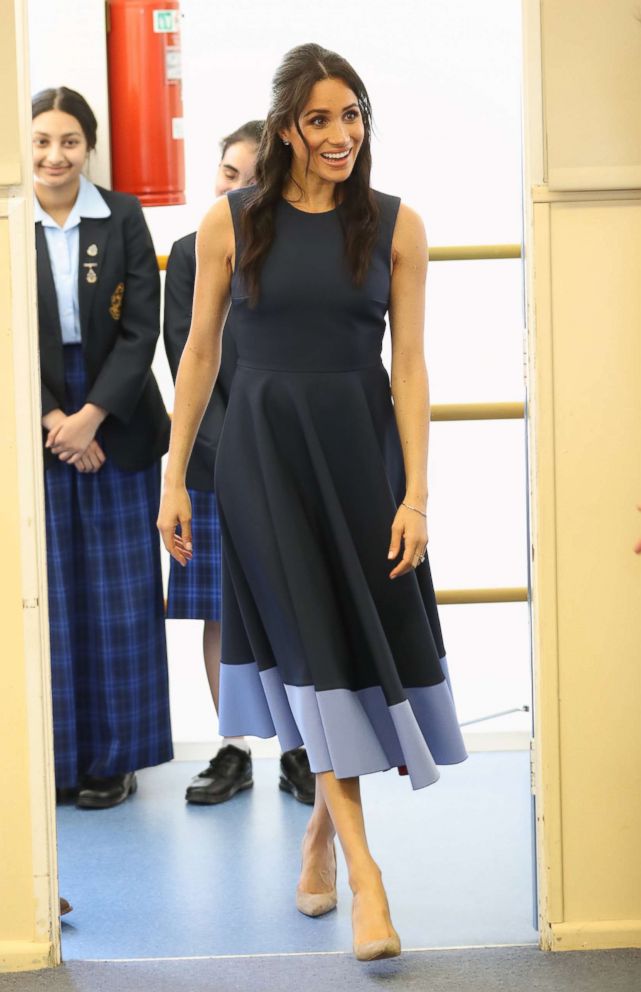 The Roksanda "Athena" dress retails for $1,850 on Net-a-Porter.
Melbourne, Australia
Meghan continued her tour of diplomatic fashion when she and Prince Harry visited Melbourne.
Meghan wore a navy Dion Lee dress and Martin Grant trench coat, both made by Australian designers.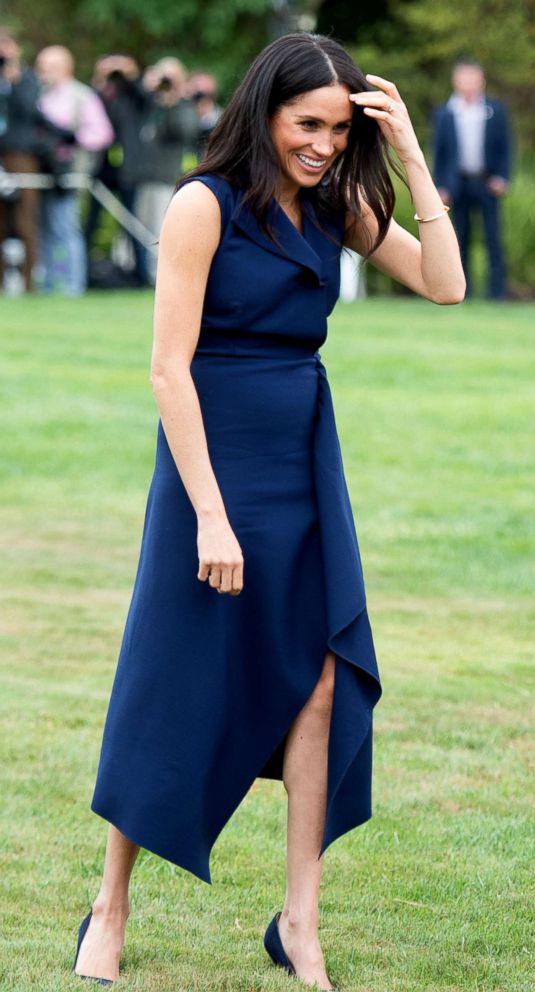 Dion Lee's folded sail dress was instantly besieged with online requests, causing the company's website to crash. The dress, which was a custom-made bespoke dress for Meghan, will reportedly become available later this week.
Later in the day, Meghan changed into a Club Monaco dress and Rothy's flats, which she also wore earlier this week, for a visit to South Melbourne Beach.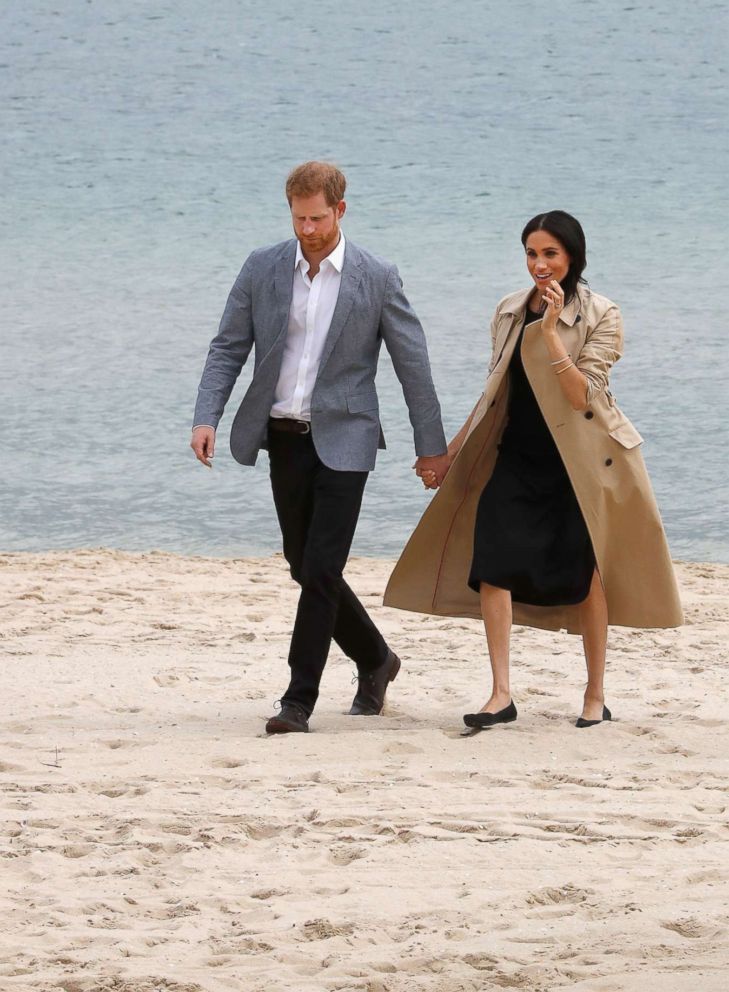 Dubbo, Australia
Duchess Meghan showed how friends support friends by wearing a blazer from her pal Serena Williams' fashion line on the second day of the royal tour Down Under.
The blazer is aptly named "Boss" and is from Williams' royal line of her Serena Williams Collection. It retails for $145 and has already sold out.
Williams is a longtime friend of Markle's who attended her wedding to Prince Harry last May. Williams and her husband, Alexis Ohanian, also joined Meghan and Harry at a charity polo match in the U.K. in July.
Meghan paired the blazer with a white button down shirt and black jeans by Outland Denim, an Australian company.
A portion of the sales from the Outland jeans, which are ethically sourced, go toward stopping human trafficking in Cambodia.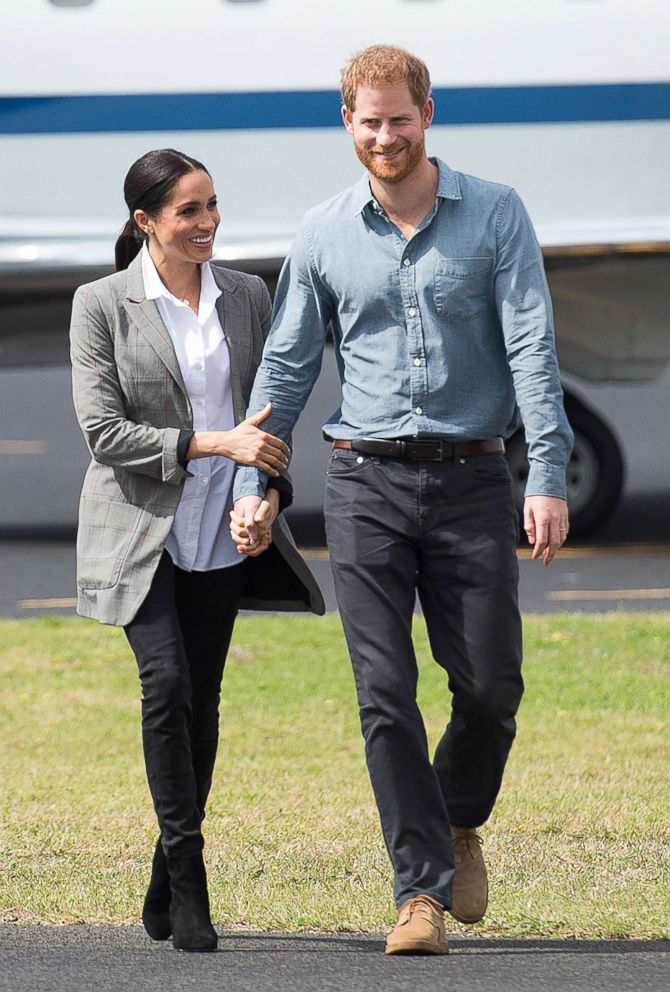 Meghan's necklace was made by Australian designer Natalie Martin.
She completed with look with a pair of black ankle boots by U.S. retailer J. Crew that sell for $178.
Sydney, Australia
On the first day of the tour, Meghan chose to honor her late mother-in-law, Princess Diana, by wearing a pair of butterfly earrings and a bracelet that belonged to Diana, who died in 1997.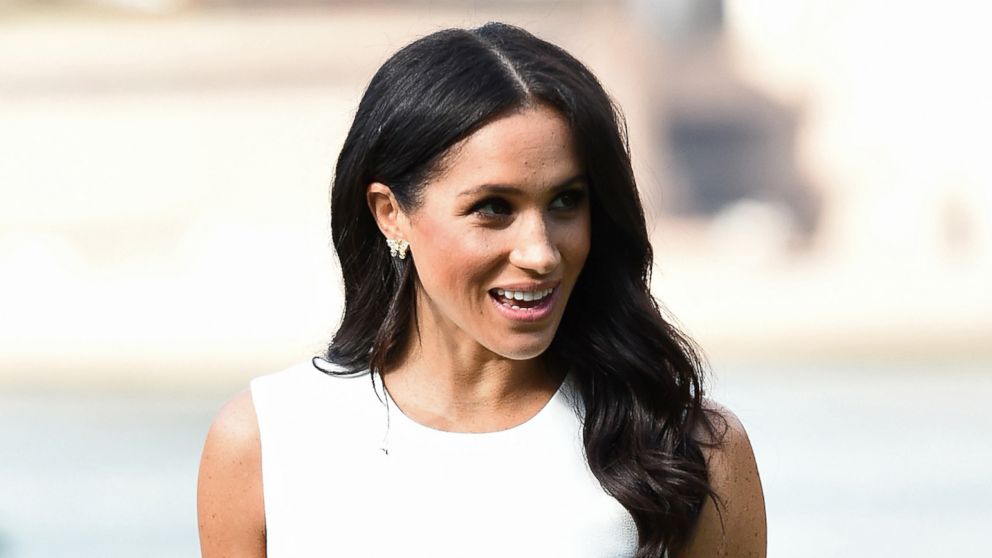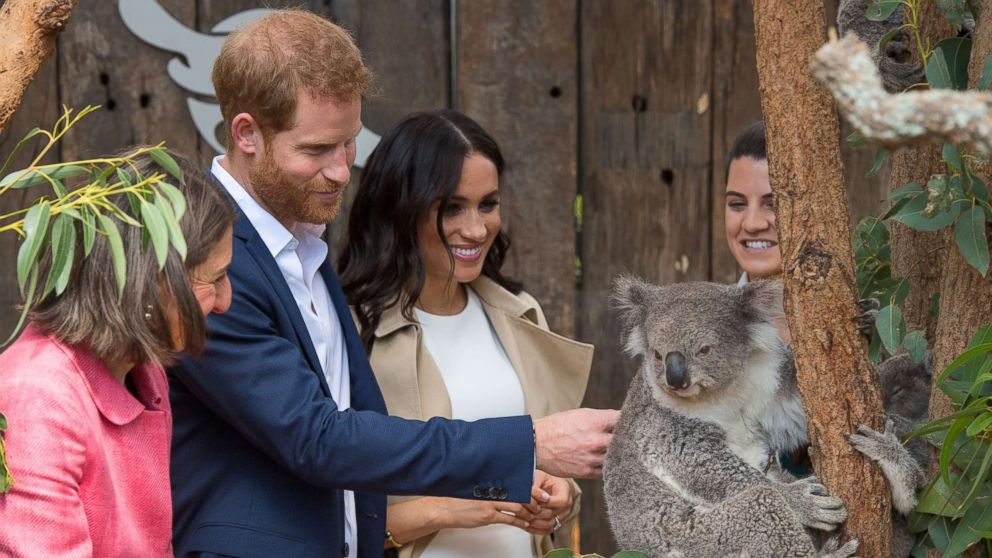 Meghan chose an Australian designer, Karen Gee, for her first dress of the tour, the "Blessed Dress" that retails for around $1,200. The designer's website crashed just moments after Meghan was first spotted in the white dress, which Meghan paired with a chic trench coat.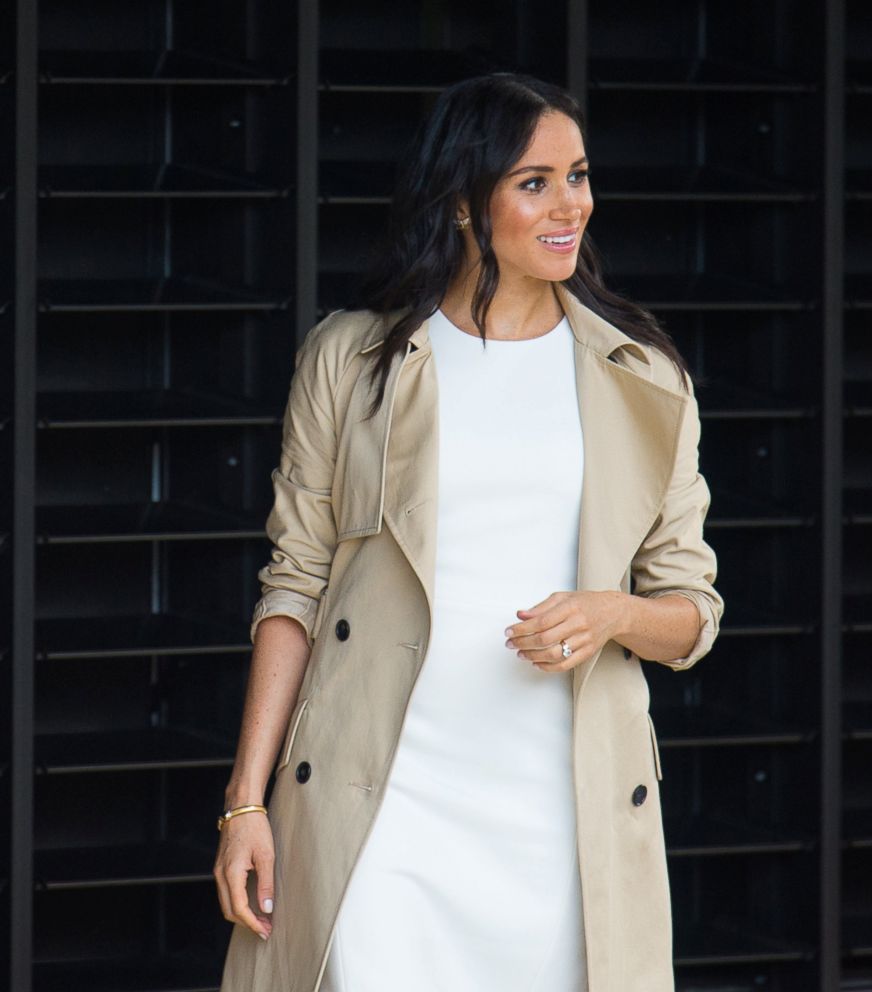 Meghan also proved practical in her fashion choices, opting to swap her heels for a pair of Rothy's flats when she and Harry caught a ferry to the Sydney Opera House.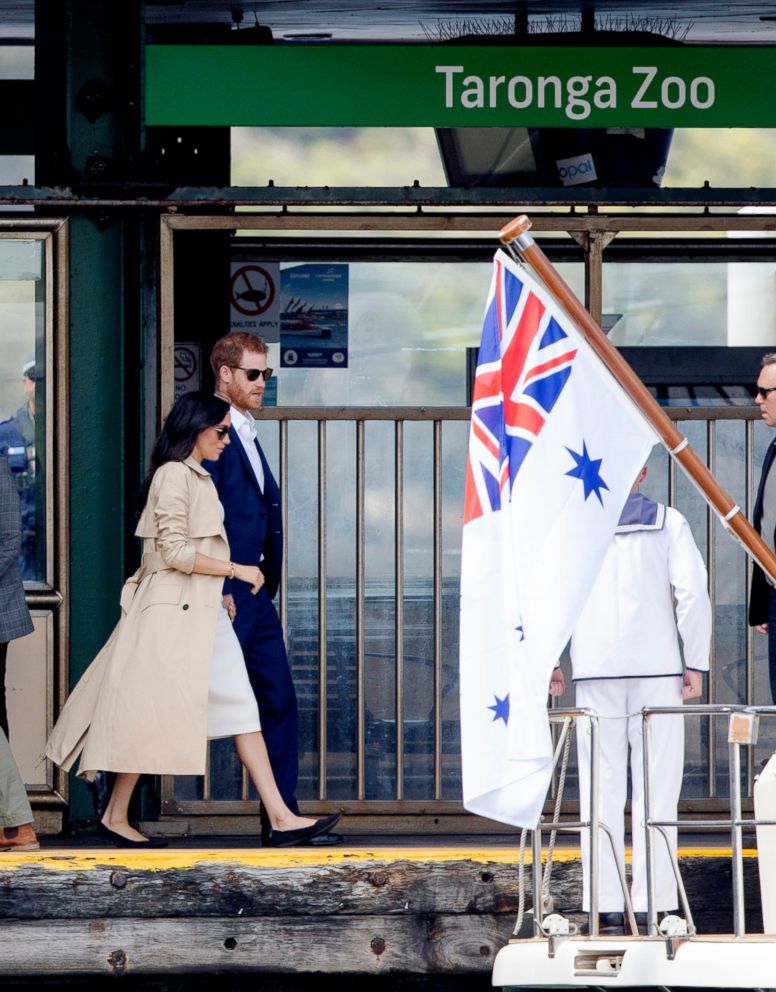 Later in the day, Meghan changed into a $1,895 olive green shirt dress by designer Brandon Maxwell for a welcome reception hosted by Australia's governor general.