Prince Harry and Prince William have been the public faces of Britain's royal family since they were born 38 and 40 years ago, respectively.
The brothers, the only children of King Charles III and the late Princess Diana, always publicly appeared close, seemingly bonded by the death of their mother when Harry was just 12 and William was 15.
Privately, however, their relationship was strained, Harry writes in his new memoir "Spare."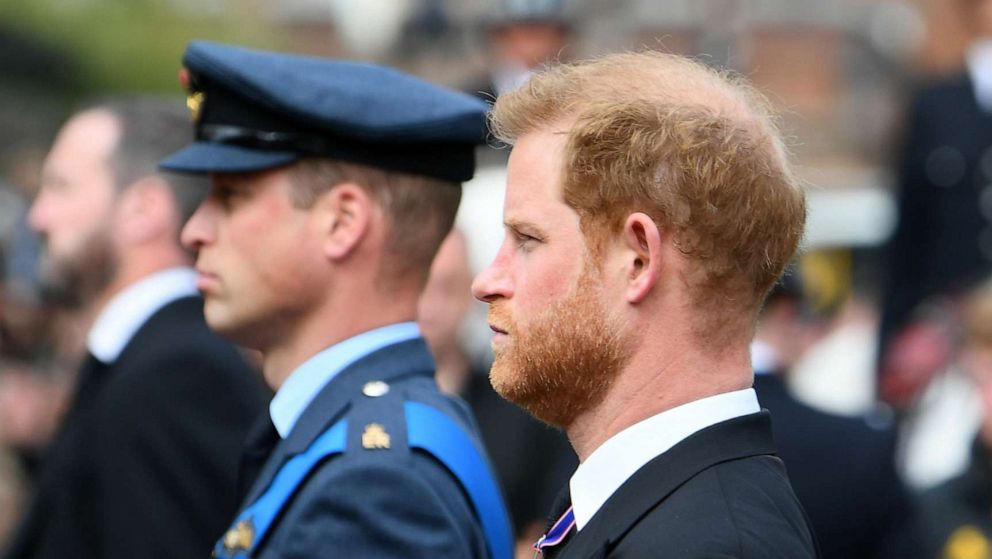 In "Spare," a nod to Harry's birth order as the younger brother of the heir to the throne, Harry describes William as his "beloved brother and arch nemesis" and writes of verbal and even physical disputes between the two.
Here is a look back at the brothers' life together in the public eye.
Prince Harry in His Own Words: Michael Strahan Reporting
With the release of his memoir "Spare", Prince Harry opens up about his life in the royal family, the loss of his mother Princess Diana, the rift between him and his family, his battle with the British press and so much more.
Two princes born born two years apart
William, Charles and Diana's first child, was born on June 21, 1982.
William immediately entered the line of succession as the second in line to the throne, behind his father, then the heir to the throne. William himself became the heir to the throne in September 2022, when Charles became king following the death of Queen Elizabeth II. He subsequently took on the title of Prince of Wales, with his wife Kate taking the title of Princess of Wales.
Harry, whose full name is Henry Charles Albert David, was born on Sept. 15, 1984.
WATCH: Prince Harry through the years
He was third in line to the throne at the time of his birth, but is now fifth in line behind William and Kate's three children.
"There has always been this competition between us weirdly," Harry told "Good Morning America" co-anchor Michael Strahan in an interview that aired Monday. "Again, I think it really plays into, or is played, by the heir/spare."
Attending the same school as children
Both William and Harry attended the Ludgrove School in London, followed by Eton College in Windsor for secondary school.
Harry told Anderson Cooper, in a recent "60 Minutes" interview to promote "Spare," that William told him to pretend they didn't know each other when they attended school together.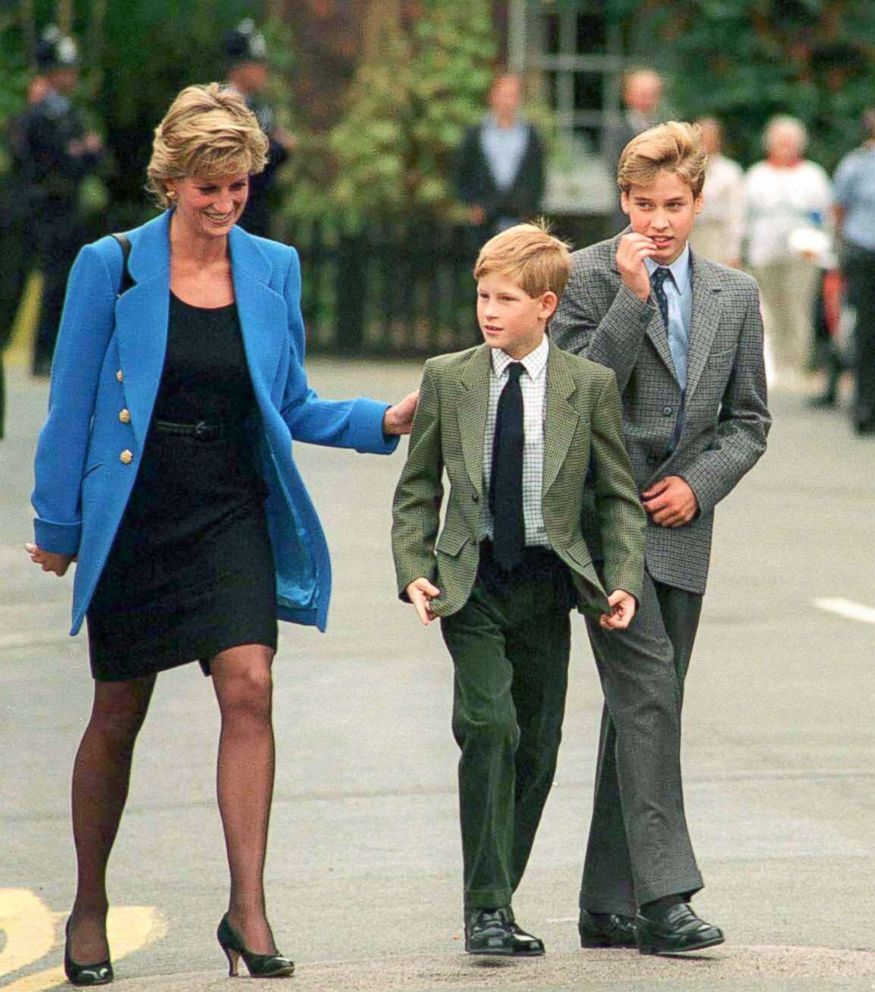 "I couldn't make sense of it. I was like, 'What do you mean? We're now at the same school. Like, I haven't seen you for ages, now we get to hang out together,'" Harry said. "He's like, 'No, no, no, when we're at school we don't know each other.' And I took that personally."
William went onto earn his college degree at the University of St. Andrews in Scotland. He then went onto study at the Royal Military Academy Sandhurst, and worked for several years as a search and rescue pilot.
Harry went straight from Eton College to Sandhurst, and was commissioned as an officer. He served 10 years in the British Army, including two tours of duty in Afghanistan.
1997: Mourning Princess Diana's death
The brothers' world was rattled on Aug. 31, 1997, when they were told by Charles that their 36-year-old mother Diana had died following a car crash in Paris.
One of the most lasting images of William and Harry is the two brothers walking behind their mother's casket in a procession that also included their father, their grandfather Prince Philip, and Diana's brother, Charles Spencer.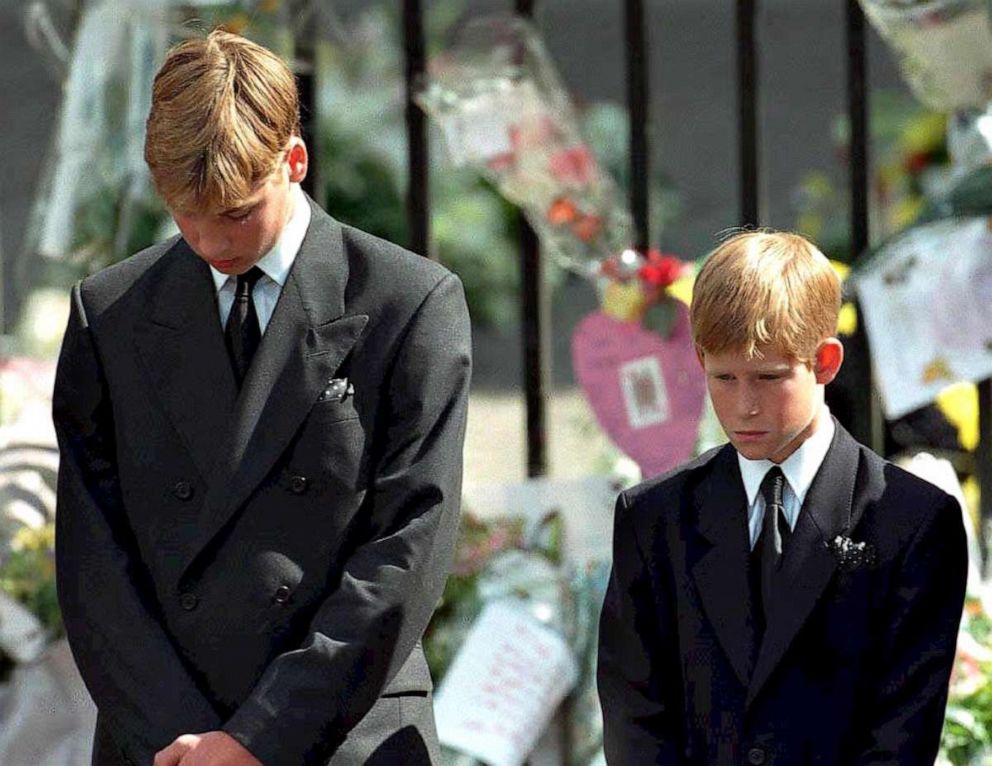 Harry told Strahan that he for many years believed Diana was hiding and hadn't actually died.
He also said he was not offered therapy after learning of his mother's death, and struggled for many years with an inability to cry over the matter.
"I don't think my family knew what to do," Harry said. "I don't think they knew what to do, and I can't say whether other families would've done a better job."
2005: A new stepmother, stepsiblings join the family
When Harry and William were in their early 20s, their father married Camilla, now the Queen Consort.
Camilla entered the union as the mother of two children from a previous marriage, Tom Parker Bowles, now 47, and Laura Lopes, now 44.
In "Spare," Harry writes about his father's decision to marry Camilla.
"I had complex feelings about gaining a stepparent, who I thought had recently sacrificed me on her personal PR altar," he says, apparently referring to his claim that she had leaked stories about her first meeting with William to the British press.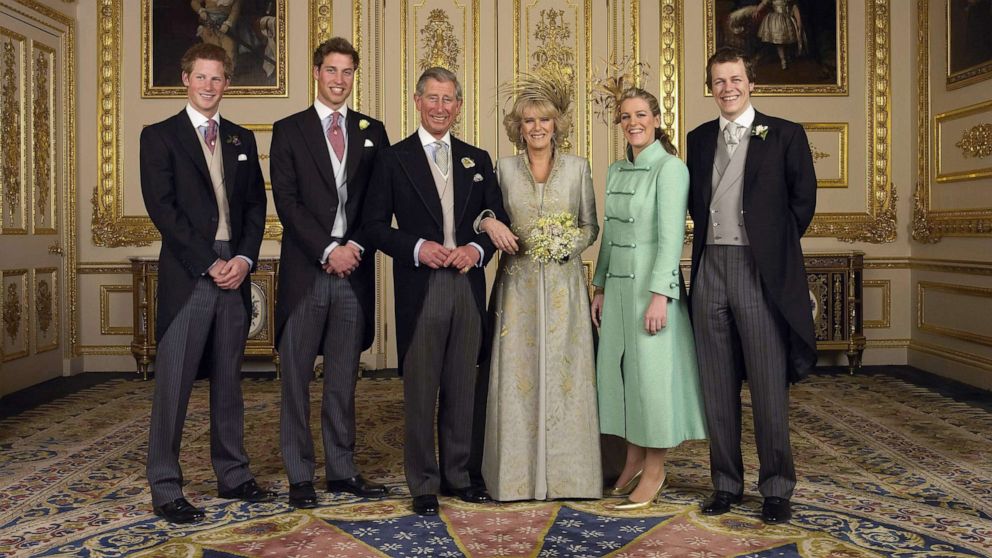 Describing his current relationship with Camilla, Harry told Strahan, "We haven't spoken for a long time."
"I love every member of my family, despite the differences or the difficulties that those relationships have put out, I guess," he said. "When I see her, we're perfectly pleasant with each other."
Neither Kensington Palace -- the office of William and Kate -- nor Buckingham Palace, the office of Charles and Camilla, have commented on "Spare."
ABC News reached out to Kensington Palace and Buckingham Palace for comment on Harry's remarks in his interview with Strahan. Kensington Palace declined to comment.
ABC News received a response from the law firm representing Buckingham Palace Monday, which stated that the palace needed to "consider exactly what is said in the interview and the context in which it appears," and asked that we supply them immediately with a copy of the entire interview. We do not do that as a news organization as a matter of policy.
2011: William gets married at Westminster Abbey
Six years after their father wed, William married Kate Middleton, now Princess Kate, at Westminster Abbey, with Harry by his side.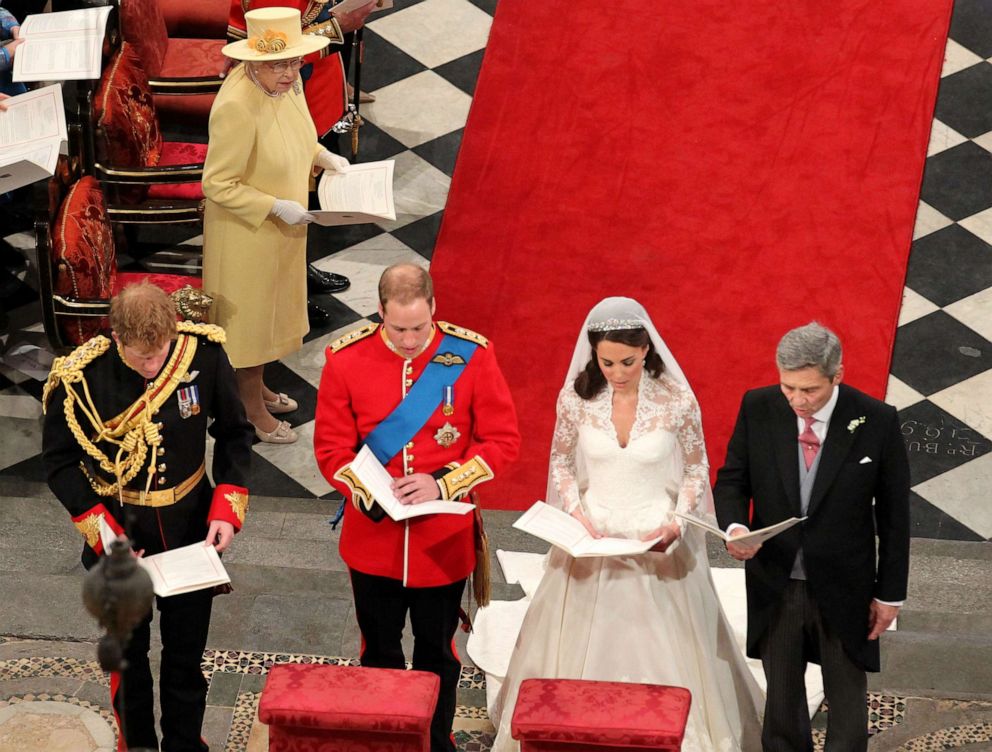 Harry writes in his memoir that though he was publicly declared the best man at William's wedding, it was a "bare-faced lie."
"Willy didn't want me giving a best man's speech," Harry writes in the book, using his nickname for his brother.
2013: Harry becomes first-time uncle to William's son
On July 22, 2013, William and Kate welcomed their first child, a son named Prince George, making Harry a first-time uncle.
As the first-born child of the heir to the throne, George immediately joined the line of succession ahead of Harry.
William and Kate went on to have two more children, Princess Charlotte and Prince Louis, who also jumped ahead of Harry in the line of succession.
April 2016: Brothers start mental health initiative together
Harry, William and Kate joined together in April 2016 to launch the Heads Together campaign, an initiative designed to tackle the stigma surrounding mental health.
A Kensington Palace spokesperson described the initiative at the time as "the biggest single project Their Royal Highnesses have undertaken together."
The royals released a video to launch the initiative, which saw eight charities join together to change perceptions about mental health.
In a new interview with ITV, Harry said his time as a single man working alongside William and Kate made him feel like a "third wheel." He said he hoped that his future wife would join them as a fourth person in their endeavors.
"I had put a lot of hope in the idea that it'd be William and Kate and me and whoever," he told ITV's Tom Bradby. "I thought the four of us would bring me and William closer together … we could go out and do work together, which I did a lot as the third wheel to them, which was fun at times but also, I guess slightly awkward at times as well."
November 2016: Harry condemns 'abuse and harassment' of girlfriend
Just a few months into Harry's relationship with Meghan Markle, who was at the time an actress in the United States, Kensington Palace issued an unprecedented statement acknowledging the relationship and lambasting the "abuse and harassment" by parts of the press, making particular note of the "racial undertones" of some coverage.
The extraordinary statement from the palace accused news organizations of behaving disgracefully, stalking Meghan -- the daughter of a white father and Black mother -- and her family, and violating their privacy.
"Prince Harry is worried about Ms. Markle's safety and is deeply disappointed that he has not been able to protect her," the statement read. "It is not right that a few months into a relationship with him that Ms. Markle should be subjected to such a storm."
2018: Harry gets married at St. George's Chapel
All eyes were on Harry and his bride Meghan, now the Duchess of Sussex, when they wed at St. George's Chapel on May 19, 2018.
William stood as Harry's best man at the wedding. William and Kate's two older children, George and Charlotte, also took part in the ceremony.
In "Spare," Harry writes that behind the scenes, a dust-up over Charlotte's bridesmaid dress. He told Strahan the incident led to hurt feelings, and a sense that false tabloid stories about him and Meghan were not being corrected by the royal institution.
Meghan's entrance onto the royal stage led to her, Harry, William and Kate being dubbed the royal "fab four" by the press.
In his interview with ITV, Harry describes the "fab four" moniker as one used to "create competition" between the couples.
"It was something that the British press created, which they could then dissect," Harry told ITV. "Again it builds, it creates competition as well. Right?"
February 2019: Harry, William split royal households
In early 2019, Harry and William split their royal households, with Harry and Meghan setting up their own office under Buckingham Palace.
William and Kate's office remained at Kensington Palace, which had previously also overseen the Sussexes' work.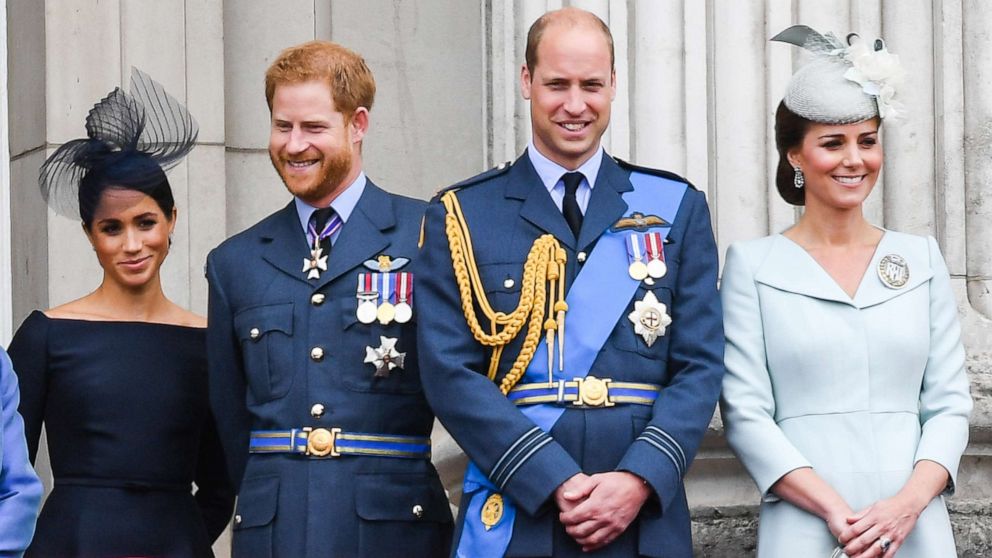 The move came around the same time that Harry and Meghan moved from Nottingham Cottage on the grounds of Kensington Palace, where William and Kate also lived at the time, to Frogmore Cottage on the grounds of Windsor Castle.
That same year, Harry and Meghan also separated from the Royal Foundation, the charitable organization they shared with William and Kate.
May 2019: William becomes first-time uncle to Harry's son
Harry and Meghan welcomed their first child, a son named Archie, in Windsor on May 6, 2019.
The couple chose to skip the traditional photo op outside the hospital, as Diana and Kate had done, and instead introduced Archie to the world in a photo call at Windsor Castle several days after his birth.
The Sussexes welcomed their second child, a daughter named Lilibet, on June 6, 2021, in California. Lilibet is the first senior royal baby born in the United States, and the first great-grandchild of the queen to be born outside of the United Kingdom.
2020: Harry announces he's stepping down as senior working royal, moves to California
On Jan. 8, 2020, Harry and Meghan shocked the world by announcing their plans to "step back" as senior members of Britain's royal family.
The news, which was shared in an Instagram post, was followed by several weeks of seemingly tense negotiations between Harry and senior members of the royal family over what his and Meghan's future roles would look like.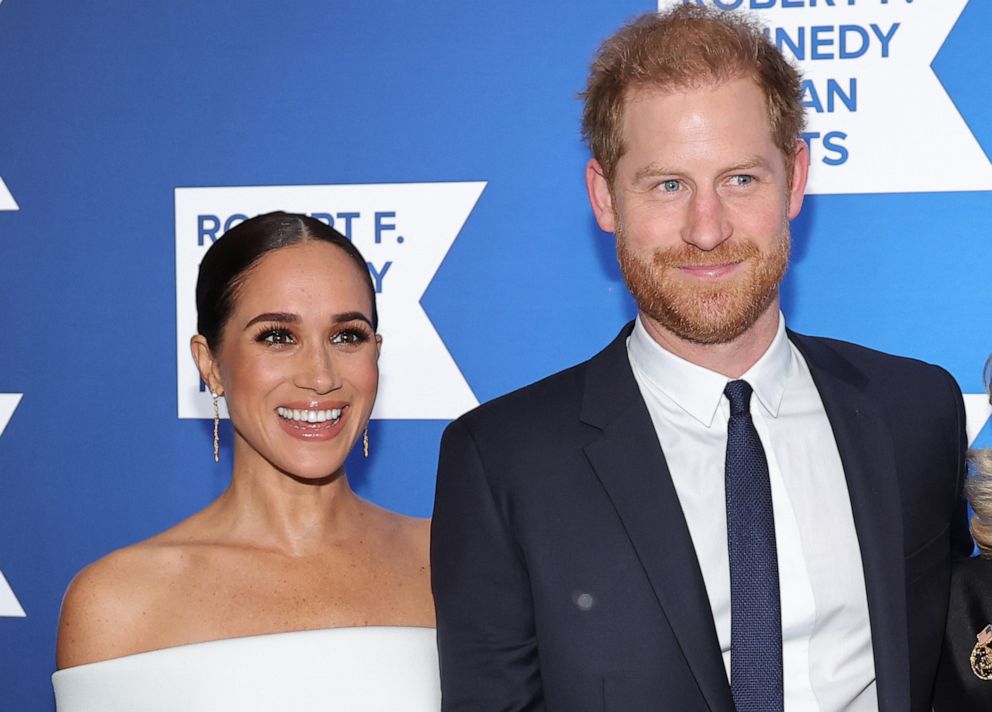 In the end, the couple retained their titles as Duke and Duchess of Sussex, but otherwise separated from their working royal roles, becoming financially independent and losing their patronages and Harry's military titles.
Shortly after their announcement, Harry and Meghan moved to California, where they now live in Montecito with their two children.
March 2021: Harry shares details of royal exit in explosive Oprah Winfrey interview
Harry and Meghan made headlines following their sit-down interview with Oprah Winfrey in March 2021 with their claims of how they were treated during their time as senior royals, including allegations of racism.
Harry described his relationship with William as strained, saying the two were "on different paths."
William made a rare exception to the royal family's typical "no comment" policy following the Winfrey interview.
When asked by a reporter during a school visit with Kate whether the royal family is a "racist family," William replied, "We are very much not a racist family."
April 2021: Harry, William reunite briefly for Prince Philip's funeral
Harry made a rare return to the U.K. in April 2021 to attend the funeral of his grandfather, Prince Philip.
The brothers walked in the same row in the procession behind Philip's casket, but were separated by their cousin, Peter Phillips.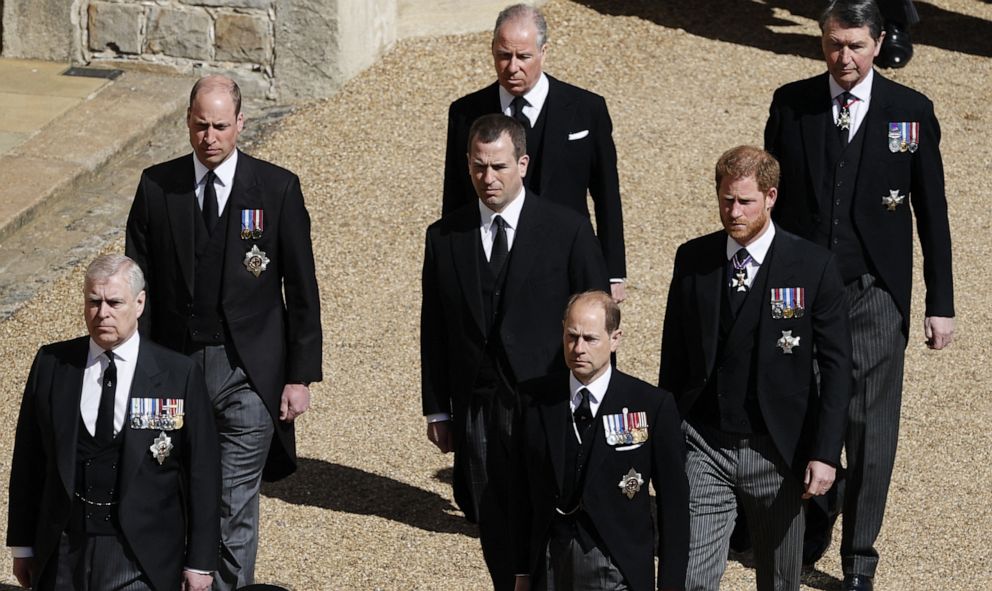 Following the funeral, as family members walked out of St. George's Chapel, Harry and William were seen walking side by side, alongside Kate.
Harry writes in "Spare" that he and William had a contentious meeting while he was in the U.K. for the funeral. He claims that Charles told his sons, "Please, boys, don't make my final years a misery."
September 2022: Harry makes rare public appearance with royal family at Queen Elizabeth II's funeral
Harry again made a rare trip home to the U.K., in September 2022 to attend the funeral of his grandmother Elizabeth.
Harry and Meghan's appearances with the royal family during the mourning period for the queen were the first time the couple had appeared publicly with the royals in two years.
The couple notably joined William and Kate outside Windsor Castle at one point to view tributes to the late queen.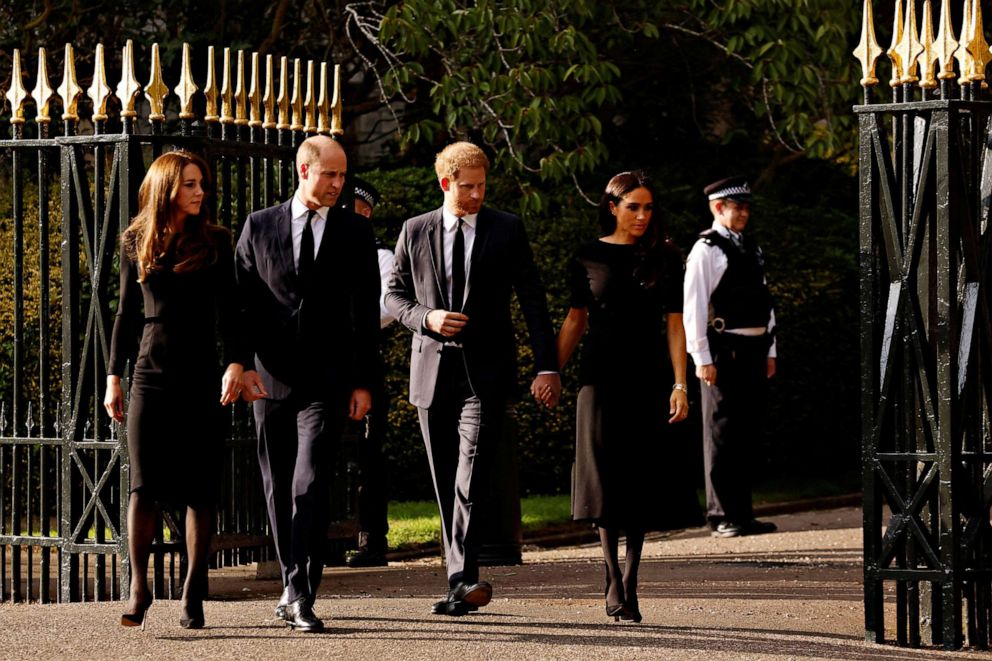 Harry told Cooper in the "60 Minutes" interview that he was not invited to join his family members on the private plane that took them to Balmoral, where the queen died.
Harry told Cooper that instead he traveled alone to Scotland, and arrived after the queen's death.
December 2022: Harry claims William screamed at him during family summit
Two months after the queen's funeral, in December 2022, Harry and Meghan's Netflix docuseries was released.
The six-part docuseries, filmed before the queen's funeral, included new details about the Sussexes' exit from the royal family, including Harry's claims that William screamed and shouted at him and Charles told untruths in a family summit to decide their future roles.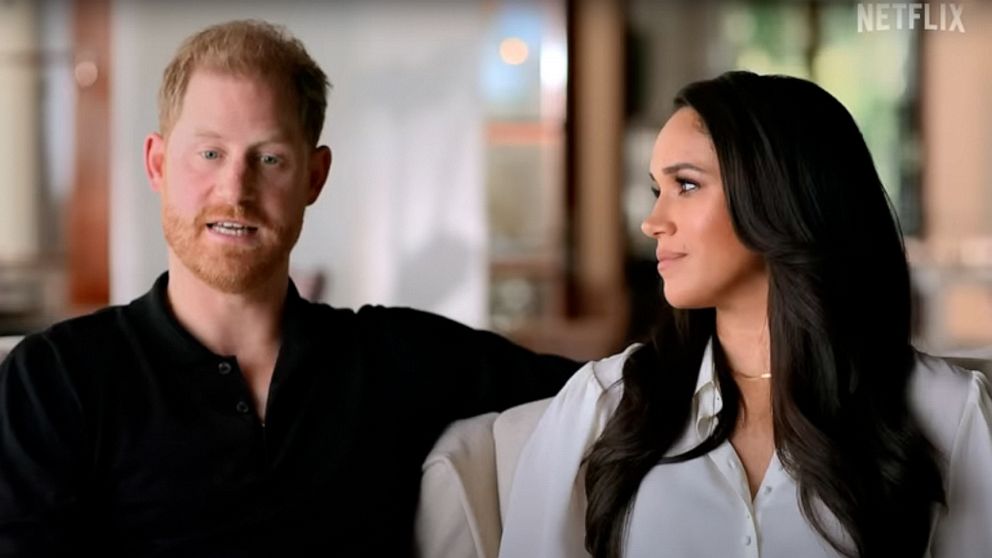 "I've had to make peace with the fact that we're probably never going to get genuine accountability or a genuine apology," Harry said in the docuseries. "My wife and I, we're moving on. We're focused on what's coming next."
Neither Buckingham Palace nor Kensington Palace commented on the docuseries.
2023: Harry claims William physically attacked him in confrontation
Harry reportedly writes in "Spare" about a physical confrontation he claims happened with William in 2019 after William allegedly called Meghan "difficult," "rude" and "abrasive," according to The Guardian.
"He set down the water, called me another name, then came at me. It all happened so fast. So very fast. He grabbed me by the collar, ripping my necklace, and he knocked me to the floor," Harry reportedly writes in "Spare," according to The Guardian. "I landed on the dog's bowl, which cracked under my back, the pieces cutting into me. I lay there for a moment, dazed, then got to my feet and told him to get out."
In his memoir, Harry describes a complicated relationship with his brother that he claims included jealousy and competition.
Harry claims in "Spare" that William broke a longstanding "pact" between the brothers to not let their offices fight or brief the press against each other.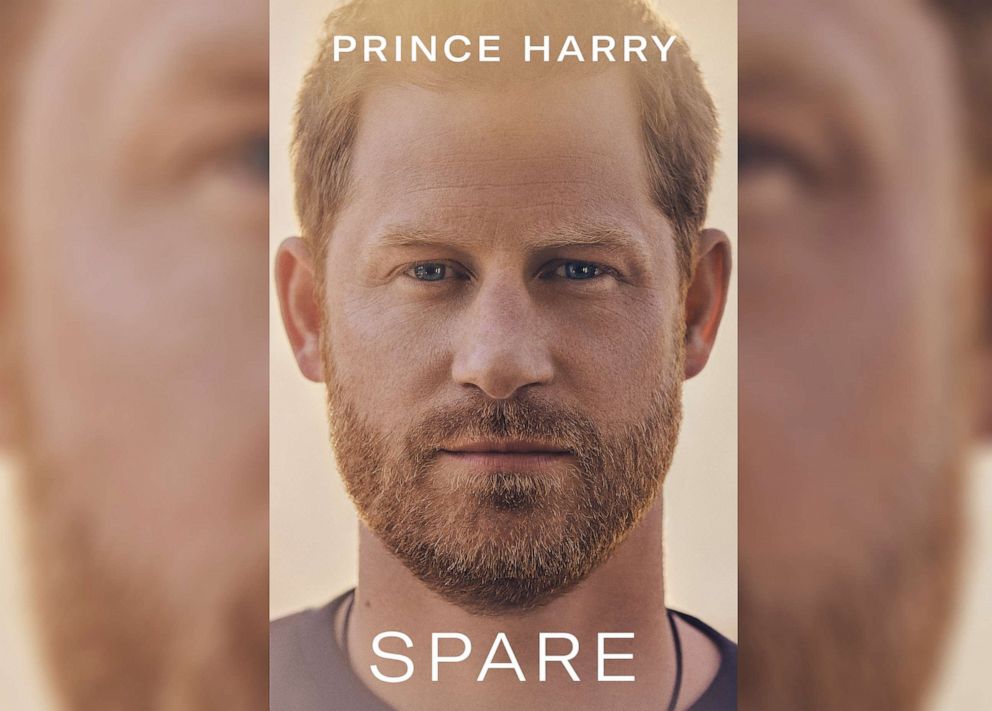 "The people that he employed broke that," Harry told Strahan, referring to William. "But again, within the family, it's hard because you are led to believe that if you don't play the game, that you will be destroyed. And again, I'm the one who's proving that that is true, right? Chose not to play the game, but they're trying to destroy me."
Despite their difficulties, Harry said he hopes for "reconciliation" with his brother and the rest of his family.
"I don't think that we can ever have peace with my family unless the truth is out there," he told Strahan. "There's a lot that I can forgive, but there needs to be conversations in order for reconciliation, and part of that has to be accountability."
Harry said he also hopes to have a candid, private conversation with family members.
"I just hope that there's a way that we can have a conversation that is trusted within that conversation that isn't then spilled to the British press," he said. "That's where I am."